Chennai, Sep 26th, 2015.W2S Solutions, one of the fastest-growing mobile app development company having its presence/branches in Chennai, the US, and Canada. They are focusing on Enterprises Software Development and Edufin Expenz is their recent launch in the app store. It is available in Android and iOS for free download.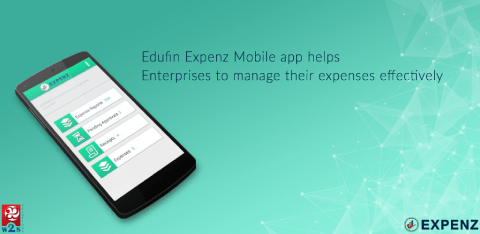 Expense management is one the key factor for ROI, and it's a process of managing expenses in the different life cycles of a business. Edufin Expenz will help enterprises to manage the expense process effectively.
Key Features:
Budget Planning and Allocation:
Expenz opens a wide window to spending and provides insight into the enterprise's wide expanses. It enables organizations to plan and allocate annual expense budgets for their different departments and business units.
Simplified Reports:
It uses the mobile phone to scan the receipts, capture the data, autofill expense fields, and submit travel receipts, expense reports can be viewed online and get instant approvals on your mobile or via a web browser.
Expenditure Control:
Take control of what and where you spend. EXPENZ provides you accessibility to know where your money is going and offers the capability in the organization to control specific expense instances within individual departments or business units.
Define Expense Policy:
You can set the level of enforcement, incorporating your company's policy such as spending limits, per diems, and mileage rates. EXPENZ helps you to define the company's policy along with a rule-based approval workflow that enables employees to spend within the company's policy and helps the organization to control expenses and save time.
Integrate Expense Report:
EXPENZ seamlessly integrates the reports to Microsoft Dynamics and Quickbooks. It can also integrate expenses with critical systems and standards with your existing business systems including other accounting, payroll, and CRM systems to meet Company's on-demand expense reporting and accounting management needs.
EXPENZ provides deeper insights across the core and supporting functions within an enterprise, focusing on the key expense reporting processes. It collates the information via web and mobile apps across the different departments for decision-makers.
Key advantages:
Increase efficiency and productivity
Submit, manage, and pay expense reports all online
Import data into General Ledger (GL) and accounting systems to save time
Save up to 63% on expense report processing costs
100% user adoption with an easy-to-use solution
Effortlessly integrate expenses with critical systems and standards
Save up to 50% on time spent reviewing and approving
Enforce expense policy and eliminate excess spending
Gain greater visibility on expenses and plan future budgets
Easily assign expenses to specific customers, clients, or projects
Use data and analytics to negotiate deals with vendors
Find free versions of the Edufin Expenz app in the below links,
Android app is available at the app store and the iOS app is available at iTunes