Today, there are 1.446 billion cars worldwide, with 17.7% of people owning a car. This has led to 20-30% of small particles in the air. Rideshare apps emerged as a modern solution to help people travel from one place to another. The ridesharing app market was worth USD 61.3 billion in 2018 and is expected to reach USD 218.0 billion by 2025, growing at a rate of 19.87%. This innovative concept not only reduces air pollution but also addresses issues like affordable transportation, traffic congestion, unemployment, and more. In this article, we'll explore top 10 ridesharing apps like Uber, Lyft, Ola, and others.
What is a Ridesharing App?
Rideshare apps are a cost-effective departure from traditional taxi services, connecting users with others traveling in the same direction or to a precise destination. These apps, which include rideshare, carpooling, and peer-to-peer categories, enable passengers to share fares, making transportation more affordable and flexible. Rideshare apps link passengers with drivers headed to the same location, while carpooling involves a group of travelers collectively splitting the fare. Peer-to-peer apps offer car owners the option to rent out their vehicles for a fixed fee, which includes insurance coverage, adding versatility to modern transportation solutions.
Top 10 Ride Sharing Apps – 2023
1. Uber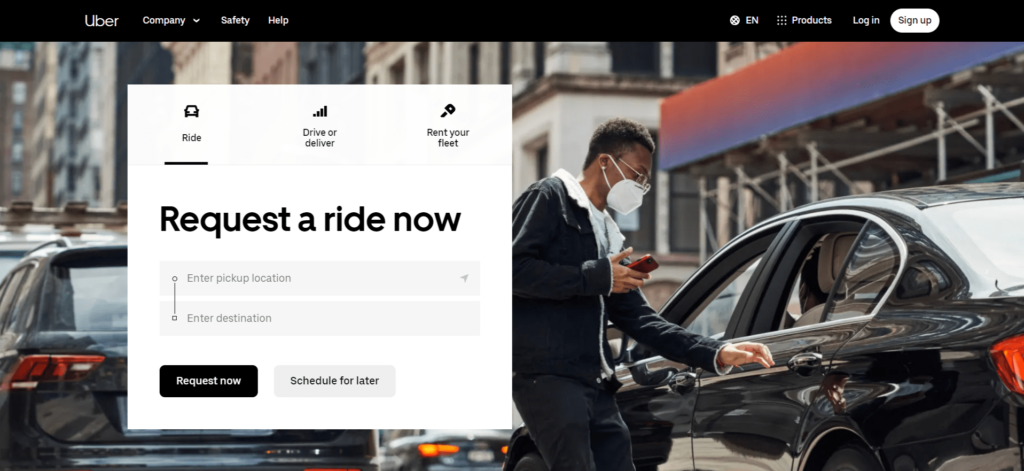 Uber, the on-demand ridesharing pioneer, revolutionized the global public transport landscape in 2009. With the simple click of a button, users could summon a ride to their doorstep within minutes. Today, Uber's user-friendly approach dominates 71% of the rideshare market in the United States and holds a significant share in the Middle East. Notably, it ranks among the few tech giants boasting a remarkable $70 billion valuation. Uber stands out as more than just a ride-hailing service; it extends its offerings to include various services like package delivery, freight transportation, and food delivery, promising a diverse range of conveniences for users.
Features:
Users have the choice to share their ride details, enhancing safety and transparency.
The app allows for easy fare splitting among passengers, simplifying cost-sharing.
Users can seamlessly integrate their ride schedules with calendar events, ensuring punctuality for appointments.
Multiple payment options are available, offering flexibility and convenience to riders.
The app provides access to various transportation modes, catering to diverse travel needs.
Users can book rides even when in a foreign country, ensuring convenient transportation regardless of location.
2. Lyft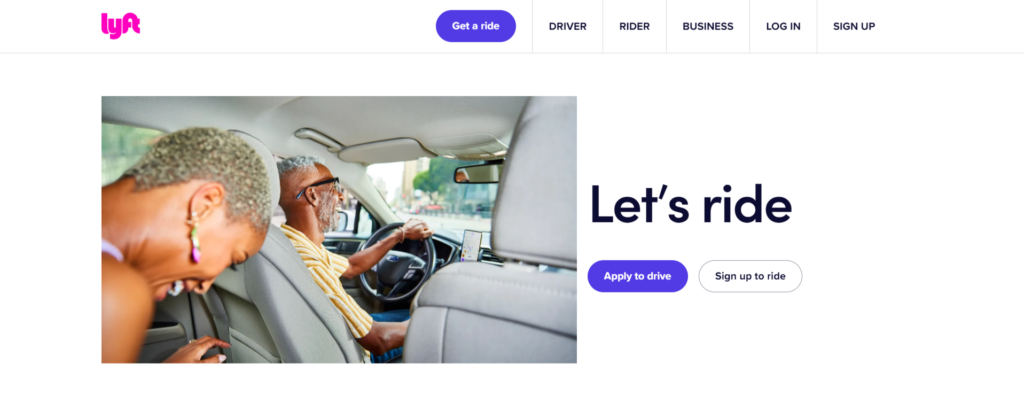 Lyft, a prominent car-booking service, stands as Uber's primary competitor. Unlike Uber, Lyft emerged a year after Uber's debut and focuses on setting itself apart through an enhanced customer-centric approach. Lyft positions itself as a friendly driver, aiming to provide a more personalized and engaging ride experience with a welcoming atmosphere. Notably, Lyft's transparent pricing and invoicing also play a significant role in attracting a substantial base of returning customers.
Features:
The service conducts thorough background and DMV checks on drivers, ensuring safety and reliability.
Users receive clear and comprehensive ride receipts for easy reference and tracking.
The app offers shared-ride options, optimizing cost-efficiency for commuters.
It caters to long-distance travelers, providing a convenient solution for extended journeys.
Lyft drivers enjoy flexible working hours, accommodating various schedules.
Users have the ability to rate drivers and establish future contact with their preferred ones, enhancing rider-driver relationships.
3. Careem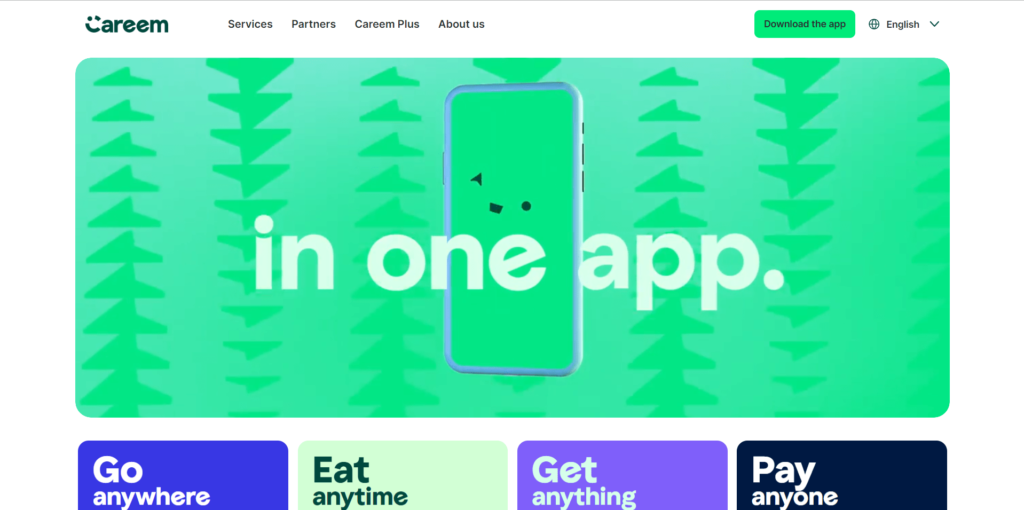 Careem, similar to Uber and Lyft, is a ridesharing platform with a dominant presence in the Middle East and North Africa. Operating across more than 100 cities, it actively integrates social initiatives and deeply embeds its services within the local culture.
Beyond building a strong business presence, Careem has cultivated a social image by prioritizing job creation in emerging economies and contributing to a charitable cause. Through their rewards program, they have generated funds to support 700,000 refugees, further enhancing their community impact.
Features:
Access essential services like transportation and online food ordering, meeting daily needs conveniently.
Enjoy excellent rewards as part of the platform's loyalty program.
Benefit from a cashless payment system through Careem Pay, enhancing transaction ease.
Experience the freedom to work on your terms, choosing when and where you want to work.
Access comprehensive driver education resources, ensuring a well-informed and skilled driver community.
4. Ola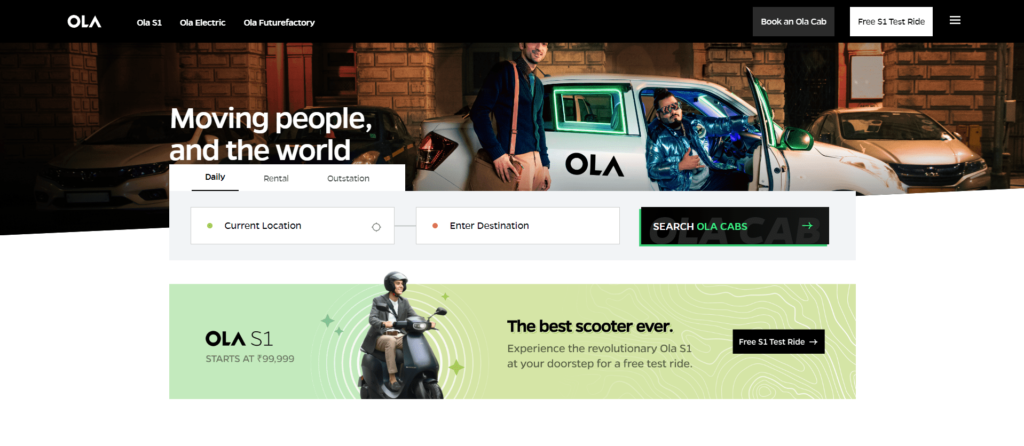 Ola, a prominent carpooling app in India, is in direct competition with Uber in the Indian market. They provide travelers with the convenience of a personal driver and complimentary Wi-Fi during their journeys. The Ola app grants access to a vast fleet of approximately 450,000 Ola cabs, similar to other ridesharing services. Additionally, this rapidly growing online taxi app company has expanded its services to include auto-rickshaws and motorcycles. Notably, Ola recently secured $1.1 billion in funding from Tencent to bolster its competition with Uber in India.
Features:
Enjoy a variety of ride choices to suit your preferences and needs.
Gain access to qualified drivers, ensuring your safety during every ride.
Schedule your rides in advance for added convenience and peace of mind.
Benefit from multiple payment options, including both online and offline choices.
Stay entertained during your journey with music and videos available in the cabin.
5. Bla Bla Car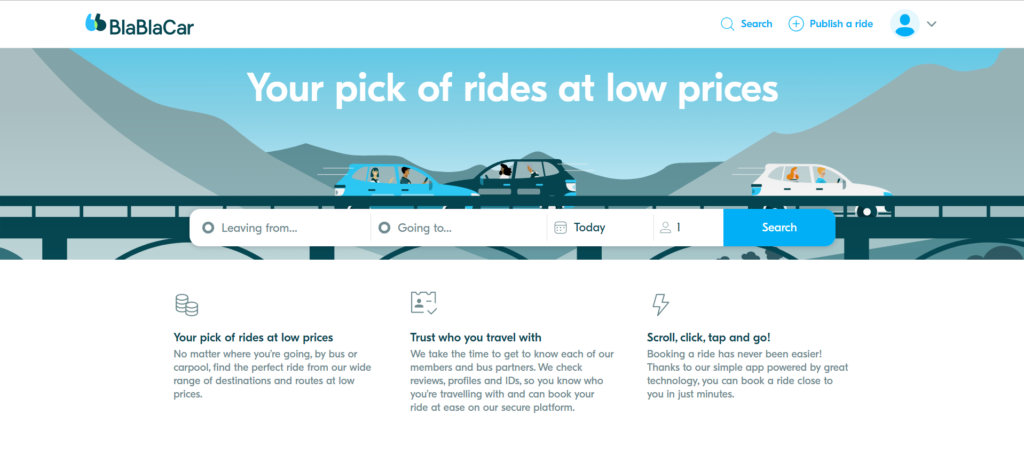 BlaBla Car stands out as an excellent rideshare app in the market today. It effectively tackles the challenges of rising traffic congestion and soaring fuel prices by offering cost-effective solutions to its users. This innovative app enables you to share your commuting routes with fellow travelers or discover shared rides for mutual cost-sharing benefits. Whether you're in need of a carpooling partner or seeking to share your vehicle with others, BlaBla Car provides an efficient platform for cost-effective ride-sharing.
Features:
Affordable and Secure Transportation Booking.
Last-Minute Ticket Availability (Subject to Availability).
Women-Only Option for Enhanced Safety and Comfort.
Driver Rating Scale: "Bla" for Quiet, "Bla Bla" for Chatty, "Bla Bla Bla" for Conversational.
Quick Vacation Posting in Seconds.
6. Curb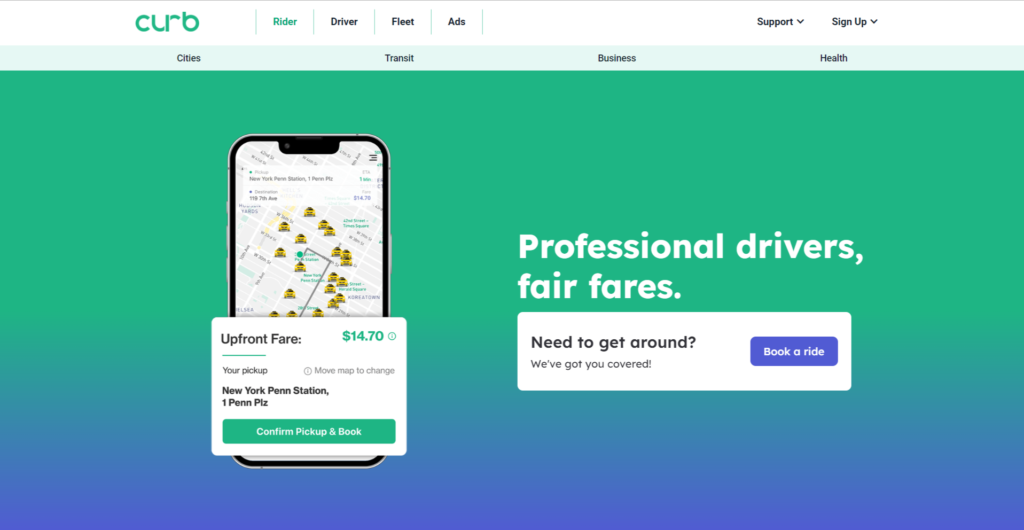 Curb is a cost-effective ride-sharing taxi app that avoids surge pricing and was acquired by Verifone Systems, known for its electronic payment technology. With access to more than 50,000 taxi fleets in 65 U.S. cities, including major ones like New York City, Boston, Philadelphia, Chicago, and Los Angeles, it ranks among the top rideshare apps. The app offers passengers a rear monitor for entertainment and displays the fare in real-time. Additionally, it provides a convenient feature that allows users to discover local restaurants and make reservations. This unique offering sets Curb apart as one of the leading long-distance ridesharing apps in the United States.
Features:
Curb allows you to easily connect with licensed and insured drivers in your vicinity for a safe and reliable ride.
For passengers with special accessibility needs, Curb offers the option to book wheelchair-accessible vehicles.
By sharing your personal referral code with others, you can earn free Curb rides as a part of their rewards program.
Curb provides the convenience of booking a cab in advance, ensuring that you have transportation when you need it.
You can rate your rides and easily contact your favorite drivers for future trips, enhancing your overall ride-sharing experience.
7. GoJek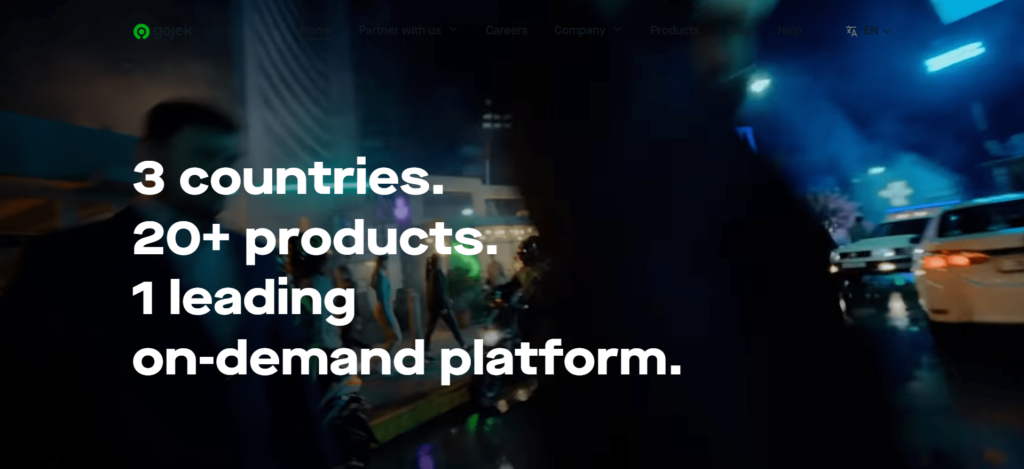 GoJek stands out as Southeast Asia's premier super app, surpassing the realm of a mere ride-sharing application. With a current valuation of $10 billion, it extends its services across more than 20 diverse domains, including transportation, food delivery, logistics, entertainment, and beyond. This versatile app not only offers exceptional savings but also operates in five nations: Indonesia, Singapore, Vietnam, Thailand, and the Philippines. Notably, GoJek holds the distinction of being Indonesia's inaugural brand to achieve a valuation of $10 billion.
Features:
Facilitates driver-passenger connections.
Enable passengers to ride on a motorcycle back seats.
Offer food and item deliveries from local vendors.
Assist customers in moving large objects.
Provide a diverse range of additional services.
8. Gett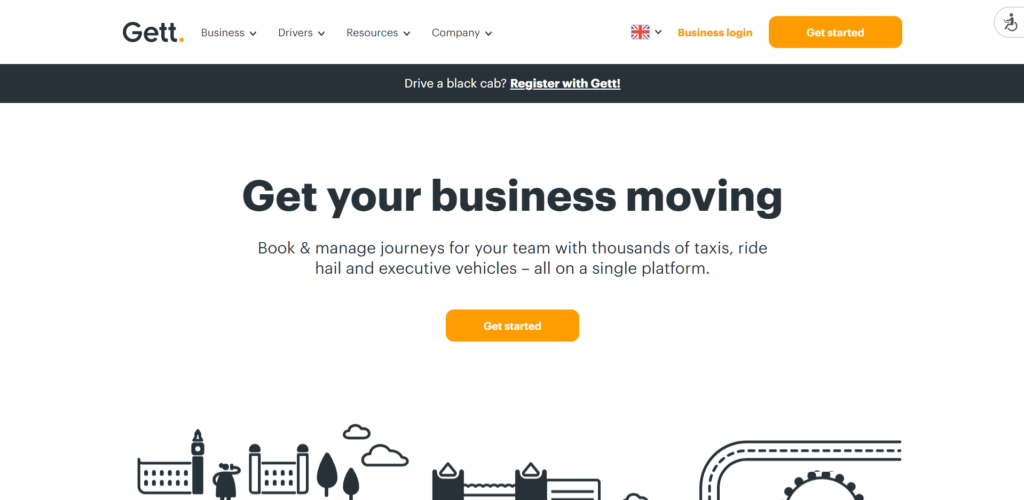 GetTaxi, which originated in Israel, is a prominent rideshare app. Gett, a ride-sharing service for both short and long distances, operates in over 100 European cities, including London, Moscow, and Tel Aviv. However, it exclusively covers New York through its partner, Juno. Gett is highly regarded as a car ride app, with a user base that includes daily commuters. It is often compared to other ride-sharing services like Uber and Lyft. Gett stands out as one of the top rideshare apps for cost-conscious users due to its pricing strategy, which avoids charging extra during peak hours.
Features:
Competitive and transparent pricing.
Convenient in-app tipping for drivers.
Access to highly-rated drivers.
Advanced booking options, allowing reservations up to two weeks in advance and beyond.
9. Via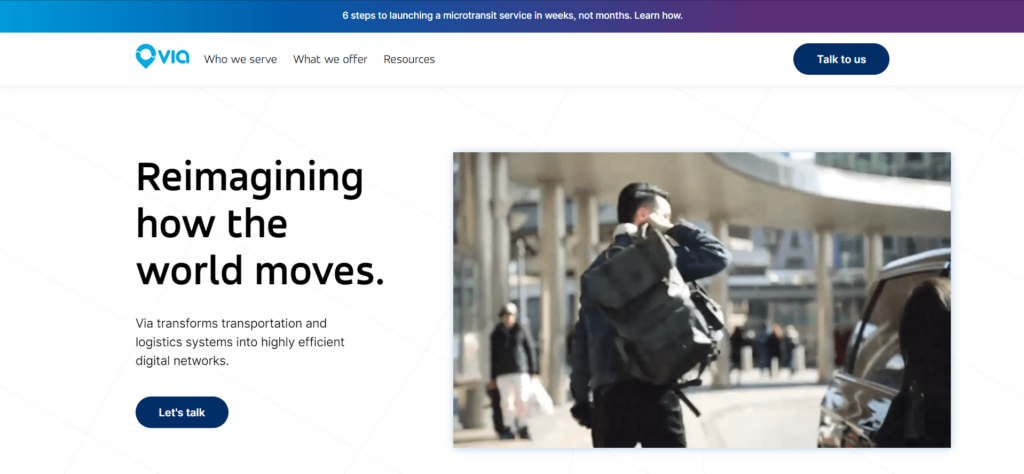 Via, a prominent ridesharing services provider, operates in 20 countries, overseeing six directly and partnering for the rest. A standout aspect of Via's identity is its strong emphasis on environmental consciousness within the realm of ride-sharing, a message it prominently conveys through its marketing. For eco-conscious passengers, Via offers the convenience of observing rides traversing their vicinity immediately after booking. Known for its prompt and cost-effective service, Via has gained substantial popularity in the regions it serves.
Features:
Quick pickups from convenient street corners for a faster commute.
Real-time customer support for immediate assistance.
Earn complimentary ride credits through friend referrals.
Drivers have the opportunity to secure up to $400 in sign-up bonuses.
A "rent a car" program is available for individuals who want to earn as drivers but don't own a car.
10. Bridj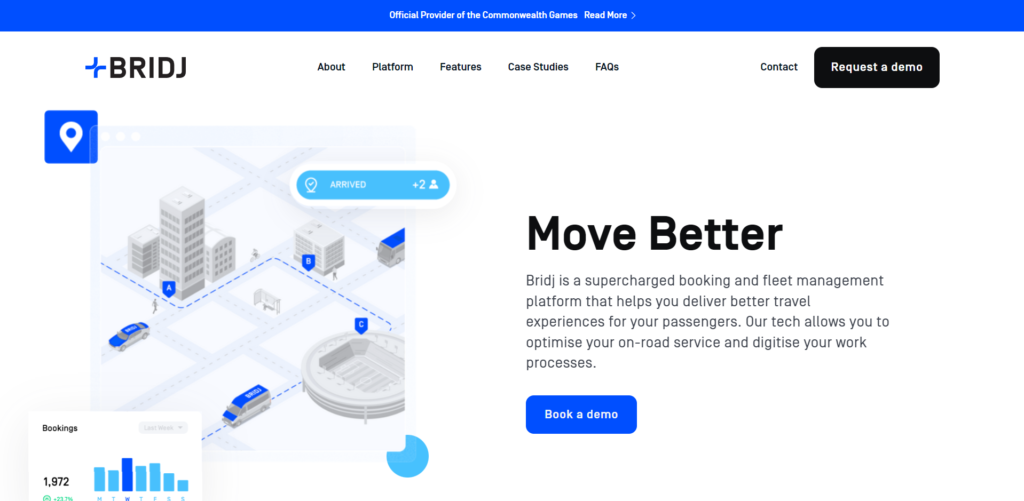 This application stands out as one of the finest options for long-distance ride-sharing among travelers heading in the same direction, with a focus on prioritizing customer satisfaction. It efficiently reduces travel durations for all passengers, and the one-way cost is just $3.10, ensuring affordability. Distinct from typical ride-hailing services, Bridj operates a fleet of 14-seat luxury shuttles equipped with amenities like Wi-Fi and plush leather seating. Bridj's buses offer a level of comfort akin to the finest luxury vehicles.
Features:
Convenient credit card payment option available.
User-friendly walking directions to pick-up points.
Access to amenities like complimentary Wi-Fi and USB charging.
Priority access for disabled cyclists.
Which stands as the best Ridesharing App?
Choosing the best ride-sharing app depends on your specific needs and location. Uber, the global giant, offers comprehensive services and is widely available. Lyft focuses on a personalized customer experience and transparency. Careem dominates the Middle East and North Africa with a strong cultural connection. Ola, a top pick in India, provides free in-car Wi-Fi. BlaBla Car specializes in carpooling and reducing traffic. Curb, acquired by Verifone, offers traditional taxi rides without surge pricing. GoJek, the Southeast Asian super app, covers various services. Gett stands out for its fair pricing. Via emphasizes environmental responsibility, while Bridj offers luxury shuttles. Consider your location and priorities to find your best fit among these options.
How to Build your own Ridesharing App?
Creating a successful ride-sharing app involves several key steps. First, conduct market research to understand the industry's current landscape and your target audience's needs. Next, define your app's Unique Value Proposition (UVP) to stand out from competitors. Ensure your app includes essential features like user profiles, geolocation, in-app payments for passengers, and user registration, mapping, and reviews for drivers. Start with a Minimum Viable Product (MVP) if you have a limited budget. Before releasing the app, thoroughly test it and be prepared for app store reviews. Collect user feedback post-launch to make necessary improvements and build a fully functional product.
Wrapping Up
While Uber has long been a dominant force in the ridesharing and carpooling app market, it's worth noting that many competitors have emerged, offering innovative solutions that have gained popularity among dedicated users. These successful rideshare apps owe their success to the unique benefits they provide to both passengers and drivers.
If you're considering entering this industry and creating rideshare apps similar to Uber or Lyft, it's essential to offer something that sets you apart from existing competitors. To help you achieve this goal, W2S Solutions is the ideal mobile app development company with a proven track record in crafting mobile app development solutions. If you're wondering how to develop your rideshare app, contact us today!
Frequently Asked Questions
Get inspired!
Subscribe to our newsletter and get updates on how to navigate through disruption and make digital work for your business!