THE INTERLUDE
The iOS vs Android dilemma
Experience oriented
Simplifying B2B sector
Finance, crypto, and the whole shebang!
Learning through mobile applications
Integrating AR/VR
Upgrading your smartphone!
Using your phone as a controller
The scope for mobile app development is at an all-time high. There are no limitations to technology at the present. Moreover, the internet is accessible to even the most remote parts of the world. A report suggests that an average smartphone user uses about 10 apps per day.
As hardware and software makers are collaborating to provide the ultimate customer experience. People are now more aware of the recent developments in the tech industry. The number of tech enthusiasts and their followers is also increasing at an astonishing rate.

All these factors combined, people have become aware of the options available to them and are not falling prey to the advertisement and marketing campaigns while choosing a technology. They are making a conscious decision while choosing a device or a piece of tech.
Many mobile app development companies have been providing some of the revolutionary solutions to the world- not just for businesses and enterprises, but also international government bodies, UN, WHO, etc.
Mobile app development companies are forced to survive in the harsh competition that exists in the market. They are forced to think outside the box and stay up to date on any new technologies to stay in the picture.
In such a competitive scenario, the need for mobile app development companies to stay on their toes will only increase.
Read Also –  How is BlockChain Useful for the Mobile App Developers?
1. The iOS vs Android dilemma
Though they have their differences, there are some similarities in their way of operations. For starters, both of them have a giant app store. the app store of these two platforms is one of the primary reasons why they dominate the market space.
Many players in this field started to develop applications for both platforms. One of the key factors in application development is accessibility. You could be a mobile app development company in Austin or you can be an app developer in Dubai, or even Shangri-la; it doesn't matter.

You can work from almost any place in the world. Hence connecting with talents around the globe is not a tedious task.
Both the platforms provide support for developers and mobile app development companies by creating custom platforms for them. For example, Apple has Swift, one of the easiest iOS developing platforms and Google has flutter, again one of the all-in-one solutions!
You can expect these mobile app development trends in the following years.
2. Experience oriented
The applications available on major platforms like iOS and Android are moving towards providing a user experience. The rise of technological innovations in artificial intelligence, machine learning, virtual reality, augmented reality is narrowing the gap between fiction and reality.
Mobile app development companies in Dubai that has some of the best developer's concentration in the world are identifying this trend to only grow in the near future.
3. Simplifying B2B sector
There is no doubt that B2B sectors are ruling the market with their huge volume and transactions. These industries facilitate other players in the field with their market engagement, customer engagement, accounting, and finance, pretty much everything.

As the industry is rising exponentially, it needs a simplified approach rather than a messy one. It needs to manage the heavy demand with ease and organize these data to draw better conclusions. Mobile app development companies are providing better solutions for the B2B industry to optimize their operations.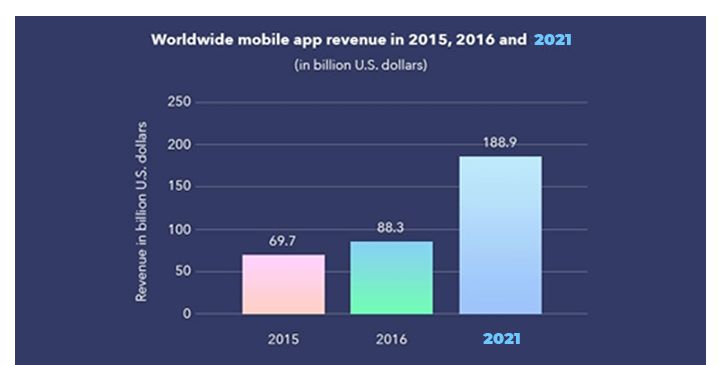 4. Finance, crypto, and the whole shebang!
A shocking statistic suggests that nearly 87% of smartphone users choose to spend their time indulging in various mobile applications. The rise in mobile applications that facilitates users to indulge in fintech is quite unexpected! Though people are open to new experiences in mobile applications, they were a bit skeptical to form financial decisions using mobile apps.
In recent times, people are showing a positive trend towards fintech solutions. There are many mobile applications that help people to trade in share markets, cryptocurrencies, real estate, gold, mutual funds, etc.
This trend will only rise in the future as the two major platforms; Apple and Android, are now focusing on the security and the privacy of the users.
Read Also –  How is BlockChain Useful for the Mobile App Developers?
5. Learning through mobile applications
The pandemic has left us all in shock. Our daily lives have been disrupted to a great extent. People are confined to their homes. The COVID crisis has affected the education sector by great lengths.

Mobile app development companies around the globe are focusing on creating the perfect virtual classroom that helps students to learn without risking exposure. Though whopping financial support from various investors is being poured into this sector, the need for applications from this genre is still increasing. There are 3.8 billion smartphone users in the world.
If governments are to integrate virtual classrooms into their operations, the benefits could be spread out to a wider audience rather than a narrow one. There are still challenges in this field- there needs proper hardware in place to ensure equal opportunities for people from different classes and sections.
6. Integrating AR/VR
Augmented reality and virtual reality have always been intriguing for people. Right from science fiction novels and movies, we have always been fascinated by the arrival of these technologies.
Well, wait no more! AR and VR have been integrated by many developers to provide real-time solutions. The recent hardware rollout by tech giants leaves us wondering if they have designed the product with the future in mind.

Smartphones now come with a variety of features like infrared controls, superior Bluetooth and NFC tech, etc. These advancements can change the whole demography of the app store.
7. Upgrading your smartphone!
Yes, you read that right! Ever heard about Google project ARA? If you were one of the persons who was so excited about this product; do not worry! The time right now is ripe and we should be optimistic!
The format for a smartphone is dissolving and we couldn't be any happier. Naturally, the rise of MODS and custom applications will come into the picture to efficiently make use of the hardware.
It's like a DIY smartphone! Imagine the scope for custom applications when it comes out. If you are already owning an application, you have to revamp the application to make sure you stay relevant!
Read Also – All mobile app development doubts answered
8. Using your phone as a controller
This is not a new concept for smartphones and it is proven through many integrations. Your phone can act as a gaming console, a driving joystick, a physical crystal ball to the virtual world! The gaming market for mobiles will make $102.8 billion by 2023.
There is a great scope for many applications to enter this space. Applications tweak the functionality of smartphones. When you have the vision to use your smartphone as a physical controller, the combinations are just limitless. Most importantly, with the recent arrival of the digital ecosystem, the scope for your phone to operate like a "key" to access the components within the ecosystem seems quite practical.
Wrapping this up,
To determine a mobile app development trend 100% beforehand is impossible and if someone claims to do so, you better be sceptical of them! One can identify the pattern migration from user feedbacks and market demands, but it would still be a calculated risk.
Nevertheless, if you have a product with a vision that solves a particular problem of the audience, then you should choose the right mobile app development company and ensure that it shares your vision for a positive change. After all, there is no use in collaborating with people who do not share your vision!