Online food delivery apps have become incredibly popular, with the industry expected to reach $320 billion globally by 2029. Many software companies now offer food delivery app development to help restaurant owners manage their orders efficiently.
These apps do more than just take orders; they help with employee management, delivery tracking, and other tasks to ensure smooth business operations and happy customers. The food delivery app sector is a big part of the tech industry and keeps growing.

This article covers the industry's current status, like its size, how it's growing, what customers like, and what the future might look like. It also shares insights on how the 10 best online food delivery companies in this space operate, making it a useful resource for entrepreneurs looking to enter or expand in this industry.

10 Best Online Food Delivery Apps
Are you prepared to thrive in the booming food delivery app market? Explore the top 10 food delivery apps globally and discover the secrets behind their success. Let's dive right in!
1. Zomato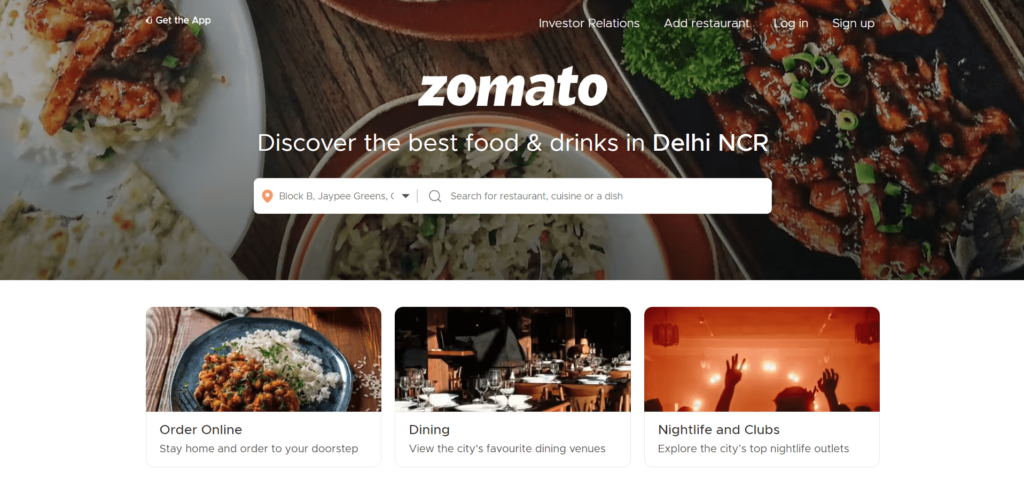 Founded initially as 'Foodiebay' in 2008, Zomato is an online platform for restaurant searches and food delivery. The company, based in India, achieved remarkable success in its home market, to the extent that Uber Eats sold its entire Indian operations to Zomato for $400 million. Presently, Zomato operates in 24 countries and spans over 10,000 cities worldwide. In 2021, when the company went public, it reached a significant milestone with its oversubscribed IPO, which attracted shareholder bids totaling a staggering $46 billion, marking a remarkable achievement in its journey.
Features:
User-friendly profiles for a comprehensive experience.

Effortless sorting based on user preferences.

Seamless information sharing, resembling a social network for foodies.

Extensive and intuitive search capabilities.

Streamlined review features for easy feedback.

A well-structured knowledge base to assist customers with their inquiries.
Available on: Android, iOS
2. FoodPanda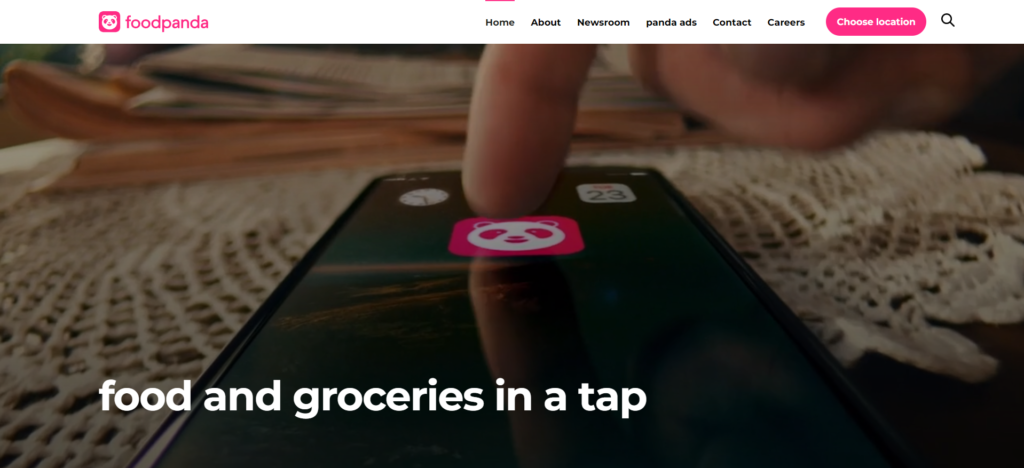 Next on the list, FoodPanda, based in Berlin, is an online food ordering app that operates in 41 countries. While they started in Asia, they've now expanded to Eastern Europe, serving Bulgaria and Romania. They are also working to grow in Western Europe, including Germany. They partner with thousands of local restaurants to provide fast delivery to customers worldwide.

Features:
Diverse restaurant selection

Easy access to special offers

Secure payment options

Seamless user experience

Top restaurants
Available on: Android, iOS
3. UberEats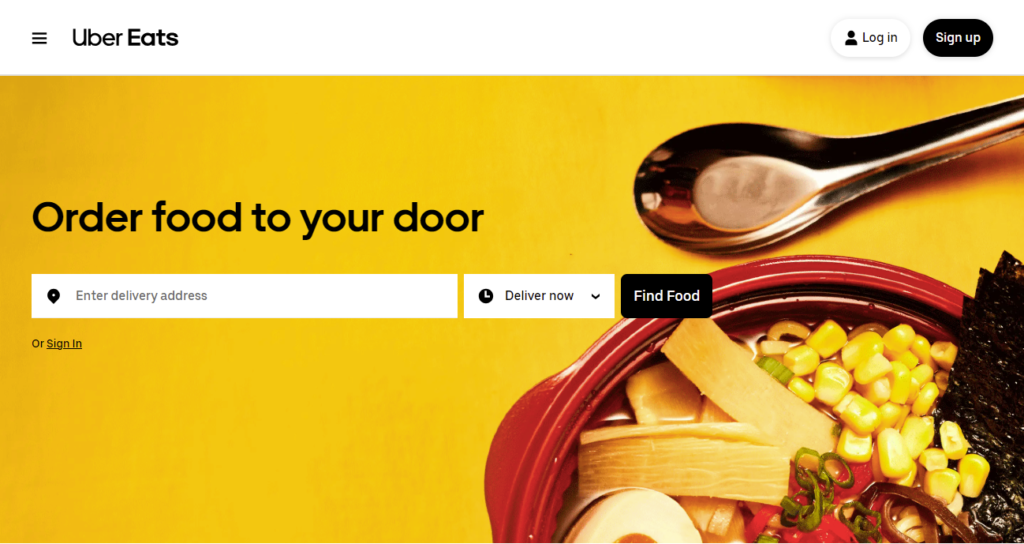 This app should have been 2nd on the list, but the buggy nature of the app pulls this down to the 3rd place. In 2023, Uber Eats established a global presence, serving over 10,000 cities in 90 countries. Their dominant position in the market has made them an attractive partner for countless restaurants, resulting in an abundance of dining choices for consumers. This synergy between Uber Eats and restaurants fuels a continuous cycle of growth, solidifying their global footprint.

Features:
Group orders

Schedule Later

Simple re-orders

User-friendly experience

Customized convenience
Available on: Android, iOS

4. GrubHub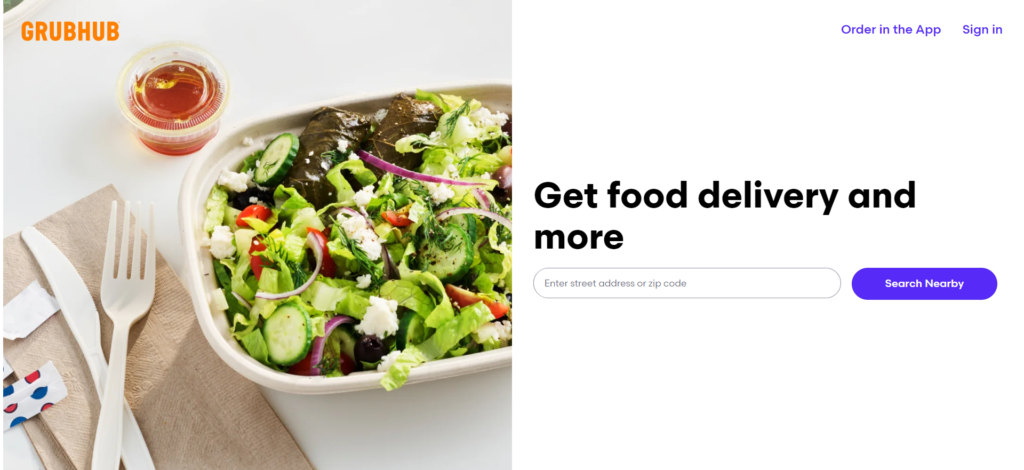 GrubHub, a well-known food delivery app, is available on both Android and iOS platforms. Users input their location to discover nearby restaurants and can search by cuisine or specific dishes. It's accessible in about 3,200 cities across London and the United States. GrubHub extends its delivery service to all types of restaurants, including cloud kitchens. This means restaurant owners can join without needing a physical dining setup, allowing them to earn from home-based food businesses.
Features:
24/7 Customer Support

Advanced Filtering and Search

Easy Reordering

Abundant Coupons and Discounts

Seamless Order Management

Expanded Customer Reach
Available on: Android, iOS
5. Swiggy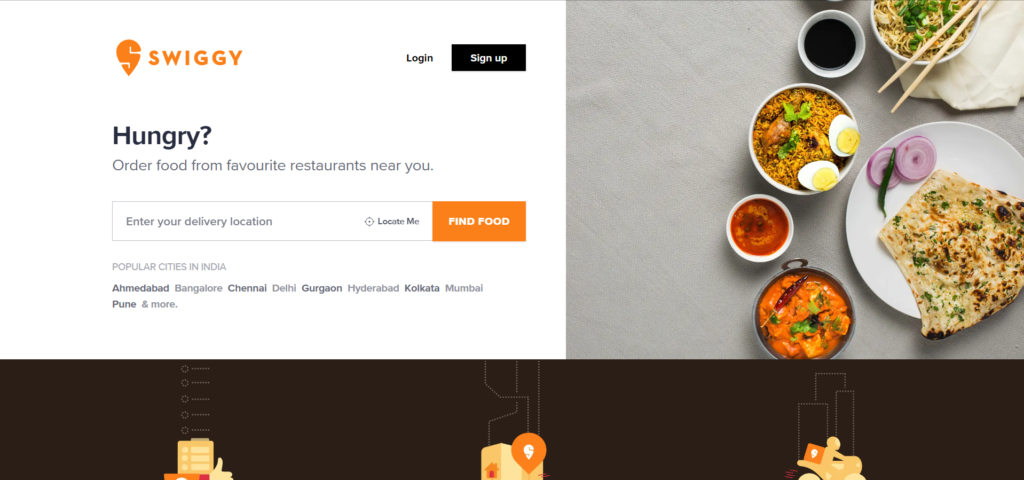 Swiggy, a highly popular mobile application originating from Bengaluru, India, has amassed an impressive tally of nearly 1.5 million downloads on the Google Play store. Recognized as India's foremost online food delivery platform, Swiggy extends its services to nearly every city within the country. Its wide-reaching presence and user base have firmly established it as a frontrunner in the realm of food delivery apps. With its headquarters situated in the tech hub of Bengaluru, Swiggy continues to play a pivotal role in redefining the food delivery landscape in India, offering convenience and culinary delights to countless customers.
Features:

Seamless GPS integration

Focus on the Indian market

Wallet feature

User-friendly interface

Quick and secure transactions
Available on: Android, iOS

6. Deliveroo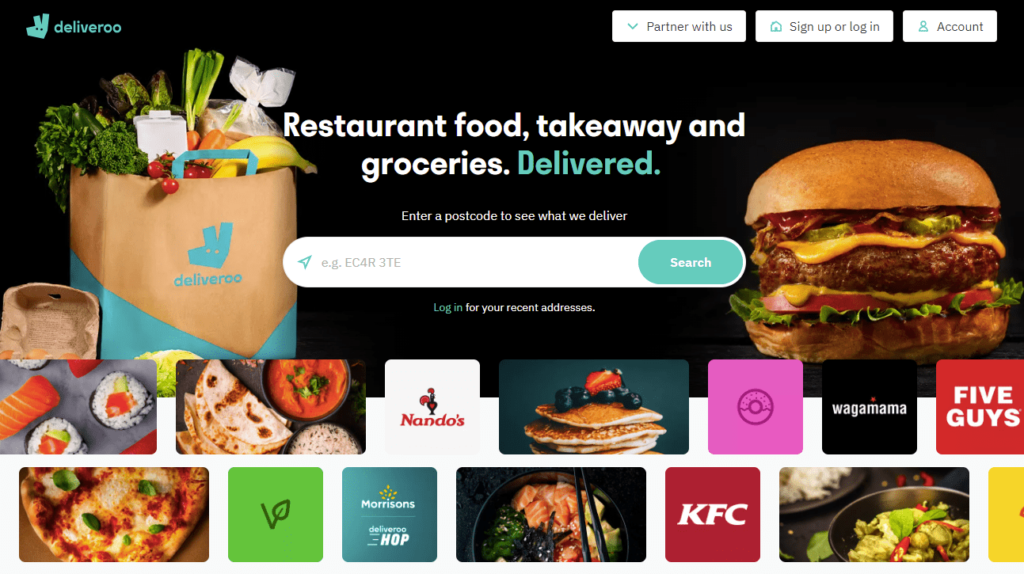 Deliveroo, a renowned online food delivery app originating in London, operates in approximately 14 countries and 84 cities, spanning 200 sites. It's widely used in regions like the UAE, Hong Kong, Spain, Singapore, Belgium, and more. Delivery charges on Deliveroo vary based on location and the chosen restaurant.In 2019, Deliveroo achieved significant success, generating approximately $365 million in revenue, making it one of the most profitable delivery apps at the time. Deliveroo also features cloud kitchens, offering dining services without traditional restaurant setups.

Features:

Diverse restaurant selection

Access to coupons and discounts

Innovative cloud kitchens

Expanded eateries

Unique dining concepts

Inclusivity in delivery programs
Available on: Android, iOS

7. Delivery.com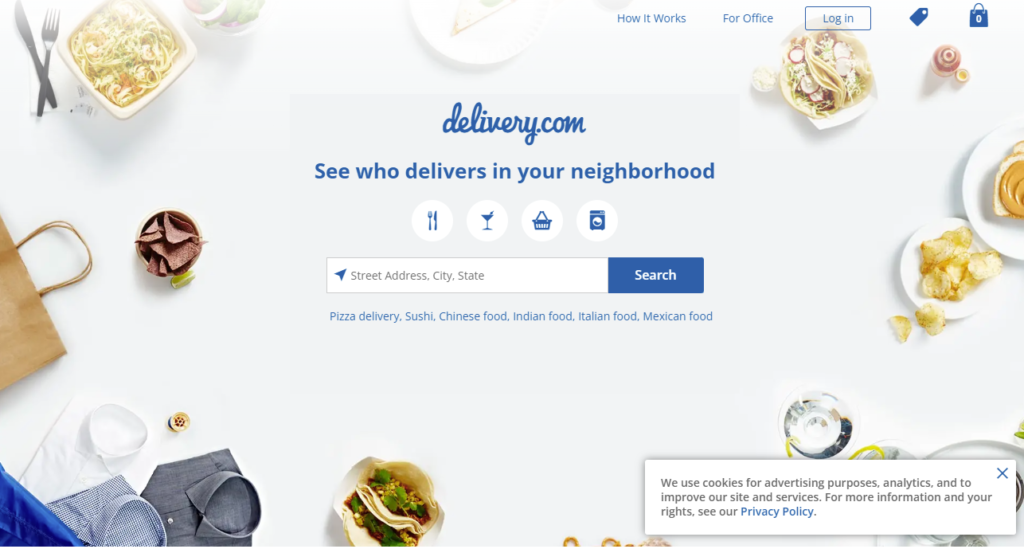 Delivery.com, one of the oldest food delivery apps since 1995, serves 2400 U.S. locations with 19,000+ partner merchants. They expanded to Hong Kong in 2014, later selling their holdings to FoodPanda. With 3 million active users, Delivery.com offers food, alcohol, and grocery delivery, plus dry cleaning services. Their extensive marketplace and network boosted their popularity. Many U.S. offices order from Delivery.com for catering, thanks to its listing of top restaurants. It's unique for B2B food delivery.

Features:
Established legacy since 1995

Expansive network in the U.S. and Hong Kong

Diverse services: food, alcohol, groceries, and dry cleaning

B2B focus for office catering

Competitive pricing, including a 15% standard commission and no restaurant delivery fees.
Available on: Android, iOS
8. Domino's Pizza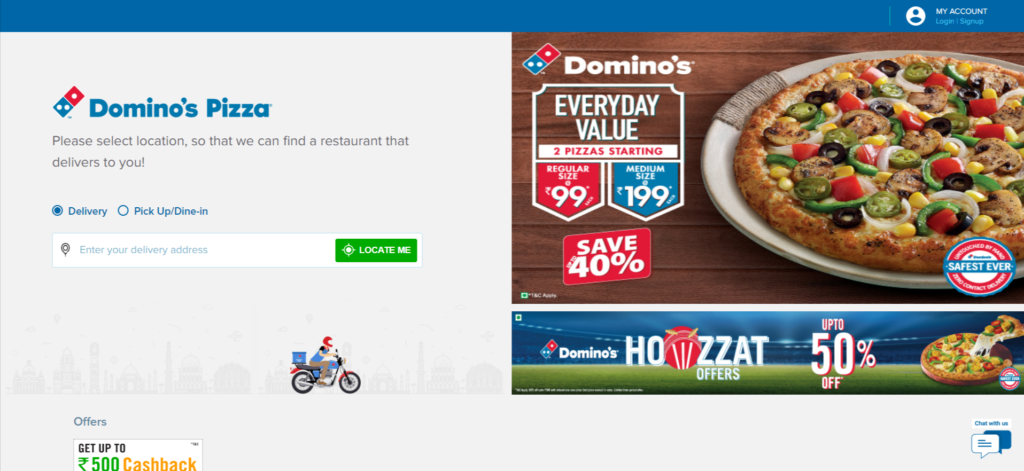 Domino's, a favorite pizza spot worldwide, offers a dedicated app for discounted pizza orders. You can choose between pick-up or home delivery, with charges based on your choice. Domino's stands out by delivering only from its own outlets, aiming to provide a top-notch customer experience without relying on third-party delivery apps. This approach has earned them around 5.3 million mobile app users, accounting for a substantial 43.9% of their online sales.

Features:
Clear Visual Menu

Customizable Meal Options

Topping Swaps and Order Modifications

Comprehensive Order Tracking

Visual Progress Updates

End-to-End Process Transparency
Available on: Android, iOS

9. DoorDash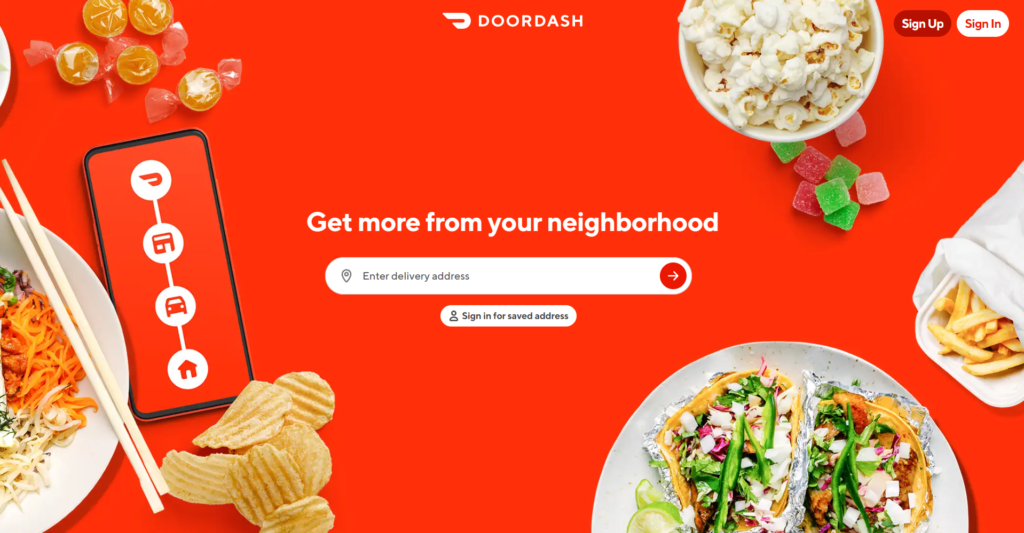 DoorDash is a widely used food delivery app present in 32 markets and serving 300 cities, holding a substantial 45% market share. In 2020, it raked in an impressive $3 billion in revenue, reflecting its global appeal. Notably, it made history by being the first to offer delivery services for Little Caesars Pizza in its 60-year existence, showcasing the impact of modern food delivery culture.

Features:
Quality Food Commitment

On-Time Delivery

High Customer Satisfaction

Emphasis on Food Quality

Reliable Timely Service
Available on: Android, iOS

10. PostMates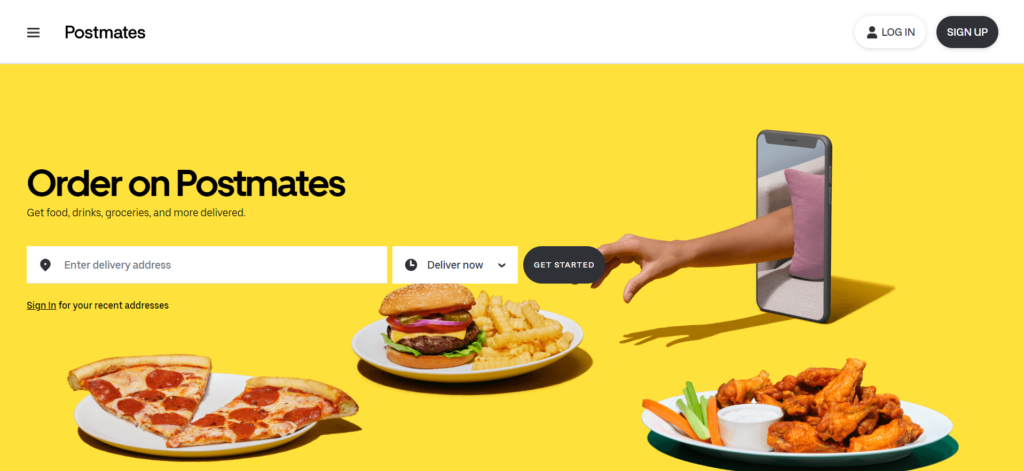 Postmates, while not as well-known globally, is a popular food delivery app in the United States with over 2,940 stores available for users to order from. It offers a wide range of delivery options, including alcohol, food, and groceries, albeit with fees, which may rise during busy times. Postmates is renowned for its punctual delivery services, contributing to its excellent reputation and revenue.

Features:
Versatile Ordering Options

Global Brand Recognition

Extensive Delivery Offerings

Streamlined and Clean Design
Available on: Android, iOS

What Lies Ahead for Food Delivery Apps?
The future of food delivery apps holds a multitude of exciting trends and innovations. We can anticipate more restaurant chains developing tailored apps and utilizing their own delivery fleets, ensuring complete control over the customer experience, from branding to app design. These apps, like Domino's, excel in catering to specific customer journeys, capitalizing on cross-selling opportunities more effectively than third-party platforms. 
Grocery delivery services, exemplified by Instacart, have surged in popularity, with continued growth expected as customers embrace the convenience. However, pricing transparency in this sector remains a concern, potentially paving the way for apps with more straightforward pricing models. 
Subscription-based approaches, already adopted by many food delivery apps, promote customer loyalty, while meal kits, offered by companies like Blue Apron, simplify cooking and cater to younger generations. Artificial Intelligence (AI) and Robotics promise enhanced efficiency in customer interactions and food preparation. Moreover, social media and influencer marketing are playing an increasingly crucial role in reaching and engaging customers, amplifying brand awareness and sales opportunities for these apps in the evolving food delivery landscape.

Wrapping Up
These ten leading online food delivery apps enjoy global acclaim, but alongside these industry giants, numerous innovative startups are entering into the field. Success in this arena depends on two key factors: engaging the services of a top-notch food delivery app development provider to enhance user experience and offering a distinctive service to compete with or complement existing players.
These are the essential ingredients for thriving in the food delivery industry. If you're considering launching your food delivery business, partner with W2S Solutions, a renowned mobile app development company. Harness our expertise to refine your app's UI/UX, and then embark on a strategic marketing campaign to entice both restaurants and customers to join and trust your platform.
Frequently Asked Questions
Get inspired!
Subscribe to our newsletter and get updates on how to navigate through disruption and make digital work for your business!