No-code development platforms provide a quick and affordable way to bring your ideas to life, whether you're a business owner, marketer, or non-technical professional.
According to Gartner, a staggering 65% of application development projects will use low-code development by 2024. The obvious advantage of these platforms is eliminating the need for numerous technical skills that are typically needed to develop software apps, as the name already suggests.
Additionally, low-code/no-code development is simple to use and offers a number of equivalent advantages. By utilizing these platforms, clever business solutions are consistently delivered without the need for expert developers. Every low-code platform provides a different set of advantages. A no-code development platform can assist you in reaching your goals, whether they involve launching a complex enterprise solution, a simple website, or a mobile app. 
In this blog, we'll give you the best practices for using the platform you choose for your upcoming project.
Why low code/no code is it important to choose a platform with no code?
Project requirements:
Think about the type of functionality that is required for the project you want to build. You should select a platform that meets your needs, since some platforms specialize in particular types of projects, such as website builders.
User-friendliness:
Even for non-technical users, the platform should be simple to use and accessible. Search for platforms with a visual user interface, drag-and-drop functionality, and a simple layout. Check the platform's ability to integrate with other tools and systems you use, as well as its ability to be customized to meet your unique needs.
Scalability:
Think about how your project will develop and whether the platform will be able to meet your needs as they change. Search for a platform that offers extensive support and resources, including tutorials, forums, and documentation.
Price:
Take into account the platform's price and the features it provides. Other platforms demand a monthly or yearly subscription, while some platforms offer free basic plans.
Top 9 low code/no code software platforms
We've rounded up the best no-code options for startups, freelancers, and small businesses.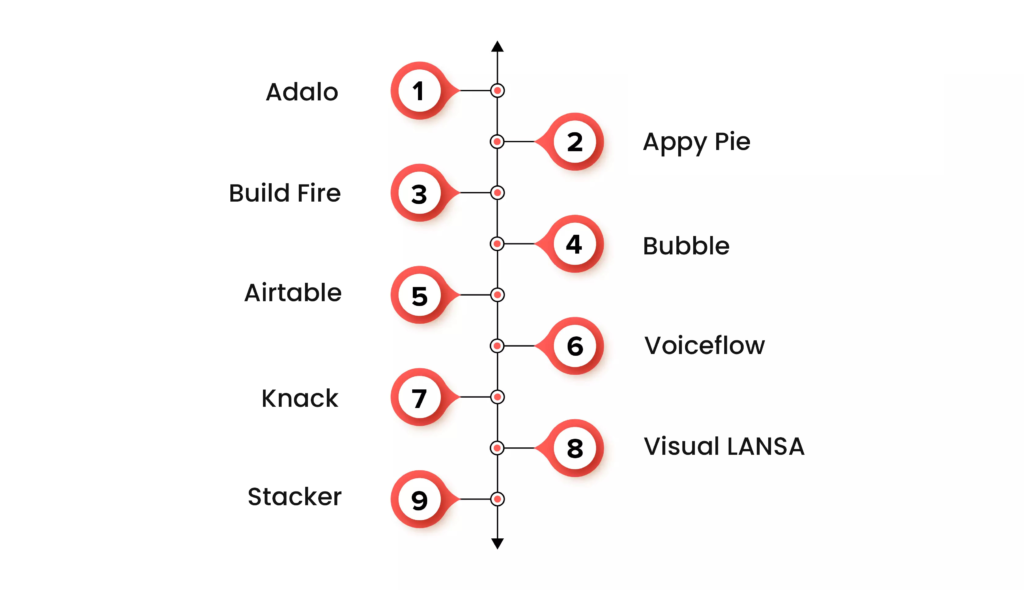 1. Adalo (Mobile / Web)
In Adalo, you can create and develop unique mobile and web applications without coding. Using our built-in analytics dashboard, you can monitor user behavior, engagement, and other vital indicators, allowing you to expand and iterate appropriately. You can launch your app in the app store in hours with Adalo's drag-and-drop builder and pre-designed templates.
2. Appy Pie ( Mobile / Web)
Appy Pie is one of the more well-known low-code software development solutions that promise today's organizations a simple environment for creating apps quickly. Developers can create applications regardless of their coding knowledge, budget constraints, or technical skills on this platform. Drag and drop various features to build your mobile app using this web-based mobile app builder.
3. Build Fire ( Mobile / Web)
BuildFire is simple to use for both novice and experienced app developers. It simplifies app development regardless of how robust an application is required. This one-of-a-kind DIY platform enables developers to completely customize apps without writing any code. All they have to do is drag and drop their way through the process of creating an application from scratch. This powerful app builder enables app developers to quickly and affordably create customized apps, allowing organizations to accelerate innovation on a large scale.
4. Bubble (Mobile / Web)
Creative business owners can realize their dream apps with Airtable regardless of their coding knowledge. You can create all-in-one hosted web apps without coding with it. With this no-code tool, you can create efficient web app layouts, manage hosting and deployment, and more without knowing HTML or CSS.
The bubble can be integrated with other front-end tools, even though it is a complete no-code backend platform. By connecting the Bubble CMS with other front-end development tools, you can now create native apps using the same data tables that you created within it. 
5. Airtable (Mobile / Web)
By combining your imagination and the power of Airtable, you can create powerful applications. Airtable is trusted by over 200k organizations that have used it to develop applications and modernize their business workflows while delivering effective results.  
Airtable distinguishes itself from other business apps by providing a customizable and versatile product that can be used for a variety of purposes. Airtable makes it incredibly easy to collaborate and create, whether you need to organize information, create a customer list, or manage a calendar of project deliverables. It has a modular system for creating customized tables, giving you complete freedom to build exactly what you need for your project.
6. Voiceflow (Mobile / Web)
Voiceflow is a game-changing platform that allows anyone to create voice apps for Google actions and Alexa tools without any coding experience. As a result, voice apps are no longer restricted to those who can code. If you enjoy app development and have always wanted to make something for Alexa or Google, Voiceflow's no-code platform is for you. Drag and drop blocks, a simple and user-friendly visual interface, and a dialogue management API are all available. A single-click publishes, context-first designs, reusable components, smart prototyping, voice, chat, or multi-modal testing are also key features. Monitoring in real-time, testing to production, notifications and alerts, tool creator, and more.
7. Knack (Mobile / Web)
Build business applications quickly and easily with Knack and serve the right users. It provides you with simple tools to assist you in transforming all of your data into a robust online database. Use appropriate data types such as emails, names, and so on to structure your data. Data can be easily connected by linking all related records and extending data with equations and formulas.
Knack has a simple and clean interface that makes app development a breeze without requiring you to write a single line of code. Furthermore, they provide powerful features to assist you in developing and customizing powerful apps, such as adding colors, logos, and so on. You can easily embed your app on any website and select which pages to publish. Their SEO plugin will also index and search your data and content. Knack apps are mobile-friendly, have a responsive design, and allow you to collect users' geolocations.
Incorporate secure payment systems such as in-app payments, custom charges, secure processors such as PayPal and Stripe, email receipts, charge rules, and more into your eCommerce apps. Knack also provides workflow tools like notifications and reminders, status indicators, scheduled tasks, life cycles, approvals, and so on. You can extend and customize the app interface with JavaScript, and you can control the app's look and feel with CSS. Integrate with Gmail, MailChimp, Dropbox, WebMerge, Google Drive, and Zapier to easily analyze, manage, and share data.
8. Visual LANSA (Mobile / Web)
Create amazing products more quickly and smoothly with Visual LANSA's low-code platform. You can create desktop and web applications with similar assets using the same IDE that combines traditional coding and low-code development. Developing, deploying, and operating applications is faster. IT and development can break down silos. When using LANSA's bridge capabilities, you can stay in the IDE, create the entire application, and migrate existing applications.
The Visual LANSA tool lets you integrate with services without having to worry about hacking. Web applications can be created by any developer without requiring separate backend and frontend developers.
9. Stacker  (Mobile / Web)
Stacker allows small to large businesses to build custom applications and populate data. Access control and permission modules enable enterprises to offer white-label portals to customers and share data with external partners. 
Additionally, the YouTube tutorials make the learning curve for this no-code platform as smooth as possible. You can control all design elements with its drag-and-drop interface. In addition, a user can easily configure what happens on each screen as they navigate through the app.
Conclusion
Software development is undoubtedly facilitated by low-code approaches combined with custom software development services. Thus, users will be able to quickly resolve their main issues by selecting the best low-code mobile app development platform from the review list. Amateur developers with little technical background can benefit the most from this capability with little risk.
The term "no-code" does not imply anti-coding. Developers and their expertise will always have a place in the world. Even without coding knowledge, people can launch their ideas, create businesses, and pursue their entrepreneurial dreams. With so many no-code development platforms out there, non-programmers can now create their own products. 
Mobile app development companies in Dubai can create applications using these low-code platforms with little to no coding, reducing the workload for the IT department and increasing organizational agility. Depending on your preferences and needs, you can choose from different options. In the future, no-code development platforms will meet the demands of any business thanks to advancements in technology.
Frequently Asked Questions
Get inspired!
Subscribe to our newsletter and get updates on how to navigate through disruption and make digital work for your business!