Yes, you read that right! Dominos is setting some serious goals for its competitors and is changing the whole demography by leveraging digital transformation. So, wipe that grin off your face to learn the magic behind the carpet!
If you think of Domino's as just an incredibly lucky pizza place, you couldn't be more wrong! Domino's had to change its complete strategy and align its business operations towards technology to survive in the market.
Domino's sells nearly 3 million pizzas per day. Their recipes are carefully modified according to their geography. For instance, Indian Domino's have some of the best paneer pizzas, and American Domino's have the best pepperoni pizzas.
The domino's experience is a gold mine for aspiring tech startups and even established businesses. They managed to balance brand experience, product quality, and marketing campaigns, all while they are being pulled down in the market, and during a time where the digital transformation has just started.
The tale of Domino's- a digital transformation leader of its gen
You know what's badass? Domino's opening their pizza place in Italy. That's how confident Domino's is of its product and service. Domino's is taking the pizza experience to the next level by opening its stores across the world. There are nearly 18000 stores across the world. it has nearly 350,000 employees across its stores and offices.
The catch is, nearly 50% of their employees in the headquarters are working on digital transformation and data integration. See, their success is their cheese-burst pizzas and their digital transformation strategy. One without the other couldn't have clocked in a revenue of $16.1 billion in 2020.
For dramatic purposes, let us divide Domino's story into a three-act structure.
Act-1. The story of an underdog.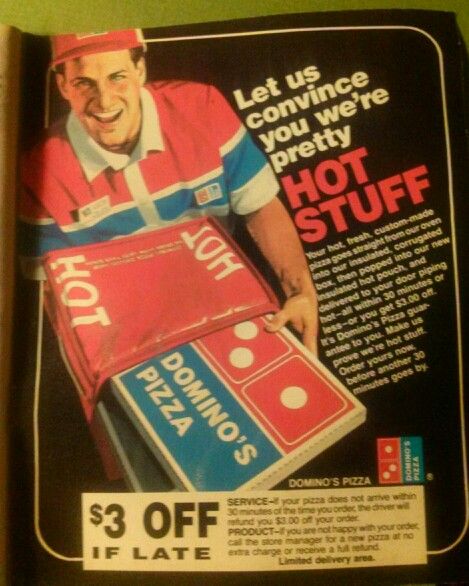 Sources: Katie Balamucki
So, what could a tech startup learn from the pizza giant? well, almost everything! Even back in the days, Domino's was a popular pizza place. They had their good days and bad days, but during the late 90s and early 2000s, they were facing their all-time low.
Their pizza received a bash of criticism from the food critics as well as your average joe who eats pizza 3 times a day. Though Domino's tried to grab their audience through their impeccable service and delivery time, it had no effect!
Food shops like pizza huts and other fast-food joints were shredding Domino's apart by beating them in their own game. Domino's were on its way to bankruptcy and their brand value was hitting rock-bottom.
No matter what they try, the people's perception of their brand remained the same. They tried introducing new pizzas, added a variety of products to their menu, and even optimized their customer service, yet the outcome was the same. They just couldn't shake off their image.
Read Also – Digital Twins: Bridging the Physical and Digital Goods Powered by IoT
Act-2. Working towards the change.
In the early 2000s, where Domino's went closer to bankruptcy, their then CEO came up with a new strategy. They revamped their entire recipe and introduced great flavors to their menu. But that's not their secret. Their secret lies in devising a digital strategy to optimize their branding.
Their first order of business was to streamline the supply chain management. Domino's had many stores and warehouses across various locations. It has been following the same recipe for nearly 49 years. Their motto was simple- it is better to score B-minus in all the stores than scoring an A-minus in just one store.
They aimed for uniformity so that all their shops across different locations represented the same taste and brand value. Their then CEO hired a competitive IT team that envisioned Domino's supply chain management in a new way. Digitization of the stocks and inventory has given them a significant edge over their competitors.
Source: Domino's® Pizza
The IT team was also tasked with another task which was quite impossible during the early 2000s. Once they had enough insights into their stock and inventory, their next move was to digitalize the customer experience. This was when smartphones were becoming popular among people.
Domino's introduced the live tracking option. This enabled customers to see what is happening with their pizza. This gave a sense of "freshness" to the customers as they were able to get a sense of what is happening with their pizza.
One of the harshest and most common criticisms they received was that their "crust was like cardboard.". This comment was so common that it became a tagline for the company among customers. They devised a marketing campaign called, "OH, yes we did!" which is one of the most successful marketing campaigns in history.
This aggressive campaign combined with its digital strategy hit the spot. The customers recognized Domino's taste and their sales began to sky-rocket. Now, customers are more likely to order via their application than through the phone. This was an important milestone for not just a pizza place, but for the whole market.
Read Also – How W2S Used Advanced Predictive Data Analytics To Identify The Weather Conditions And Forecast Warnings Through The Help Of A Mobile Phone?
Act-3. The victory.
Now the pizza giant is leveraging advanced data integration to understand customer patterns and behaviours. Their model was so successful that other fast-food giants started following this model.
Even during this pandemic, Domino's was quick on its feet. They foresee situations using data analytics and data engineering and leverage technology to find solutions for those problems. Their automatic car that needs no driver or delivery partner to operate it is turning quite a few heads in the market. This enables Domino's to continue its services through contactless delivery.
The international domino's markets that feature online delivery channels are more than 90%. there are more than 34 million different ways to create a Domino's pizza. And more than 95% of the franchise owners in the USA are those who worked in Domino's as hourly workers or as pizza delivery boys.
The "take-away"
Digital disruption can be your one-way ticket to the magical island if you were to time the strategy accordingly. Even many tech companies fail to understand the potential of leveraging technology to scale their business. Domino's innovation strategy is the right way to balance your vision and technology. By the end of the day, a business strategy needs to be as subjective as possible. What works now may not work tomorrow. C-suite leaders can make an impact on the market once they understand this limitation. There are many digital transformation companies in Austin that can help you with tech consulting for your business. The first step to achieving your goal is to act on it!

Domino's to tech startups and enterprises