The 21st-century market is all about optimization. It doesn't matter if you are running a small business or a large enterprise, the competition is mostly democratic, and small brands are going toe to toe with large organizations. This positive trend on the market is because of digitalization as it puts the power directly in the consumer's hands.
In such an increasingly customer-centered market, businesses are finding it increasingly difficult to keep up with customer demand. Larger enterprises are increasing their employee volume, particularly during the recent pandemic which paved the way for the virtual work environment.
Believe it or not, increasing the number of employees to keep up with the customer demand is simply not a viable solution for the long run. The era is predominantly dominated by IoT devices. By 2027, there will be at least 41 billion live IoT devices in the world. given the world's population, it is almost 5 IoT devices per head!
This shows two things,
You should invest in the IoT market.
There will be tons and tons of data coming through the door.
As the data accumulation raises exponentially, more employees would not be sufficient to process the information effectively. So, what's the most practical way to increase the efficiency of certain business operations without burning a hole in your pocket? This is where business process automation enters the picture.
How did we arrive at BPA?
The term "business" has evolved into a completely different thing- both in an ethical and operational sense. In the present, the knowledge for commerce is not restricted to a particular group or society but is available to anyone and everyone who has an idea that can spark a revolution.
The demography completely changed in the market. For example, in the present market, the inventor or innovator doesn't have to be the marketer. This has not been the case in the past. This is possible only through the rise of B2B sectors in the market. To give you a fair idea, the B2B sector is nothing but a business whose client is another business.
It doesn't mean that BPA is only useful in B2B sectors, but the growth of B2B sectors has something to do with the arrival of BPA in the market.
Read Also – Taking The Automation Platform To The Next Stages

Role of business process automation in cost saving

A business's main goal is to create an effective operational process that produces a product or service. But, this is not the only formula for success. Nowadays, it heavily relies on managing resources effectively.
Managing the resources includes people, machinery, hardware, software, real estate, etc. but everything just narrows down to cutting the costs. A business that effectively cuts costs has a greater chance of innovation and product development.
We have to understand the role of business process automation in a business. Business Process Automation solutions exist to cut costs, increase efficiency, increase accuracy, save manpower, and better resource reallocation.
Well, it looks simple on paper. Everyone wants to cut costs, right? Hold down a bit. A recent report suggests that nearly 47% of the B2B marketers admitted that they cannot measure their Return on Investment (ROI), and another 18% are standing on the wall. They don't know if Return on Investment could be measured or not. Only 35% of the marketers are confident about converting their investment into a number.
These stats speak volumes! It is important for businesses to stick with numbers when it comes to resource management. In the past, there have been several instances where a revolutionary idea has lost its edge due to resource mismanagement.
Benefits of implementing automation in business processes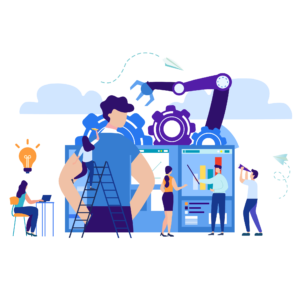 Business process automation seems to be the hottest topic of the year, particularly after this pandemic. Many businesses have lost their edge during this global lockdown and have chosen to drastically restrict their spending to keep the business afloat. Business Process Automation becomes the obvious choice for such organizations.
This is not just mere speculation but is backed by numbers and facts. A controlled study conducted on small businesses has helped shed some light on the potential of Business Process Automation.
Nearly 63% of small businesses attribute their resilience against the global lockdown to automation. 2 out of 3 workers claim that automation has helped them achieve a higher level of productivity.
Business Process Automation is mainly used in performing monotonous tasks like data entry, record transferring, Providing initial response, document creation, records organization, data accumulation, etc. Basically, automation takes care of those energy-draining tasks that take up so much of the employee's time that could be spent elsewhere.
By automating such mundane tasks, employees can invest their time in critical operations that are more aligned with the growth of the organization. Apart from this, one of the most important benefits of Business Process Automation is in maintaining the effectiveness of the employees.
When an employee is forced to do a single task repeatedly, the precision of the outcomes is expected to take a hit. As the tasks are mundane, humans would not be able to give their 100% throughout the process. There is a window for distraction.
Replacing such mundane tasks with automation can help reduce this window for error and focus on providing a high-precision process.
Digital Transformation and BPA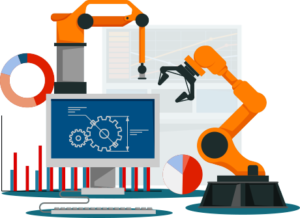 Rapid digitalization has set favorable conditions for automation across industries. The research found that the digitalization that happened in the past few months is far greater than the digitalization that has occurred in the past 5 years.
This change in schematics has led to an increased dependency on the digital medium. digitalization has its own set of benefits like increasing the effectiveness of the operations through agility and diversity. It also builds up the business's resilience as it keeps the entire operations afloat during sensitive times.
It also broke the stereotypes surrounding the remote or hybrid work models and has combined automation with other technologies like cloud services, Artificial Intelligence, Machine Learning, robotics, etc.
As most businesses have adopted digital transformation and such working conditions, automation will sooner be an integral part of the work culture of any organization.
Conclusion
Customer-centric business models have given rise to a new breed of market that keeps the brand experience at the core. The pressure to hold their ground in a highly competitive and dynamic market is forcing businesses to borrow from technological innovations to make up for their shortcomings. There is even greater competition among the ones that provide high-quality business consulting services, which is kind of ironic if you think about it! Bottom line? The future of business is aligned with technology, and Automation is at the top of this game. It is better to be late than skip the whole thing.

Business Process Automation: The Subtle Way Of Optimization