Overview:

Tech isn't typically the first thing that springs to mind when thinking about food. However, technological innovations in robots, food delivery apps, data & processing methods have profoundly altered how we create and obtain food over time. Technology enables food manufacturers to produce more effectively with an increasing global population. Increased food safety and shelf life can result from technological developments in processing and packaging. Let's dig further to know the true potential of tech for the food industry!
The item on our diet charts that are most in demand now is technology in the food sector. The way the food industry does business has been fundamentally altered by its embrace of new technology and mobile applications. Due to a shift in consumer demographics that now includes working professionals who live in urban areas with dense populations, the focus has moved to the products' sustainability, health, and freshness. The food industry seeks to adapt to the trends, promote healthier, more good eating habits, and prevent food product scams.
The use of technology and equipment in the food industry also ensures accessibility and superior quality. It lowers the cost of keeping the food fresh and boosts productivity using technology. According to a study, from 2022 to 2028, the $37+ million food robotics market is anticipated to expand at a CAGR of more than 12.80%. The more hazardous tasks in the food industry can be made safer by robotic machines powered by technology. This is only one of the numerous ways technology can advance your food business operations.
How is technology accelerating the growth of the food industry?
A combination of food and technology is called food tech. When people think of food-related industries, they frequently think of areas like restaurants, food processing, and agriculture. Enterprises are actively using food technology to increase food production efficiency, develop functional products, simplify distribution and consumption, cater to various consumer needs, and solve the labor shortage problem. Sustainability consulting companies are furthering the cause with their vision to encourage consumers to adopt the principles of "conscious consumption".
The evolution of technology to treat ingredients and foods as industrial products based on science and technology is one of the reasons that has elevated food technology to the forefront. Innovations in technology, including artificial intelligence (AI), pull significant trends from various groups of people. Understanding and analyzing individual differences is made possible by the Internet of Things (IoT). As a result, the need to tap into advanced data analytics solutions has increased by many folds.
There is an opportunity to invest extensively in technologies like AI, big data, cloud computing, IoT, etc., that address the market's problems and provide new value because the market for food delivery apps is enormous and is predicted to continue expanding. Developing production and work plans based on consumer behavior and identifying the most effective routes for collection and delivery utilizing production, order, and inventory data will enable the best food chain management across all enterprises and industries.
What made food delivery apps adopt digitalization?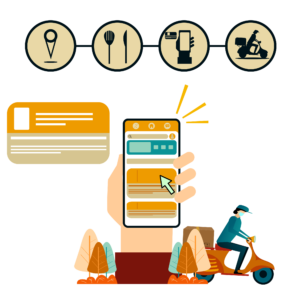 Restaurants used to handle all of the limited food delivery that was available directly. Early in the epidemic, physical distance restrictions and lockdowns gave the industry a major boost, turning delivery into a lifeline for the struggling food industry. In today's world, there is a vast ecosystem of participants. Ready-to-eat food delivery has emerged as a significant market thanks to the development of enticing, user-friendly apps and technologically enabled driving networks. Many mobile app development companies USA are catalyzing these changes in the industry.
The economic structure of the food delivery ecosystem is still changing even as it keeps growing. Which stakeholders succeed or fail as the sector grows will depend on factors including brand, real estate, operational efficiency, depth of offerings, and shifting customer behaviors. The long-term economics will probably differ from how they do now as consumer expectations and regulations change over the years, and emerging technology continues redefining the sector. Here are a few reasons why digitization is beneficial for food delivery apps.
Most restaurants today use mobile app development solutions to deliver their services to customers. Long lines of people waiting to get their food orders no longer exist. Your desired dish is ready to be delivered from your favorite restaurant to your doorstep.
The consumer does not need to carry a wallet and can conduct transactions even if the wallet is left at home because mobile-based online payments are made possible by e-wallets. A further benefit of technologies used to create food ordering apps is that restaurant owners can promptly collect the money. Cloud computing companies are further simplifying these operations by bringing a whole range of ready-to-use to the table.
The tables are already occupied when you finally go to supper after a long day. Just visit your preferred food delivery app and look for available reservations. A table reservation is helpful for businesses attending crucial meetings and booking dinners.
Tracking food delivery orders:
The goal of the food delivery app is to deliver food quickly. The tracking device uses GPS navigation to monitor the delivery vehicle's location and identify potential food delivery delays. Moreover, finding the exact location on the map is now easier for the delivery representative. By keeping track of deliveries, restaurant owners can plan their time for any new tasks if unexpected breakdowns occur.
Why is tech the driving force of the food industry?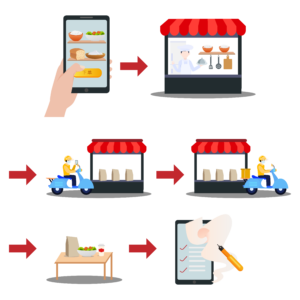 A bridge between reality and perception:
The food retail network is heavily burdened by large-scale manufacturing, which necessitates installing human interference solutions throughout the food production chain. The implementation of technology in both manufacturing and distribution is likely to become the norm for increasing the accuracy of price in every operation.
Demand for greater food production efficiency:
Food manufacturers are searching for digitization and automation due to the need for more food. As a result, they are using the development of automated equipment, hardware, and software technology to take the position of manual operations. The most recent needs of their target market are also being met by well-known food and beverage companies to open up new markets for their products; nevertheless, creating a modern product requires more time, resources, and labor. Digital technologies hold the key to solving all of those problems.
Demand for more wholesome and nourishing products:
Although food production is increasing swiftly, this does not always mean that the food is safe for consumers. Food products that want to be traded must be wholesome, tasty, and have more healthy food qualities. Premium quality is the most important component that producers should consider, which is why the food and beverage industry has seen an increase in regulations. The main priority for customers is listed as healthcare. Influential technologies are being used for efficient data model development, allowing stakeholders to understand the bigger picture!
Politics and ecological impacts:
Due to networks' ongoing discussions on animal welfare and food safety, new laws and regulations are being imposed on the food and beverage business. Moreover, the threat of temperature change drives the need to limit the deterioration of food and energy. It has a direct impact on how the process of digital transformation operates.
We recently offered our client a pricing analyzer tool powered by AI and ML to improve their business's sales growth and customer loyalty, one of the largest chains in the food and beverage industry. Our team of professionals is open to challenges and ready to provide customized food delivery app solutions based on your business needs to stay ahead in the global market.
You can also view more of our works and case studies here!
Wrapping Up:
Food tech enhances food handling and packaging, extending the food's shelf life and enhancing its quality. In addition to raising the overall quality of the product, it aids in assuring food safety. The ability to provide customers with a little more than they expect is made possible by technological advancements in the food industry. The food technology ensures better nutrient usage along the supply chain from farm to fork while reducing the demand for basic food production. Using machines in the food industry also ensures quality and affordability, lowers the cost of keeping the food fresh, increases production, and drives cost reductions. Enterprises willing to take their business to the next level can get professional support from leading IT consulting firms to avail of cost-effective food delivery app development solutions to stay ahead in the competitive world.