Ever since the dawn of digital technologies, the market has aligned itself along with the tech wave. This was an instinctive choice- the decision to move towards technology. This is simply because people were fascinated by the capability of technology! The belief in something that's larger than life has created an optimistic climate for tech innovators and enthusiasts.
People who embarked on their journey in the tech field were mostly people with a distant vision. They understood the potential of the technology and how it can create a unified world that's driven by passion.
This vision was the seed for many high-end business consulting services and digital transformation consulting firms. New tech enthusiasts, held on to this vision and saw technology as a means to problem-solving.
Later down the line, we recognized the capability of technology for its problem solving and that's how we have arrived at the present market- part tech and part commerce!
How can technology help create an efficient business?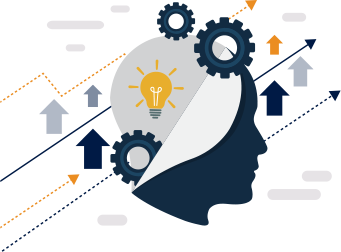 As we said earlier, it was not a conscious choice but rather an instinctive one. However, technological innovation seems to work well when combined with business or commerce due to exponential consumerism.
To put it in simple words, technology stripped the complexity of a particular process. It also helped the businesses to reimagine their operations in a more efficient way.
For example, we at W2S Solutions have worked with a car dealership and supplier management company. They had a lot going on under their hood. There was auctioning, quoting tenders, background verification, customer engagement, etc. On top of this, the then-existing lockdown has made things worse by limiting their operations.
The client wanted to reimagine their whole business operations in the digital platform so that their operations can continue in a virtual medium.
The goal of the project is to reduce the complexity to its bare bones and work from there. This approach has increased customer engagement by almost 6.2 times despite the severe lockdowns.
Digital transformation services for businesses can be a tricky thing. It is important to understand the core operations of your client's business before you devise a plan. Thanks to our incredible Subject Matter Experts, we were able to hit a home run!
Read Also – A detailed view about the vital role of Digital Transformation in Business Growth

How tech-oriented should your business be?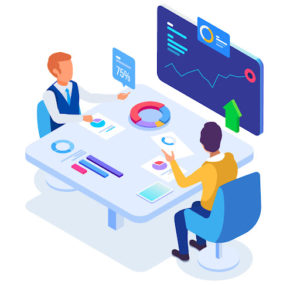 This is one of the most common questions that many businesses, at least the startups ponder upon before deciding to undergo digital transformation.
The answer is- 100%! Given the current scenario, you should incorporate technology whenever and wherever possible in your business operations. This might sound a bit absurd coming out of a digital transformation company, but irrespective of the domain your operations are in, you should leverage the digital platform to its fullest.
Let us consider companies that do not fall under the tech bracket- Domino's and Starbucks.
Both of them fall under the fast food and beverages sector. Though the sector holds a lot of potentials, aligning with the technology is what made them into globally recognized corporations.
Almost 50% of the employees in Domino's are working on data engineering and IT operations. You know what the best part is? They have nearly 350000 employees in total.
Starbucks is a genius for envisioning a marketing strategy that is integrated with technology. This doesn't just help with the branding of the company but it actually ensured enormous cash flow.
So, irrespective of the domain of your business, you should align your business towards technological development.
Domino's are able to sell 3 million pizzas per day not because they have a sophisticated kitchen or chefs! It is the unified, frictionless, and central workflow of their company that allows it to reach such significant numbers!
Read Also – Crucial Lessons From Domino's To Tech Startups And Enterprises

To start from scratch…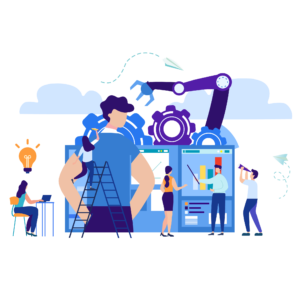 To start from scratch can be easy or difficult as it depends upon various factors, but it obviously helps to make it through this transformation successfully when there is some level of tech penetration in your organization.
It is easy to build an efficient digital transformation strategy for a company when they are familiar with the concept. Imposing a new change altogether, will lead to lots of chaos and confusion. This may interfere with the ongoing operations and may take a while before everyone catches up with the flow.
Organizations that are instinctively data-driven tend to be more successful in adapting to market trends than the ones that don't.
Imagine what a city like Austin that rivals Silicon Valley could achieve through rapid digitalization. Smart cities are popping up all over the globe. By 2050, almost 70% of the population is expected to live in advanced urban areas.
These changes won't happen overnight! It takes time and the momentum behind the process is gradually built up. To adapt to the future of such smart cities and urbanization is to incorporate digital technologies in your business operations, slowly but steadily.
Technologies like Artificial Intelligence, Machine Learning, Cloud transformation, Big data analytics, etc. are helping businesses to adapt to these changes one step at a time. But the truth is, we are still in the middle of the process. By the time this tech era peaks, it will be harder for businesses to make that drastic shift. One step at a time will be more than enough if you are a relatively smaller size but for large enterprises, it's already too late.
Leveraging technology is the only way any legacy system-dependent organization can stay relevant in the future.
Read Also – Can Austin's Silicon Hills Overwhelm The Infamous Silicon Valley?

Wrapping this up,
The major reason why organizations are reluctant to make the shift is because of the mindset! They often see digital transformation as a separate entity or from a strict marketing point. This is not the case! When organizations recognize digital operations as one of their core functions, they can unleash the full potential of the digital transformation they were looking for. It opens up a whole new array of opportunities that helps them to scale their business!

The Right Mix Of Technology And Business Strategy: Secret Formula!