Everything we do today in our contemporary world is possible with a few taps on our smartphones. The digital world saw a boom years ago and has greatly facilitated many essential areas of our lives. The delivery industry has experienced the same thing, as customers now favor shopping online over visiting actual stores. Grocery delivery app development is one area that has gotten juiced up in recent years. Want to explore more? – Keep reading!
Many grocery retailers have recently started offering online delivery services. Nowadays, when people constantly seek methods to save money and time, this is an excellent concept for both customers and businesses. By automatically connecting you with the best delivery at any given time, a delivery app also aids in task automation. However, a few years ago, people created extensive grocery lists of their basic daily requirements. 
For most consumers, the advent of grocery delivery apps was nothing short of a blessing. Customers enter the most beneficial grocery delivery app right now because it offers them a customized grocery ordering and delivery marketplace right at their doorsteps. According to a study, the anticipated market volume for online delivery app revenue is $466.20 billion by 2027, representing a CAGR of 7.60% from 2022 to 2027.
How does the 10 min delivery model work?
Grocery shopping online used to seem like a luxury, but today it's necessary as customers seek convenience and prefer contactless purchases. With this comes the responsibility for online grocery platforms to provide the best services, raising customers' expectations even further. Corporate giants and big players in e-commerce are trying to gain control of the online grocery market. 
The online grocery firms that can provide quick deliveries, hassle-free shopping experiences, and significant discounts will succeed. Online grocery startup businesses are growing their operations to provide rapid deliveries to mimic the same "instantaneous" offline purchase. Moreover, quicker deliveries stop frequent stock-outs at new grocery shops. Here is a brief explanation of how this 10 min delivery will operate: 
The customer orders groceries through the app.

The hub closest to the customer's home is notified of the orders after the platform gets them and collects and packs the items.

The app chooses a delivery partner.

To collect the order, the delivery representative arrives at the hub.

The consumer receives their order.
How will a grocery delivery app benefit your users?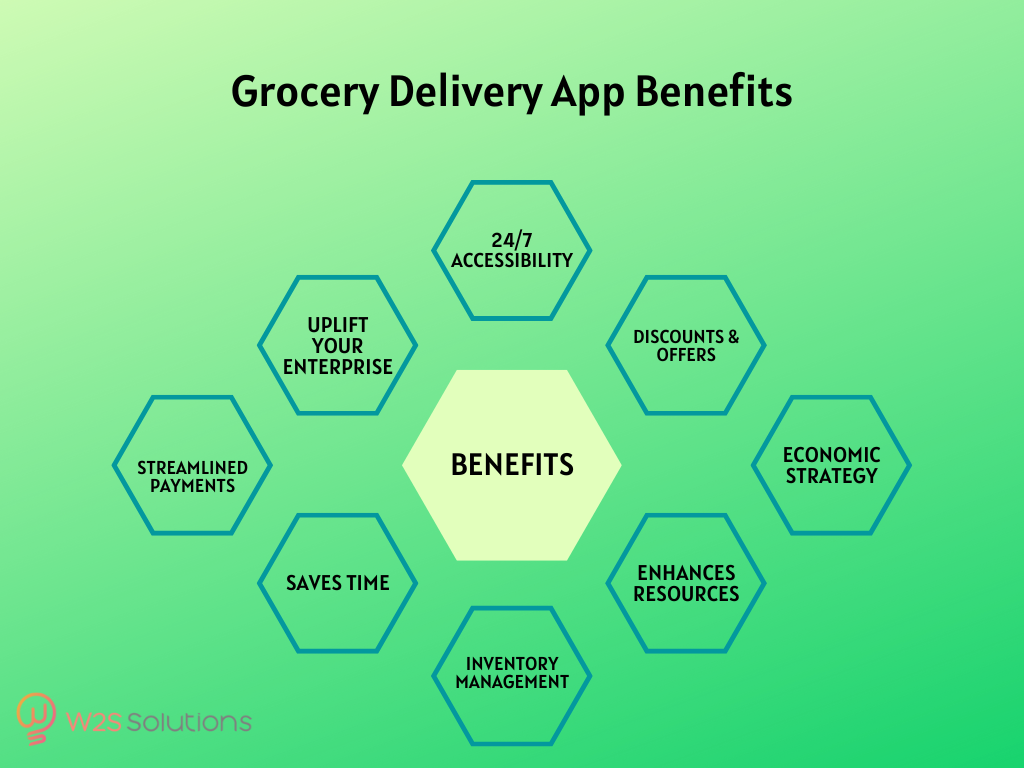 24/7 Accessibility
Users can quickly order their items from anywhere and anytime using the grocery delivery app, which is accessible 24/7. As a result, your users won't have to stress about running out of food before they get home from work as they can now buy them with just one click instead of visiting several places.
Discounts & Offers
Another advantage of operating an online grocery store is that you may offer discounts on certain items to get more people to visit your store rather than one that isn't. Promotions are essential for bringing in new clients and maintaining the interest of current ones. To ensure your enterprise can survive, you must have a good balance of new and existing clients. 
Economic Strategy
A grocery delivery app is cost-effective because it enables financial benefits through resource optimization by improving business procedures. The manual data collection from many sources, such as tax returns, bank statements, etc., might be avoided at a high expense in terms of labor hours. Instead of concentrating on crucial tasks that contribute to your organization's growth strategy, more people would need to be hired to complete this task.
Enhances Resources
You can quickly enhance your resources using technology in today's dynamic business environment. Organizational resilience is enhanced by integrating customer relationship management (CRM) software, inventory management, payment processing, site design, and other operational tasks. Optimizing internal business operations will both generate revenues and cut costs. 
Enterprises can concentrate on their core competencies while maintaining total control over non-core tasks like payroll and leave administration, reporting, data collection, and analysis.
Inventory Management
You can monitor the whereabouts of every item you own in real-time with a grocery delivery app. This way, you can quickly respond to any missing or misplaced items by knowing what needs to be done. 
Saves Time
Online grocery shopping powered by cloud computing is the best example of how time truly is wealth. As a result, nobody wants to explore a store for hours looking for grocery items. You won't need to go between locations to pick up items that aren't offered at these locations, which will save you time in your busy schedule and money on petrol. Instead, you may use the grocery delivery app.
Streamlined Payments
Providing your consumers various payment methods is another fantastic advantage of running an online grocery business. This way, the procedure is made simpler for them, and Instead of pondering whether this kind of payment is most practical for them, they are left with more time to concentrate on other vital issues.
Uplift your Enterprise
The expansion of a firm is always essential because it enables you to contact additional clients. Your enterprise can deliver products directly to homes with an app, saving customers' time and making purchasing convenient. While standing in line at stores or doing other things, customers can place orders on their smartphones.
What features do Grocery delivery app development provide users?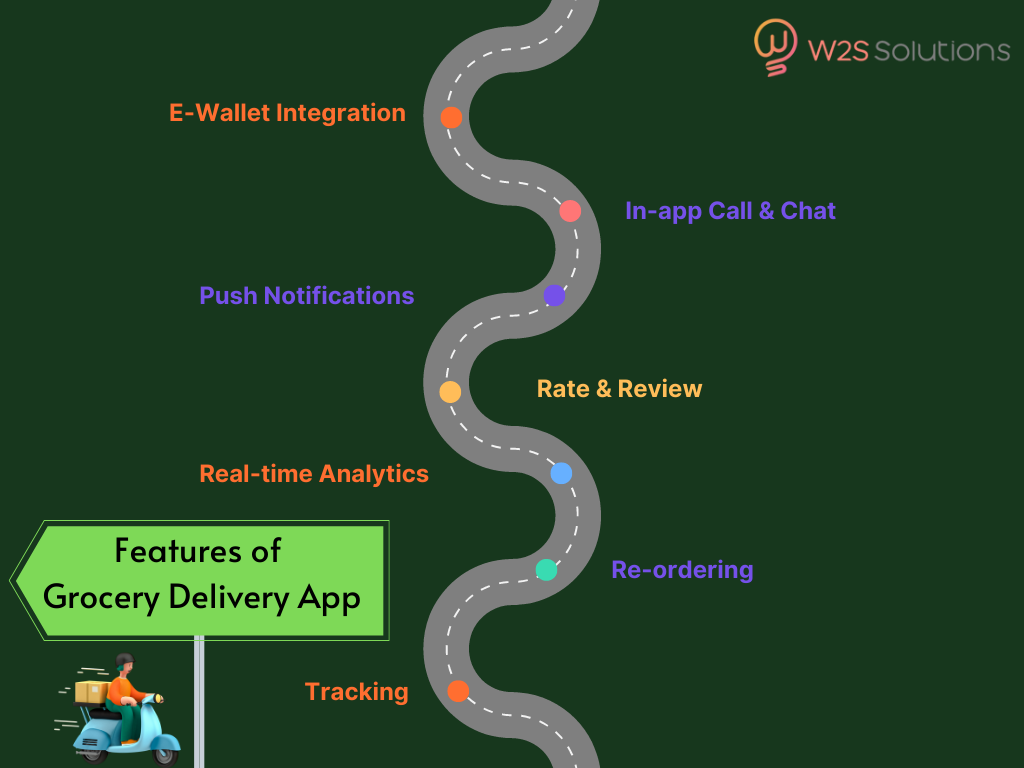 E-Wallet Integration
For users who enjoy utilizing digital wallets, this feature is essential. It's now easier than ever to get groceries online and have them delivered to your door within a few hours, thanks to mobile applications that offer e-wallet integration.
In-app Call & Chat
The store owner and the customer should be able to call or chat with the delivery representative via the mobile app. When drivers are having trouble finding the right location, the delivery person can use this to their advantage and directly call or chat. You may reach out to your customers at the best time with a pertinent message and customized content. 
Push Notifications
An essential modern function is "push notifications". When utilizing on-demand delivery apps, push notifications are one form of an alert message frequently appearing on the screen. You may reach out to your customers at the best time with a valuable message and customized content. 
Rate & Review
Reviews and ratings help enterprises understand customers' feedback and opinions. Rating the stores also aid other customers in learning about the services offered by the establishments.
Real-time Analytics
It's crucial to have this enhanced feature. Data analysis in real-time, as soon as it becomes accessible, is one sort of data analytics. However, big data analytics solutions aid in tracking user behaviour and aids in cost- and profit-saving measures and fraud detection. This facilitates smarter decisions, which also helps you take your enterprise seriously.
Re-ordering
Customers may occasionally want to place the same order that they previously placed. In those cases, viewing the previous order history and placing the same order again is quite helpful.
Tracking
The most attractive feature for monitoring a mobile GPS device is real-time tracking. This will benefit the administrative staff, customers, and the store owner. However, it determines the user's location and provides results like renowned supermarkets, neighboring shops, and a variety of things to purchase. It offers users a highly customized experience. When the driver delivers the product on time, the customer is not forced to wait in suspense.
Wrapping Up
Your physical grocery store can gain a lot from the grocery delivery app. This mobile delivery app with great functionality and user-friendly features can now make all the difference in expanding your business and driving sales as we fight the coronavirus outbreak. It is appropriate to point out that the grocery app readily fits into the current market environment and aids in the sustainability of your enterprise. It's the right time for your enterprise to significantly impact the online delivery market by gaining professional support from the leading mobile app development company to avail grocery delivery app development solutions at a low cost to stay ahead in the competitive edge.