Overview: R & D is the major reason technology has impacted more industries in recent years. It is considered the heart of any business that pumps new technologies to bring more products into the world. Today, R&D is more dependent on emerging technologies like artificial intelligence, machine learning, and big data to transform businesses based on the current trend. From automobiles to healthcare, many industries have now come a long way with R & D to break barriers and bring success in no time. All these marvelous innovations led by R & D sound interesting, right? Let's dig further to explore more about R & D in AI, ML, and big data!
The research and development department in the modern world is accelerating businesses to stay abreast with upcoming technologies. R & D is transforming businesses with technologies like AI, ML, and big data to face various challenges and act soon to stay ahead in the market. The demand for R & D teams is rising every year since technology started to revolutionize various industries. According to a study, the United States will spend more than $679 billion on R & D by 2022, making it the world's leading country.
Every R & D department from various industries across the globe is working day and night to maintain the pace of matching upcoming trends and bringing a valuable product to the market. Businesses are speeding up to ensure that workers have the right skill set, covering the communication gap between other departments, and advancing the idea evaluation to improve the R & D department. Furthermore, artificial intelligence (AI), machine learning (ML), and big data are fueling R&D's expansion to create substantial insights for the company's greatest products.
R & D in Artificial Intelligence:
Artificial intelligence (AI) can perform actions similar to humans and be introduced to manage complex data sets with the right patterns of machine learning algorithms. In R & D, AI is used for managing tasks from voice recognition to automating work in factories. However, the R & D department is still figuring out the best ways to make AI perform beyond what humans will not be able to do. For example, AI solutions are incredible enough to identify the signs of disease from medical screening or imaging, climate models, genomics, weather forecasts, and astronomy.
R & D in Machine Learning:
Machine learning (ML) has a set of algorithms, statistical models, and data patterns to develop computer systems that can predict outcomes accurately without relying on explicit programs. R & D departments have benefitted a lot from using machine learning algorithms to resolve research problems and improve project performance. For example, the R & D department focuses on developing an innovative product by making predictions based on existing data. In contrast, machine learning will predict the necessary data faster at a low cost.
R & D in Big Data:
Big data is a collection of large volumes of data in size, where it's still growing exponentially over time. Moreover, many industries rely on the R & D department for developing new products, which requires a lot of data to manage the ongoing process where big data is used. The strategies implemented by R & D using big data deliver results accurately and benefit them by reducing repetitive tasks. Big data helps existing and newly founded research and development departments in various industries scale, explore, and flourish.
Read Also – Cheatsheet: Big Data And The 4 Types Of Big Data Analytics

How have technologies helped R & D to transform the healthcare industry?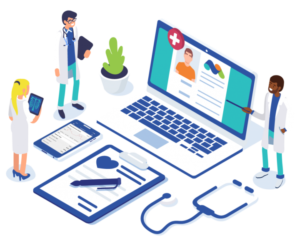 The R & D department of various healthcare industries has struggled a lot during tough times like the COVID-19 pandemic, and other diseases. The R & D healthcare department fought the battles and succeeded after rigorous research and trials to deliver the right medicine or vaccine to cure the people. But unfortunately, for a long period, people could not survive cancer and went through a lot of pain and gave up their life. None of the healthcare industry could find a perfect solution to take down cancer, but they managed and prolonged the life span of patients for a short period.
The drug named "Dostarlimab," found in the US, cured 18 patients who had been suffering from rectal cancer within six months. Experts could not detect malignancy with endoscopy, examination, MRI scans, PET scans, or positron emission tomography. But cancer can be found and cured with Dostarlimab since it has the right potential to deal with tumors. Dostarlimab is a drug made in the R & D lab that is a substitute for antibodies in the human body. Clinical trials on patients undergoing cancer therapies such as radiation, surgery, and chemotherapy had previously resulted in bowel, urinary, and other abnormalities.
The technologies like AI, ML, and big data have helped R & D to transform the healthcare industry and explore the unexplored to identify quick enterprise mobility solutions for any disease in the future. Usually, it takes longer for Pharma R & D, biotech, and other healthcare industries to come up with the right medicines to approach the wide spread of disease. But today, the R & D department of healthcare industries can predict the next pandemic approach, find diseases easily, and come up with proper medicines by using AI, ML, and big data solutions from tech consulting companies in Austin.
How does R & D address global problems with AI, ML, and Big Data?
R & D departments from various industries using AI, ML, and big data can solve global problems and bring more valuable outcomes with the help of data engineering companies for the betterment of the future. Some examples to solve global problems include:
Self-driving cars innovated by the R & D department are safer to use on roads to avoid accidents since AI and ML can automate driving, and big data can fetch the routes for dropping passengers safely to their destination. However, various industries are still researching self-driving cars to improve their models and provide people with appropriate solutions. Businesses with web application solutions can adopt these emerging technologies to fasten their R & D process to get quick results and increase their capital in less time.
Computer systems are now used as teaching assistants developed by R & D for students since technologies like AI can assist students in teaching the subject and answering questions with 97% accuracy. In addition, machine learning can generate data patterns excellently, and big data stores data related to various subjects. Individuals can now learn differently with these technologies to update their skills and gain more knowledge. Learning is not that difficult when R & D offers such valuable solutions for the growth of future generations. Students can learn from anywhere since data is shared in the cloud with the help of cloud transformation consulting.
The usage of energy is addressed by the R & D department, in general, to make it much more efficient and benefit people. AI solutions obtained from business intelligence consultations are used for measuring the energy consumption of households and machines in factories to better assist them in saving energy. Machine learning solutions helped manage these energy consumptions efficiently, and big data solutions benefitted from collecting these data and providing better results for upgrades. Energy consumption is also managed now with these cutting-edge technologies.
R & D has also taken measures from leveraging technology for achieving SDG and supporting wildlife transformation by collecting vast data from the forest for research and study. Big data solutions have eased out by managing the large volume of data and providing better results. AI and ML in wildlife have helped monitor animals, birds, and poachers that cause threats. Researchers have tracked both extinct and existing species in the forest to provide proper protection based on specific areas. These technologies obtained from top app development companies for R & D use have benefitted in many ways to help the wildlife from various risks.
Read Also – A New Take On Wildlife Monitoring: How Are UAVs And Drones Helping The Cause?

Wrapping Up:
Digital transformation is rapidly taking place among businesses in today's world. R & D departments from various industries like healthcare, pharmaceutical, etc. have acquired emerging technologies such as AI, ML, and big data to provide better products and services for customers. These technologies have disrupted traditional research practices and made several enterprises step forward to accept the drastic change for better outcomes in the future. Enterprises willing to expand their R & D department can connect with the world's leading digital transformation consulting firms to avail of cost-effective AI solutions to edge out the competition.

How R & D Leverages Artificial Intelligence, Machine Learning, And Big Data?