Have you ever wished you could predict what products or services your clients will likely purchase? The solution might be predictive analytics in retail. The use of technology benefits inventory control and customer retention and helps companies determine the highest price a customer will pay for their products. It also studies consumer behavior. Enterprises can now use predictive analytics to make the most of all the gathered data and guarantee improved sales outcomes soon. Are you excited to dive deep to explore more? – Keep reading!
Today, retailers produce more data than ever, but their massive data pools don't always translate into successful outcomes. Retailers are under pressure to turn data into distinctive insights that give them a competitive edge in luring future sales. These accomplishments are frequently easier said than done due to the abundance of information and rising competition.
According to a study, as more enterprises utilize predictive analytics approaches, the industry is anticipated to generate annual revenues of close to $11 billion by 2022.
How can enterprises locate valuable data that will enable them to monitor what is now selling and what will continue to sell in the future? Predictive data analytics are becoming increasingly popular among enterprises across all sectors. However, compared to retail, few industries may be as technologically advanced. Predictive analytics can mean the difference between a robust income stream and a shrinking sales pool in a sector where companies thrive by successfully predicting what customers will enjoy next.
How can enterprises use predictive analytics for their retail?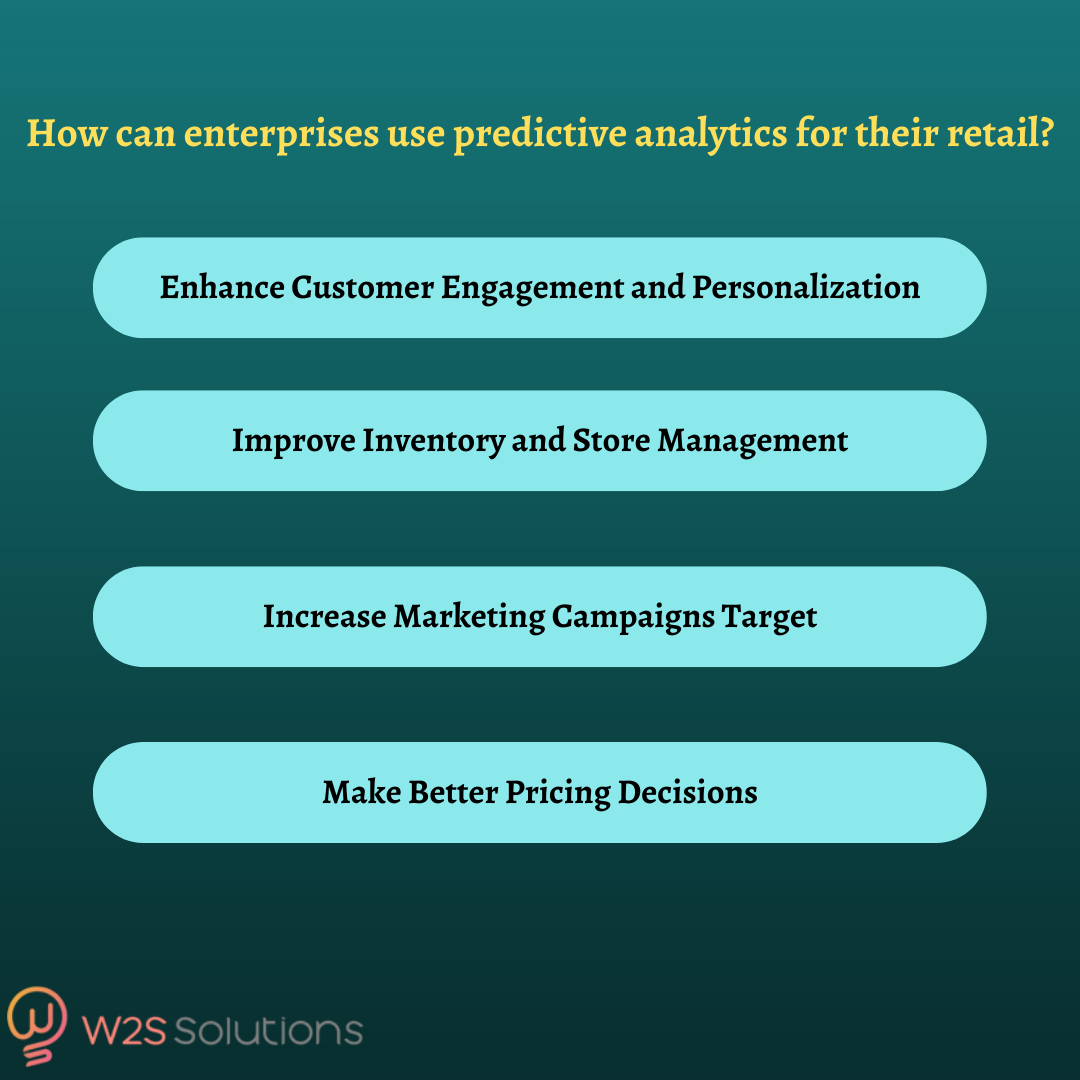 Enhance Customer Engagement and Personalization
Making each customer become a brand enthusiast is one of the major problems that merchants confront in a commoditized market. However, the amount of data that a single sale generates nowadays can help you uncover important information that you can utilize to turn clients into followers. Large retailers already keep track of their customers' buying choices, search history, and other behaviors. 
However, this data is not only valuable for enormous e-commerce big players. Smaller businesses can find new sales possibilities, identify developing trends, or even give clients a sneak peek at prospective new items by combining these data with predictive analytics. By adding retail data into predictive models, you may better anticipate consumers' wants and entice customers to return for a customized experience. 
Improve Inventory and Store Management
The time of maintaining an inventory stocked regularly is soon coming to an end. Having too much of a non-selling product and not having enough of a well-liked product might hurt your bottom line. Most enterprises use the same standard methodology to base future orders on historical trends. Although this isn't usually a problem, it could be challenging if you're left with a container full of products you can't move without losing them.  
Predictive analytics gives you a way to cut inventory expenditures while also ensuring that the stuff you buy turns into revenue rather than hidden charges. It can help your enterprise become more efficient in supply chain management, lower inventory expenses, and boost profit margins. Retailers who use analytics can concentrate on highlighting high-demand regions, swiftly identify new sales trends, and optimize delivery to guarantee the correct inventory is delivered to the right store.
Increase Marketing Campaigns Target
Personalized marketing campaigns are having an increasing impact on consumer behavior. Campaigns begin to fall short when social media platforms may display appropriate advertisements based on the slightest facts supplied. Retailers are in a unique position to gather a variety of personal information about their customer's preferences, search or enquiry histories, buying patterns, spending trends, and even the most effective implementation techniques. 
It's simple to begin evaluating consumers more precisely with this data availability. Predictive analytics can individualize the marketing process rather than producing a costly, extensive campaign with little impact or reach. Offering more direct messaging also implies greater control over when, how, and why it is presented and the message itself. It enhances client lifetime management and loyalty while enhancing ROI and productivity. 
Make Better Pricing Decisions
Many enterprises still base their pricing decisions on historical data and well-known ideas, such as seasonal trends and patterns. But many price-influencing elements, including customary occasions like seasonal sales, have been eliminated by e-commerce. While missing out on early sales, most retailers continue to postpone cost reductions until the typical holiday season. Due to the extreme price swings, this affects revenues.  
However, it is possible to determine when it is most advantageous to begin raising or lowering pricing using predictive analytics. To establish what pricing should be, AI and predictive analytics can monitor inventory levels, competition prices, and demand data. Proactively adjusting costs can help set apart your store analytics, give you better control over promotions, and keep you one step ahead of the competition.
How did we help a global food & beverage company to streamline operations and maximize its presence?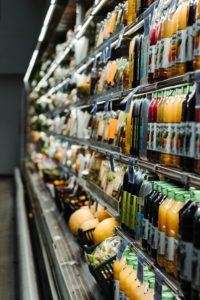 We recently collaborated with one of the world's best food and beverage industries, where our client operates its business in more than 150 countries. Our client required a central digital system for their retail firm to analyze, collect and measure the product details. Increased exposure in the retail sector would boost sales as it is one of the client's main sales pipelines.
Our experts reviewed the client's business challenges, provided the best shelf presence to increase product visibility, determined the planogram for better product placement, used edge computing, predictive analytics, and machine learning to arrange better-performing products, and developed customized strategies to address their sales channel.
With our bespoke planogram analysis backed by predictive analytics tools, we provided our client with satisfactory results. We ensured to create greater brand visibility, hike in sales figures and increased space for expansion with technologies like edge computing and ML to help our client stay future-proof. Our team of professionals is always open to various retail business challenges and ready to offer customized solutions based on your business needs to top the competitive market.
Wrapping Up
Predictive analytics may help businesses achieve many goals, including better word-of-mouth marketing and brand referrals, loyal customers, repeat business, positive online reviews, and improved customer connections. The retail industry benefits from predictive analytics since it helps them better understand and relate to customers' demands. Retailers can use predictive analytics not only to get fresh perspectives but also to maintain the efficiency of their current processes. Enterprises willing to create a significant impact in the retail sector can connect with big data analytics consulting companies to optimize their data strategy and vision.