Overview: As digital entered the market, guns blazin', organizations were able to scale almost instantly with it! However, as the popularity of digital increased, it became the default strategy that businesses adopted. But a handful of brands have managed to build an almost bullet-proof system with digital compared to the others! The difference? A solid data vision! Check out this blog to get inside an effective data strategy!
Talking about data is the "new meta" for CTOs as they proceed to sweet-talk CFOs into investing a sizable amount of resources in data strategies. But at the end of the day, the pressure to bridge results, values, and costs is on the CFOs! As far as reality is taken into account, every strategy exists within the CFO's space, so good luck telling them how data lands them on the moon!
The problem with data strategies is that it's still in its rookie phase! I mean, most of the businesses that put data at the core of their digital strategies still haven't tapped into the full potential of data. Business leaders are often overwhelmed by the pressure to stay with the trend and forget how it fits into their overall vision. Peer pressure is real, huh?
But there exists a handful of companies that are successful with their data strategies, and they all have one thing in common- they treat data like a product! The goal of a product is to solve a specific problem faced by a user, and companies that create/manufacture products focus on making that product relatable to the masses! By stealing this philosophy, your strategy can unleash the potential of your data at hand!
There is no right approach to data, but there are wrong approaches!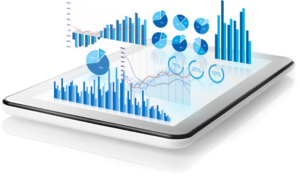 One of the most common data mistakes that companies do is taking a monolithic approach. And approaching data as a product prevents companies from making this huge blunder!
Say for instance a company makes a product "X". To drive maximum sales with product X, the company has to make the product appealing to a wider base of consumers. So, they make a "basic" product, and keep adding features to their original model to stay relevant for their consumers.
Similarly, organizations can approach data models like they would a product. Generally, users from various departments would use a data model. So, it's only natural that the data model includes them in their strategy. By doing so, organizations can streamline their use cases, and lay out an efficient way for the users to access data.
The goal of a "data product" is to make data accessible for users within an organization. Data products are increasingly becoming popular among enterprises and governments alike as they put data directly into the hands of users. It also, in a way, provides overall transparency in an organization, allowing departments to collaborate and innovate. Data engineering service providers that understand this vision will maximize the value for your organization effortlessly!
Read Also – Mind The Tech ROI: How Is Leveraging Data A Way Out For Enterprises?

How to build a data product that does the job?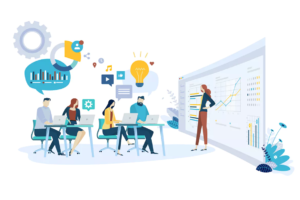 Project managers- that's your answer! Product managers help build a product by diving deep into the market trends and building road maps to bridge features, capabilities, designs, marketing, etc. Be it any kind of industry, a typical product manager does all the above things to further the scope of the product.
Building a data product is very similar, but the complexity is unimaginably high! Product managers should be able to put together a team that allows them to move easily in all directions. For instance, the team should consist of industry experts to ensure that the context of the data is never missed. Along with the industry experts, the team should consist of data engineers, analysts, architects, and cloud engineers! When it comes to data, a solid cloud computing strategy can make a huge difference in effectiveness of the whole process. A single piece of data can mean many things under different situations. So, a data product needs to be versatile, catering to different consumer groups. This will enable businesses to realize value faster, compared to the traditional data approaches.
Defining the consumer archetypes is a crucial step while building a data product. Different technologies will be used to connect different consumer archetypes with the data product. However, the strategy itself need not be robust. They can be easily merged with other archetypes and applications if needed. Organizations can also leverage real-time big data analytics solutions to see the full picture!
We worked with a leading petcare company, and we managed to amplify their value for data by defining their consumption archetypes first. Our client acquired an eccentric IoT company that produces smart collars. With smart collars, pet owners could manage and monitor a variety of data like GPS tracking, drinking habits, eating habits, sleep patterns, and even scratching and licking habits! Our client's R&D department was very pleased when we channeled these huge volumes of critical data which would be normally difficult to collect, to their laboratory. Our client's initial approach to data prevented this from happening as it was too single-channeled! As the medium is also digital, consumer analytics was easy for our client, and it helped target the pet owners with their marketing strategies.
Even though the sales of IoT collars were supposed to be the primary channel of revenue, the data from the collar proved to be more of an asset than the collar itself! Naturally, we built a cross-platform application to harvest and democratize the data at hand. Our client not only made millions of dollars, but expanded their footing into a completely alien territory like it's a piece of cake! Forget about capitalizing, but even identifying such data mines is impossible without a flexible digital strategy!
Building a real-time data strategy that works with multiple consumption archetypes is not feasible without a central vision for the organization. Some of the top IT consulting firms are helping brands to be more agile, informed, and resilient by leveraging technology! This will make data solutions more accessible in the marketplace.
Find out more about our IoT, Cloud, and Data-powered pet monitoring system here!
Wrapping it up,
A great data strategy nurtures the space for a great data product. For a data product to justify the resources invested on it, identify the end-user of it! By knowing the end-user, you can define the boundaries of the product and archetypes, and know the degree of flexibility it should have in the long run. The second part is identifying the scope for the data itself. While it is almost impossible to cover a 360-degree view of what a piece of data means, working towards it can for sure, amplify the vision for data in an organization. And that's how reliable a launchpad gets in the 21-st century!

Inside A Data Strategy: How Data Is Converted To Money? (With A Real-Time Example)