Overview:

Digital transformation is ushering in the next phase of supply chain management, which will see suppliers and Customers interact in completely different ways, shattering conventional organizational barriers. Efficiency, optimization, speed, and timing have long been important factors in supply chain management. Finance, procurement, and warehousing are just a few of the areas of supply chain operations where it has sparked the expansion of digital transformation. Sounds interesting? – Keep reading!
Enterprises can employ digital transformation in supply chain management to boost productivity, increase quality and consistency, and better serve their customers to gain a competitive edge in today's global market. Moreover, it guarantees that the supply chain will adopt adaptable and successful business models. The next industrial revolution is currently being driven by digital transformations and the advent of emerging technologies in the middle of many swiftly evolving, increasingly digital environments.
Many enterprises are rethinking how supply chains and supplier networks are planned and managed. A growing number of enterprises are focusing on utilizing digital technologies like multi-enterprise work management solutions and digital supply networks to improve the flexibility and agility of supply chains. The goal of creating completely customer-centric and demand-driven agile supply networks is finally within reach, thanks to improved access to a range of new digital technologies that are leveraged to revolutionize supply chains.
Supply Chain Management:
Delivering insights for increased productivity and profit is the overarching purpose of supply chain digitization. Sourcing and procuring raw materials and components, producing a product and figuring out demand, establishing sales channels and logistics, and then providing customers with access to their orders are all common steps in a supply chain. Modern digital technology must be incorporated and used throughout the supply chain, from inventory management to shipping. Digital supply chain solutions from the tech consulting company offer great insight into how the chain functions.
Why does digital transformation play a significant role in SCM?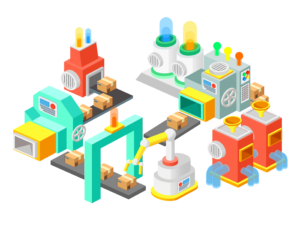 Digitization in supply chain management enables your planning, sourcing, and logistics teams to collaborate more effectively, automate procedures, and take advantage of data. Moreover, it promotes growth, lowers risk, and reduces expenses. Here are a few reasons digitization plays a crucial role in supply chain management.
Innovation is the sole goal of all digital transformation initiatives. The enterprise's business model will be strengthened due to this advancement over the standard supply chain management method, and relationships with customers and suppliers will also be built.
Enhancing the customer experience with technology in this journey will rise due to the digital supply chain management revolution. Using the supplier's automated tracking system, for instance, a customer can monitor the status of his order from when it is placed until it is delivered. As a result, customers will experience a greater sense of control, safety, and appreciation for their brand-related interactions.
An end-to-end digital platform encourages efficiency, improves data accuracy, and boosts supply chain efficiency by automating several labor-intensive tasks and facilitating decision-making at various stages in the lifecycle. In addition, automation chooses the best delivery method, carrier, and schedule while taking time, speed, priority, and other factors into account. For instance, alerts are automatically created when there is a chance that purchase orders could experience delays or problems. This enables enterprises to take preventative measures and be better equipped to deal with clients.
Due to regional differences in labor costs and productivity levels, management has more flexibility over how much centralization is required to enable specialization or lower process costs when using a digital operating model. However, the increased value brought about by improved quality and productivity is advantageous to a firm that centralizes some particular operations.
Improved decision-making:
Supply chain firms have benefited from using AI and machine learning technology to increase inventory visibility, boost tech ROI, enhance customer service, enable effective decision-making, and provide more innovative methods to succeed in the competitive market. You'll be able to decide more quickly and accurately for each function once your supply chain is entirely digitized. By combining transactions and available data at the macro level, you can monitor performance precisely and effectively and make the proper adjustments to prevent expensive average errors.
Read Also – Navigating Through The Retail Space: How Can Tech Make A Difference Here?

How to make your supply chain enterprise go digital?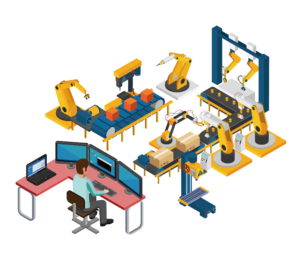 If you want to capitalize on digital transformation fully, you must make the difficult move from a traditional to a digital supply chain. You may get ready for your supply chains' digital transformation by taking appropriate action detailed below.
Automate the planning process:
Automated planning can improve processes and help make sense of enormous volumes of data. Automated procedures should be used to replace repetitive or regular tasks. Hyperautomation is used for processes requiring cooperation amongst planners or in difficult situations.
Read Also – Business Process Automation: The Subtle Way Of Optimization

A clear vision must be developed as the first step in adopting digital transformation in the supply chain. Check to see if the vision matches the goals of your enterprise. These objectives may be related to your enterprises, such as improved and speedier decision-making, automated operations, and more supply chain visibility. Make sure your present systems' technology is capable of supporting your new goals. Determine which digital solutions can assist in achieving the intended company results.
Integrate data and processes:
You can obtain comprehensive, end-to-end supply chain visibility by utilizing a single platform. Streamline important procedures like logistics, demand forecasting, inventory, and warehouse management by taking advantage of improved transparency. The aim is to increase the transparency of each task and procedure along the extended supply chain since data widens the scope of business.
Integrate people and processes:
Even if you switched to digital supply chain solutions offered by enterprise digital transformation services, it wouldn't matter if your staff wasn't on board with the new strategies and methods. Technology should be linked with operations, teams, and organizations in this change to improve enterprise growth for a better future.
Utilization of data and analytics:
Data analytics for supply chain management is essential for decision-making in supply chain enterprises. Real-time data also improves visibility throughout the supply chain and aids in the detection of possible problems. Analytical tools with AI capabilities from data science consulting firms are used to improve planning processes and generate insightful data. Moreover, it allows them to collaborate effectively with partners, suppliers, and people in similar positions.
Earlier, we collaborated with the world's best food and beverage industry to deliver the best planogram analysis for retailers' solutions to improve their overall business operations, which created a big impact for them in the global market. Our team of professionals is ready to offer prestigious digital transformation services for your dream enterprise with the best-customized tech solution to meet your end goals.
You can also view more of our works and case studies here!
Wrapping Up:
One of the best and safest methods to create a sustainable company today is through digital supply chain transformation. The rapidly changing technology landscape and increased customer expectations force businesses to reassess their operations. Integrating digital technologies can make the supply chain more efficient, flexible, and robust. The optimum time for enterprises to start implementing their plans is now as they analyze their supply networks. Enterprises willing to take their supply chain business to the next level can get professional support from the best digital transformation consulting firms to avail of cost-effective supply chain management software solutions to stay ahead of the competitive edge.

Transforming The Supply Chain Management: How Does "Digital" Help The Cause?