Enterprises heavily rely on historical data insights to help them make wise decisions for the expansion of their businesses. Enterprises are now looking for the right data analytics tool to identify trends from data and help businesses achieve their goals. Business data analytics tools will help enterprises to make data-driven decisions. To gain insights using advanced tools, enterprises must revolutionize their data processing methods due to the growing volume and diversity of data.
A dramatic shift to business data analytics from traditional methods made it possible for researchers to use data to their advantage. Data from a wide range of sources is assisting businesses to broaden their reach, increase sales, operate more effectively, and introduce new products or services at scale.
Enterprises that began utilizing business data analysis for decision-making, product overviews, and trend analysis experienced a rise in revenue that was almost two times as large as other businesses. According to a study, the business data analytics market is expected to be worth $684.12 billion[1] by 2030, expanding at a 13.5% CAGR.
What is Business Data Analytics?
Business data analytics is applying a particular set of techniques, competencies, and procedures to perform the continuous research, iteration, and analysis of past and present business data, to gain knowledge about a business that can help with better decision-making.
Business data analytics is utilized to enhance the enterprise goals of the business. The importance of business analytics is to identify the problems and use database tools like Excel and SQL and programming languages like Python and R to collect and analyze new data sets. Tasks that can be done through business data analytics tools are:
Creating and implementing dashboards to gather insights supported by data.

Interpreting significant business data sets.

Providing opportunities for growth and advancement.

Quantitative data analysis, to support business intelligence goals.

East collaboration across departments to develop data-driven initiatives that enhance operational and decision-making processes.
What tools are used for Business Data Analytics?
Here are some of the top business analytics tools: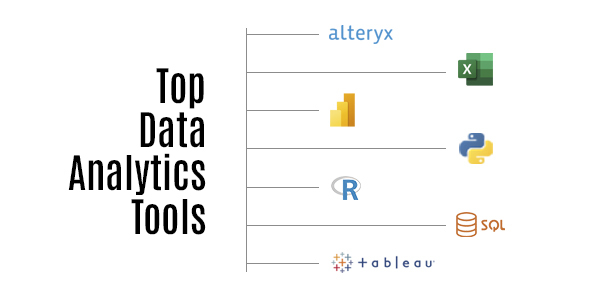 Alteryx
Alteryx is a potent tool frequently used in company data analytics and offers valuable insights to the management. The user can extract, transform, and load data into the Alteryx tool with the help of a user-friendly interface.
Microsoft Excel
Microsoft Excel's Analyze Data feature allows you to ask questions about your data in natural language rather than needing to create complex algorithms. Moreover, Analyze Data offers high-level visual summaries, trends, and patterns. 
Microsoft Power BI
Anyone can use Microsoft Power BI to view data and conduct analyses more quickly, effectively, and comprehensively. It connects users to various real-time data through integrated dashboards, offers interactive reports, and makes it simple to develop visualizations.
Python
Python is an excellent programming language because it includes various statistical functions and is best suitable for business data analytics. As its analytical and statistical library has grown and includes libraries such as NumPy, more individuals are turning to analytics and adopting this tool. Although this programming language is also open-source, many enterprises, breaking tradition, are now utilizing it for business intelligence and business analytics because of its adaptability.
Tableau
This is primarily a business intelligence tool and platform that offers practical visual data analysis while also being simple. The user dashboards are simple to grasp and allow various studies to provide insightful data. In the sphere of drag-and-drop analytics, it is renowned for being an incredibly intuitive tool. 
R
The R programming language's ability to handle enormous amounts of data and effectively interface with other systems is one of its strongest suits. Although it is an open-source programming language, it is widely used to produce studies due to its statistical features. 
SQL
SQL is widely used because it is a straightforward language capable of conducting surprisingly complex data analysis. Its primary appeal is still its ability to easily create and connect with databases. Moreover, data retrieval for reports and analysis is easily possible with SQL.
Which industries have leveraged Business Data Analytics?
Agriculture
Most likely, when you think about big data, you don't immediately picture farmers. However, business data analytics are currently considered essential for agriculture due to the vast amounts of data that the industry produces. Also, as weather prediction increases, land productivity becomes necessary to support a rising global population, and understanding and correctly using the data in the industry is anticipated to become progressively more critical.
Banking
Retail banks extensively use data to better understand how their clients use their accounts and to protect them from security threats. Moreover, they use location intelligence and business analytics tools offered by business analytics services to establish location-based performance objectives and determine the most effective ways to manage their branch locations.
Future banks may use data as a foundation to assist customers in understanding the market and making more effective financial decisions. 
Government
Business data analytics have been tremendously beneficial to the government and its institutions. The government is leveraging data analytics to enhance services and satisfaction in all areas of providing public services, including financial market analysis, health-related research, environmental protection, fraud detection, and energy development. 
The Food and Drug Administration's analysis of patterns[2] relating to diseases and illnesses associated with food is one of the best instances of how business data analytics and data science techniques are used. 
Healthcare
Medical practitioners have been able to determine what blood pressure range is normal or how much sugar one should intake to stay healthy by analyzing various data points gathered from numerous patients. This analysis was based on data from years of collective practice and experience. The healthcare sector today uses business data analytics solutions from business analytics consulting to address several new complex challenges, such as scheduling and staffing; patients are provided with more options to schedule their appointments and get accurate treatment and reduce readmission rates with the help of population health data to identify which patients fall under risk categories. 
Data collection from IoT devices & everyday gadgets like smartphones and wearables can help doctors better understand their patient's health metrics,  spurning better healthcare at more affordable costs.
Retail
Profit Margins and improved customer experiences are essential to the retail industry's sustainability. Retailers utilize business data analytics to precisely predict customer requirements and deliver desired products of their choice to outperform the fierce competition in the market. Retailers can handle intense market rivalry and maintain their competitive edge using intuitive solutions built on the data they derive from operations.
For example, we helped one of our clients to scale their retail business with our unique planogram analysis solution. We understood their business challenges and provided them with a state-of-the-art planogram analysis solution, powered by business data analytics and other latest technologies to optimize their shelf & product placement, increasing their brand's visibility and providing customized sales and marketing strategies.   
Almost every facet of a retailer's company can be optimized with business data analytics in ways including: 
Boosting marketing and creating customized customer experiences.

Controlling expenses and increasing sales.

Improving supply chain operations and logistics.
Talk to our experts
The technology and tools needed to navigate a world of big data with both structured and unstructured data sets can be provided by business data analytics. By enhancing their decision-making processes with data-driven insights, enterprises can put all the data to use to enhance efficiency and reduce resource expenditure and downtime.
Organizations willing to stay updated with the current trend can get in touch with our in-house data experts to avail of our cost-effective business data analytics solutions and stay ahead in the global market.
Citations:
1.  PRNewswire
2. Geeksforgeeks