Day by day, the competition out there in the marketplace for financial solutions is increasing fiercely. In order to distinguish yourself in this fiercely competitive market, it is essential to come up with new, innovative, and user-friendly financial software development services. This strategic decision not only butters up your business operations but also empowers data-informed decision-making, ultimately leading to mouth-watering profits. At the core of these services lies a team of expert developers who excel at creating robust, versatile, and easy-to-navigate solutions.
Within this article, we will get into the brass tacks of financial software development and explore how enterprise software development services can smoothen and make your business processes efficient.

Fintech's Unstoppable Market Momentum
The global valuation of the financial market is expected to reach $2.38 billion by the end of 2027, thereby displaying a compound annual growth rate (CAGR) of 11.36%. This expansion is mainly influenced by the widespread adoption of digital platforms. Users are increasingly leaning towards digital solutions like mobile applications and mobile banking, which have eased tasks previously only reliant on in-person bank visits.

The fintech sector's revenue has shown consistent growth, propelled by the vigorously increasing demand for digital financial services. Given this burgeoning potential and the alluring prospects for generating substantial revenue, entrepreneurs and businesses should seriously consider venturing into the domain of financial software development and services.
Why Should You Invest in Financial Software Solutions?
Several compelling factors advocate for entrepreneurs and businesses to consider investing in custom financial software application development.

Cash is not the King Anymore: Pause for a moment and take a look at your five recent transactions. Did your cash play any role? If you belong to the Gen Z or millennial group, it's likely you've already transitioned from cash to digital alternatives, possibly without even recognizing the shift.
This change is a pivotal factor for FinTech agencies, as it holds the key to the sector's growth and financial projection. The proliferation of mobile apps has played a decisive role in driving the FinTech industry's advancement. Both emerging FinTech businesses and traditional banks have harnessed the potential of mobile apps to reach wider audiences and provide enhanced customer experiences.
Limited Bank Visits: In the past decade, mobile devices have transformed into digital wallets, functioning as repositories for funds used in various transactions. They also act as ledgers, recording transaction histories and aiding in the tracking of future expenses.
Unquestionably, customers are progressively steering away from conventional banking setups, favoring non-bank and FinTech solutions. These contemporary financial service providers extend support that was once solely within the reach of banks and NBFCs, encompassing credit and stock investments.
Innovation: FinTech firms find themselves in a unique position to introduce innovative marketplaces for customers disillusioned with traditional financial services. By investing in the customized development of financial software, these firms can deliver the innovative solutions that customers are actively seeking.
In spite of the emergence of new enterprises that tackle long-standing issues, the FinTech sector remains ripe for innovation. Just when you think every outdated banking process has an associated app or software solution, fresh use cases come to mind. Who could have predicted the rise of virtual currencies over fiat money? When it comes to the realm of FinTech, the potential for groundbreaking models knows no bounds.
Stages of Fintech Application Development
While it is true that each fintech software is unique, the underlying process for creating custom financial software development generally follows a consistent pattern such as follows.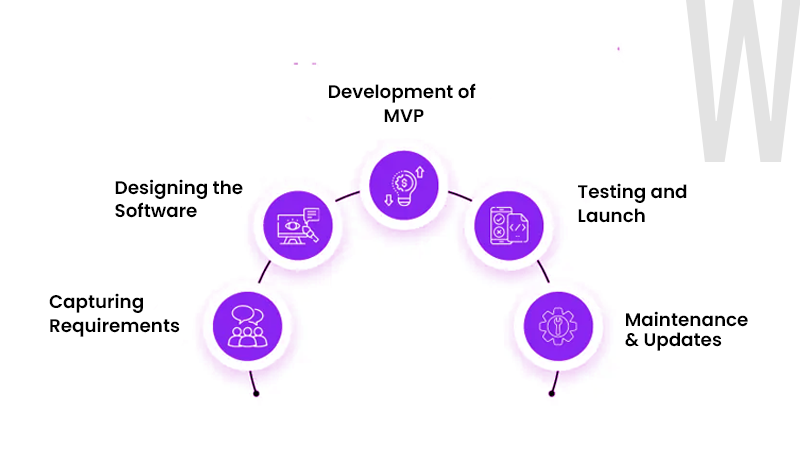 Capturing Requirements: A group of business analysts are hired to collaborate closely with you to gather and capture your needs and goals that are needed for the development of the fintech application. This stage is referred to as software development consulting, during which we engage in the process of idea generation, which paves the way for valuable features and relevant technologies. Following the development and procurement of this insight, we formulate and mold a project scope that outlines the significant milestones and timeframes for the complete venture of developing your financial services software.

Designing the Software: Subsequently, we move to the innovative phase of UI/UX design. Skilled fintech app designers work diligently to guarantee a product that offers smooth operation alongside fully operational features. Our priority should be to streamline the user experience, enabling your application to quickly become a user favorite by minimizing the time they spend navigating it.

Development of MVP: Upon receiving approval for the app design, we proceed to implement the features, incorporate cutting-edge technologies, and seamlessly integrate top-tier security measures into the application. Our objective here is to deliver software that impeccably embodies the unique selling points (USP) of your app.

Testing and Launch: After the development of the Minimum Viable Product (MVP), we proceed to launch the application on its designated platform and initiate a series of tests. Upon confirming the market's readiness for your product, we commence a continuous cycle of feature updates. This phase will involve the development of features built upon the foundation of the MVP.

Maintenance and Updates: The final yet important phase in the process of developing financial software applications is application maintenance. One should ensure the team focuses on the security and functionality of your app on its active platform. An essential aspect of this endeavor involves safeguarding your app against hacks and glitches, while also actively monitoring app ratings and reviews. Moreover, we should also oversee regular updates to keep the software aligned with evolving needs and technological advancements.

Conclusion: Choosing the Right Fintech Software Services
In conclusion, the journey of finance software development includes a systematic series of steps that collectively create a robust and effective financial solution. From the initial phase of requirement gathering and software consulting, through the UI/UX design and coding, each step contributes to the realization of your envisioned financial software product. 
The process further extends to the stages of launching the Minimum Viable Product (MVP), continuous feature updates, and vigilant maintenance. These steps ensure the software remains secure, glitch-free, and aligned with evolving market needs. Therefore, the selection of fintech software services plays a significant role in shaping the future of your business. W2S Solutions, a leader in providing the best Enterprise Software Development Services, stands ready to make your business stand out in this new era. By partnering with W2S Solutions, businesses ensure they are equipped with the right tools to excel in the digital financial marketplace, setting the stage for sustainable growth and success.
Frequently Asked Questions
Get inspired!
Subscribe to our newsletter and get updates on how to navigate through disruption and make digital work for your business!