Overview: Modern enterprises have started to adapt to the connected customer era. Real-time data streams accessible by applications nowadays have a significant positive impact on an enterprise's relationships with its clients and staff. However, this demands a change in strategy on the part of Enterprise IT, which is in charge of enterprise app development. Eventually, your enterprise will grow beyond your capacity to oversee it alone. It would be best to have an enterprise app solution to help your company's business processes align. Continue to read this blog further to know how enterprise app development solutions will meet your business goals!
In today's world, approximately 80% of people use smartphones or other mobile devices. Furthermore, it should be no surprise that modern enterprise apps are capable of practically everything, including connecting, educating, amusing, directing, and much more. Enterprise applications' quick and simple implementation can help your organization expand and add value. They can speed up staff productivity, automate business procedures, and perhaps even provide financial savings.
Enterprise app development is crucial for businesses to bring more changes to the growing world and meet customers' expectations with the best upgrades. It enables enterprises to operate more effectively, better engage with customers, and accelerate growth while digitizing and speeding up operations. According to a study, the revenue for enterprise app development is predicted to reach $218.80 billion by 2027, with a CAGR of 7.95% increase in market value from 2022 to 2027.
Three factors must be properly balanced for an enterprise application to be successful: the needs of your clients, your enterprise's needs, and the product's characteristics. To design an enterprise app that performs well and adds distinctive value to the enterprise, all of these features must come together. You can be confident that your enterprise application will be well-built and in line with the requirements of your organization if you use the appropriate enterprise business intelligence services, tools, and techniques.
What is Enterprise App Development?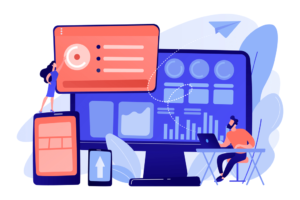 Enterprise app development is the process of building scalable apps that help firms streamline their business processes. Many organizations prefer using enterprise apps for both internal and external use. Enterprise apps deal with data exchanges and databases. Any error, such as application failures, security flaws, or data loss, could result in significant financial loss for the enterprise. It also complied with the present organization's technical infrastructure and legal criteria. The required permissions and the app's privacy legal rights are included in these needs.
For example, enterprise apps help businesses from,
Update business information across all systems.
Align business divisions with common goals.
Reduces department transition costs.
Assist management in making data-driven decisions.
Organize your business processes at a central location.
Why should businesses prefer Enterprise App Development Solutions?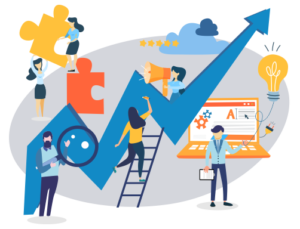 The goal of the enterprise app development solution is to automate business processes. However, the reasons can change based on the situation.
Business Process Automation:
Using enterprise app development solutions will save businesses a ton of time and hassle. Businesses can automate data processing, transaction control, and marketing activities while being composed and ensuring that their goals will be met.
The more effectively your internal processes run, the easier it will be to increase your revenue. You could provide services to more clients if you implement enterprise apps.
Manage Payment Transactions:
Keeping track of every payment that is made on your website is difficult. Keeping track of every payment that is made on your website is difficult. Enterprise apps can help with handling transactions, tracking deadlines, notifications, etc., particularly when your organization is expanding daily. You can incorporate several payment options and your organization's requirements and goals.
By tracking all the processes within your organization, an enterprise app can assist you in reducing unnecessary expenses and identifying areas where efforts are unsuccessful.
As your company grows, keeping track of every little detail of your daily operations becomes harder. It can result in regrettable losses, delayed payments, and late deliveries. Your business's development will be slowed by inefficiencies that an enterprise app will help you identify.
Read Also – What Is Total Experience, And Why Should Enterprises Get On This Wagon ASAP?

What are the various types of Enterprise Apps?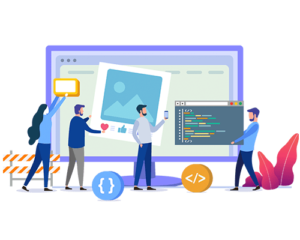 1. Enterprise Management Apps
The whole lifecycle of a software program, including installation, maintenance, updates, and version control, is covered by enterprise management apps. It is an enterprise-wide program that offers governance to guarantee that applications run as efficiently as is practical, from the end-user experience to interaction with back-office corporate operations, including database, ERP, and SaaS cloud functions like CRM.
Business Management Apps: Business management apps are typically created to boost an enterprise's productivity. These apps can improve productivity remotely and interact with the business's existing architecture.
Enterprise Resource Planning (ERP) Apps: The big business giants in the world use ERP apps extensively to manage and combine all aspects of business into a single app. ERP app ensures to manage the processes like cost control, marketing, planning, purchasing inventory, sales and so on.
HR Management Apps: HR management apps are used by all businesses to handle basic HR operations, maintain employee data, and complete necessary HR functions, including processing payroll and managing benefits.
     2. Enterprise Team Collaboration Apps
The demand for enterprise team collaboration apps is rising among businesses worldwide. Many options are available in this enterprise app for teams now because of technology, from project management to communication. Every year, new online collaboration tools are released, and those that already exist continue to expand in features. These apps from sustainability consulting services for enterprises have several advantages, such as being browser-based, adaptable, syncing, feature-rich, and agile-focused. They also assist teams in effectively collaborating regardless of where they are. The two types of enterprise team collaboration apps are:
Customer Relationship Management (CRMs): CRM apps make it possible to communicate with current and potential clients.
Content management systems (CMS): CMS apps are necessary for the routine development of digital content.
Supply Chain Management (SCM): SCM apps will help facilitate the inventory flow and manage operations by automating it from order processing to shipment.
      3. Enterprise Analytics Apps
Nowadays, enterprises have started to process and use data for commercial purposes. The organization can read, process, and extract data with the help of these enterprise analytics apps.
     4. Enterprise Storage Apps
Enterprises can eventually find themselves in need of content organization and storage. Enterprise storage apps assist in maintaining content by following corporate policies and requirements.
Read Also – The Future Of Agility For Enterprises: Composable Applications!

What are the attractive features offered by Enterprise App Development?
Enterprise app development's main purpose is to offer employees easy access from anywhere. As a result, cloud storage for enterprise app data is necessary for developing enterprise apps. Businesses believe that a successful enterprise app depends heavily on cloud storage. Businesses need enterprise app development solutions to offer executives, managers, and decision-makers remote access to critical business data. Many businesses are now showing more interest in acquiring enterprise cloud transformation for easy access and unlimited storage space experience in enterprise apps.
Impeccable Connectivity and Real-time analytics:
Flawless connectivity is one of the main goals of integrating an enterprise app development solution into the current business processes. Developing new strategies is made possible by a better understanding of the ongoing processes. Every enterprise app designed for your organization will perform better by including cognitive analytical capabilities. Every organization is needed to manage thousands of procedures, hundreds of stakeholders, and a significant number of specialized services. Organizations need real-time data analysis to take advantage of enhanced data curation and make better decisions in the future in this data-driven environment.
Incredible User Experience:
Enterprise app development solution is well known for its incredible user experience that focuses on improving the application's functionality and increasing the adoption rate within the enterprise. The app is highly user-friendly because every feature works together, from offering cutting-edge features like in-app notifications, offline functionality, and cross-platform compatibility to keeping it responsive. A single design may easily be adapted to various screen sizes thanks to responsive design. As a result, no matter what kind of device the users utilize, their experience will be excellent.
Enterprise application provides access across multiple platforms, including Android, iOS, and windows, for the target audience. Xamarin app development offers a secure and centralized data infrastructure to maintain important data of your enterprise safely. However, it's crucial to guarantee the highest level of security so that the data is carefully monitored. Ensure your business has a multi-level security system to prevent data loss completely.
It's crucial to create and build a corporate app that can adopt offline features or can operate in offline mode, given the challenge of surviving the intense competition. Users have ensured a flexible experience by doing this, even in cases where the connection is slow, patchy, or absent. As a result, because consumers can still access some of the app's most essential features even if there is no network, your target audience is less likely to feel upset due to poor network connectivity. Customers' loyalty can increase, and you can obtain a competitive edge because they can utilize enterprise apps even in locations with poor internet access.
Your employees are not an exception to how useful enterprise app features like push notifications can influence user behavior, as is the current vogue. Users' mobile devices receive these alerts, which are brief messages, to let them know about upcoming events, crucial deadlines, and emergencies. As a result, this is thought to be one of the greatest and simplest ways to interact with your staff. This feature, which enables you to engage with users at the right moment and with the appropriate message even when they aren't actively using the app on their devices, is vitally essential for the success of your enterprise app.
A robust, AI-powered support system that is always accessible to the stakeholders would be a characteristic of the ideal enterprise app development. This guarantees that the solution will eventually become a critical part of the business and vastly improve the user experience. A great example of an enterprise app that effectively uses AI's capabilities lets users quickly and easily get relevant and useful answers to their questions. Flutter app development agency provides the best enterprise app that is entirely business-friendly and offers fantastic support features like voice calling and file sharing, which is quite appealing to business clients.
What are the various technologies used in Enterprise App Development?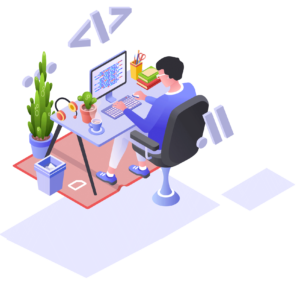 Artificial intelligence is a powerful technology that gives enterprises performance, reliability, and scalability while delivering a full ROI. Enterprises have the chance to solve all scalability, governance, and maintainability issues by incorporating AI into the traditional DevOps process. The goal of artificial intelligence in enterprise app development is to design algorithms that enable existing deep-learning models to be streamlined without losing efficacy. This cutting-edge technology has the potential to transform the existing environment drastically. Many big giant businesses use AI solutions for their enterprise app development projects.
Read Also – How R & D Leverages Artificial Intelligence, Machine Learning, And Big Data?

Enterprises have started utilizing big data analytics for enterprise app development as it is becoming more and more popular, allowing them to move beyond all current data processing and storage methods. Big data analytics solutions enable new trends like X-Analytics, enabling software developers to develop excellent solutions to these problems like disease prevention, climate change, and wildlife protection. The enterprise app development team can create, build, execute, and monitor decision processes and models for better business outcomes using big data's market trend decision intelligence. Many businesses rely on this big data analytics and data visualization solutions to enrich their enterprise growth.
Read Also – How Are Enterprises Minimizing The Risk Horizon With Decision Intelligence?

Any enterprise that uses cloud computing could see significant improvements. It would be difficult to remember what technology was used in enterprises before the cloud because of how cloud computing has transformed them. This technology is being used by many enterprises, which is driving up demand every day. Every enterprise now uses cloud computing, and the key factors driving this adoption are its productivity, profitability, and progressivity. By installing cloud computing services at your workplace, you can have online access to shared computing resources such as software, processing power, and storage that are available on demand. Depending on the size of your company, you can select from the public, private, or hybrid clouds.
Read Also – How Cloud Computing Is Transforming Enterprises To Be More Flexible And Agile?

A technology known as DevOps can help to link operations and development. It helps to combine enterprise app development solutions with operation strengthening for team collaboration and communication. The 5 Cs, which stand for continuous integration, continuous planning, continuous testing, continuous deployment, and continuous software feedback, are provided by this great solution. These five Cs represent the technological revolution in enterprise app development. Over time, the DevOps methodology, which emphasizes rapid delivery and version control, helps steadily reduce the cost of app development. DevOps delivers many benefits, including improved business agility, better teamwork, higher customer satisfaction, faster software development, happier employees, and more frequent software releases.
Intelligent Process Automation:
The Intelligent Process Automation (IPA) for enterprise apps states that anything in the world that can be managed should be automated. Using technologies like machine learning, artificial intelligence, big data, and others, IPA enables chatbots to develop and learn. It also helps intelligent robots evolve away from the outdated "if this, then that" rule.
Read Also – Hyperautomation – The Future That Unlocks Automated Potential For Enterprises!

Internet of Things (IoT):
An automated and connected environment is known as the Internet of Things found in workplaces, homes, vehicles, industries, and other locations. Networks, automation technology, embedded systems, and control systems enable it. The Internet of Things is all about interconnected devices and objects. Automation is made easier, and communication moves more quickly. More often than ever, people utilize many IoT-based devices, such as smart homes, smart appliances, and wearable technology. The Internet of Things (IoT) technology offers many features, including data-driven transformation strategies, marketing, insightful data analytics, real-time monitoring, efficient operations, device tracking, and more.
The term "5G" refers to the cellular services and networks' next-generation technology. This 5G technology is expected to support enterprise app development at least. With a 10GBPS uplink and 20GBPS downlink speed, 5G technology is 40 times faster than 4G LTE technology. All telecommunications providers now have access to a wide range of new network functions, services, and consumer experiences thanks to 5G technology. Particularly in the field of app development, establishing seamless communication channels is crucial to ideate and deploy functionalities. Many swift iOS app development companies are quick to jump on this opportunity to amplify their efforts.
Read Also – How 5G Enables Next-Gen Web Apps For Enterprises?

Popular Python web framework Django promotes rapid development and straightforward, practical design. It is both free and open source. Django's quick and flexible scaling features are used by some of the busiest websites on the Internet. By taking care of many of the hassles in web app development, Django frees you up to focus on creating your app rather than reinventing the wheel. With Django, you can create any website, from social networks and news sites to wikis and content management systems. Django web development companies in India offer a framework that has been created to "do the right things" automatically to protect the website, helping developers avoid many common security mistakes.
One of the world's most flexible and powerful programming languages is Python. Its rapid growth can be attributed to its adaptability and use in enterprise applications and machine learning solutions. It is useful in various domains where other programming languages fall short, including AR and VR, AI, data science, and many others. Organizations can start to hire python developers to witness its potential for enterprise app development, making it the top choice for companies looking for digital solutions. The various functions that the Python programming language provides have led to high demand for development services that concentrate on enterprise-grade applications.
One of the best programming languages for creating enterprise apps is Kotlin, which will give companies better technical support and other features. Moreover, it implies that the enterprise app developers community will interact more regularly. Using Kotlin for enterprise android applications helps developers manage additional tools and frameworks for their projects. Linux, Windows, JavaScript, Android, and other platforms are all fully supported by Kotlin. Mobile app development using Kotlin benefits enterprises from less coding and reducing file size since it involves fewer lines of code.
Read Also – What Is Total Experience, And Why Should Enterprises Get On This Wagon ASAP?

Wrapping Up:
The demand for enterprise apps is rapidly growing among businesses in the technology-driven world. Various prominent and well-known technologies are utilized in creating enterprise applications, and each has successfully carved out a market for itself. Due to their potential to enhance efficiency, save resources, and cut costs, enterprise apps are a critical part of the digital transformation. Enterprises willing to keep up with innovation to succeed can get in touch with the world's leading digital transformation consulting company to avail of cost-effective enterprise app development solutions to stay ahead of the competition.

Enterprise App Development: Gateway to accelerate your enterprise growth!