Globally, approximately 54% of organizations have a shortage of skilled workers, and HR managers are facing difficulties recruiting and locating the talent they need. To improve project quality and explore different industry and technology trends, an increasing number of businesses are turning to trained employees to meet their short-term project demands.
Overall, the staff augmentation method provides numerous benefits to both businesses and competent developers. When the client requests a specific deadline for project completion, agencies can immediately scale their teams to meet this requirement.
If you are looking for an immediate expansion solution for your organization, then IT staff augmentation may be the best option. Let's go through this word in-depth, including its different sorts, pros and cons, and the method of staff augmentation to cover for the talent-gaps in your firm.
What is staff augmentation?
An organization's staffing needs and objectives are met by outsourcing personnel for projects that are compatible with those staffing needs. Let's say you need seven developers to build a game app for your organization. In contrast, your in-house development team consists of only four individuals. It may take a month or two to cover the gap and acquire four excellent developers, delaying project launch and revenue.
Staff augmentation allows you the exact opposite - to hire the three developers within weeks, resulting in a faster product launch and project completion. Moreover, IT staff augmentation is a kind of on-demand deal. As a result, once your app is out to the public, you will not need to fire the team, but simply scale down as per requirement.
Why is staff augmentation popular in IT firms?
Considering the scale of the software market, IT staff augmentation is so prevalent today because of the convenience of hiring provided by this option. According to a recent study, this market's revenue is expected to reach over $1,493 billion by 2025 (11% CAGR).
Underlying factors that spur this market centers around the idea that rapid growth is impossible without access to a large pool of software expertise, which can only be achieved through resource augmentation, which distributes IT labor throughout companies.
The flexibility of staff augmentation aligns perfectly with the rising hiring demands of today's IT firms. Hiring an in-house team entails many phases, ranging from candidate screening and background checks to payroll decisions and registration procedures. As a result, it is time-consuming, resource-intensive, and ultimately unsuitable if you need to quickly onboard talent for an urgent project. Firing such employees is not a good idea and also inconvenient, lowering the value of your in-house workforce, especially when you just require new employees for a short time.
Alternatively, staff augmentation is quick because your outsourcing vendor handles all of the hiring stages and paperwork. They choose professional developers with the necessary expertise and work experience. All your company's CEO must do is interview the candidates and onboard the best ones. This allows your organization to be agile and on track with the project's timeline and delivery, avoiding revenue loss and a sluggish market entry.
What are the types of IT staff augmentation?
There are three types of IT staff augmentation. Each category is summarized below: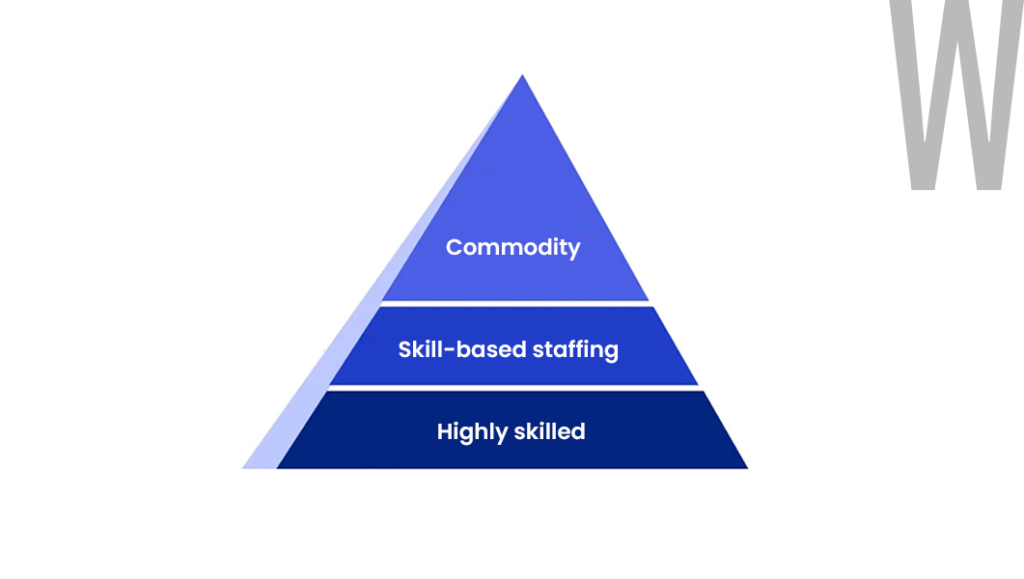 Commodity: These are staff augmentation jobs that can be completed quickly and easily by independent contractors. Within minutes, a quick search for a freelancer will yield dozens of competent candidates. Typically, there is no interview procedure to determine the best candidate for the job. Commodity staff augmentation is ideal for one-time jobs that require someone on your team to perform.
Skill-based staffing: It is utilized when a company needs to fill an open position that requires a skill set that it does not presently have on its payroll. Due to the difficulty in acquiring these skills, some staffing companies require candidates to take exams or show their qualifications before being considered for these positions.
Highly skilled: Highly-skilled personnel augmentation is classified as either short-term or long-term. They could be either workers that come in for short periods (typically weeks) while your normal workforce is on vacation, or long-term hires, who work full-time for you, but you cannot handle 100% of their task - They serve as backups while your normal crew handles the heavy lifting.
Business benefits of IT staff augmentation
Keeping up with technological advancements is a challenge for many businesses today. Many industries can overcome this dilemma by deploying an IT staff augmentation solution.
Here are a few important advantages of implementing such a solution:
Keeping your business services consistent will ensure their quality.
Come up with new ideas, insights, and innovation at your fingertips, there will be no creativity barriers.
By outsourcing IT staff augmentation services, you can concentrate on your core competencies
A company that outsources IT staffing avoids the costs of recruiting, training, and managing its staff.
An augmented workforce will also prevent costly hiring errors by managing any unanticipated challenges with minimal disruption to your day-to-day operations.
With the right IT staff augmentation service, your firm can focus on long-term goals while operating at its best.
It is hard to find specialist knowledge outside of IT staff augmentation.
Read Also - How to build an effective IT Outsourcing Strategy for your business?

Challenges faced by using staff augmentation in IT firms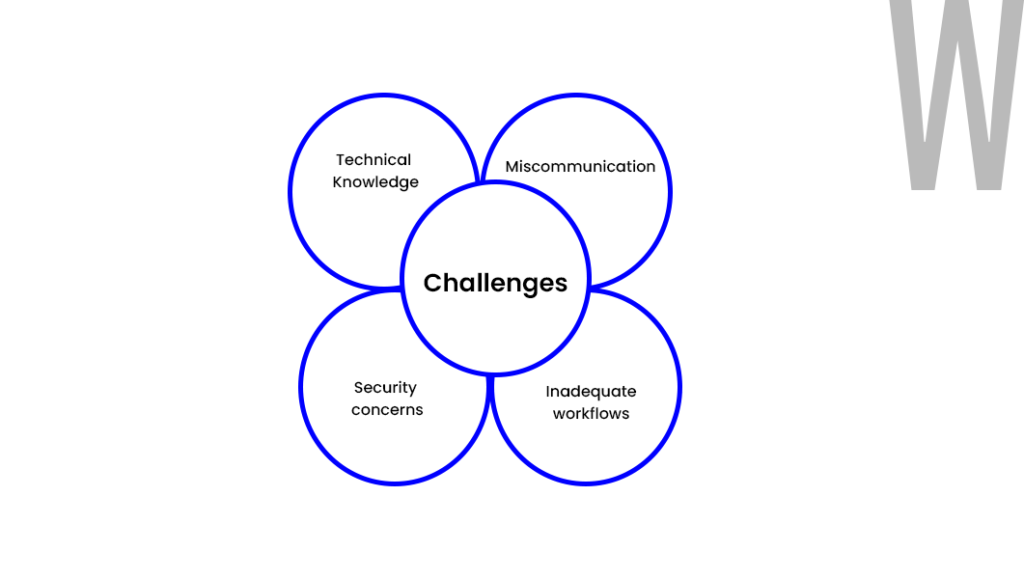 Unless you have the time to thoroughly vet each candidate, you may end up with a team that performs worse than intended. When a bad egg is chosen, new hires must repeat the onboarding process, which delays the project.
Again, because outsourcing might be global, the candidate you're evaluating may not be fluent in the language you're using, resulting in communication difficulties. If you can't get important instructions over, you'll lose more time and have to spend more money to do it properly afterward.
When working with outsourcing models, your workflow may suffer unless you have things in order and use some automation and SOPs. Prepare ahead of time by ensuring that your processes and workflows work across time zones and cultural obstacles.
Because you are going to be having virtual outsiders working on your team, who are not directly governed by your organization's statutes and limitations, there is a chance for data breach or intellectual theft. Make sure to adhere to a security protocol, which includes obtaining NDAs signed by both the outsourcing provider and the expanded employees.
The key process of IT staff augmentation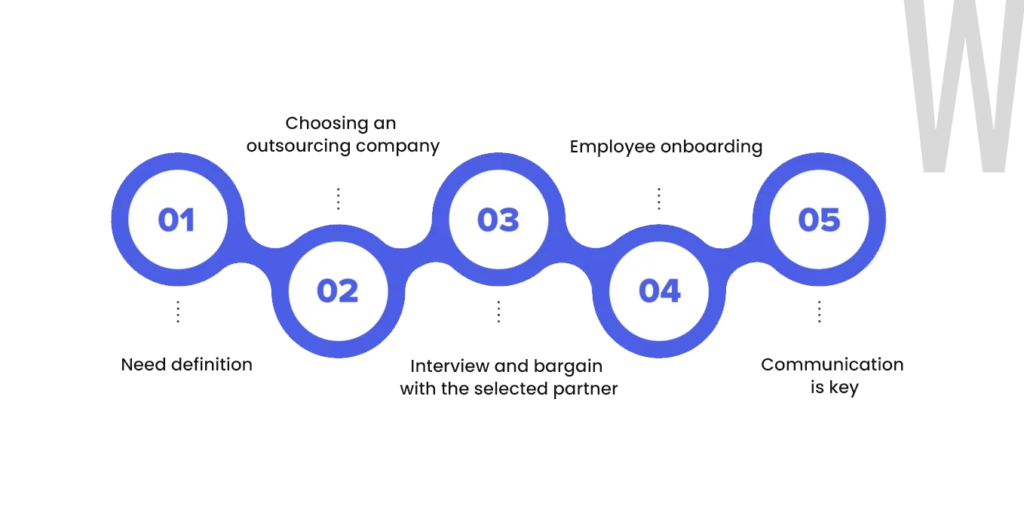 Businesses that have in-house IT teams but require more professionals to achieve their business goals may benefit from IT staff augmentation. There used to be a difference between employee augmentations provided by outsourcing companies or agencies. To ensure the success of the project, the staff augmentation process follows the phases outlined below.
The first stage in introducing staff augmentation services in your firm is to examine and define your outsourcing goals, including the number of specialists/professionals, abilities, and experience needed to complete your project on time and within budget.
Choosing an outsourcing company
Before engaging any specific outsourcing provider to meet your business needs, research the IT staff augmentation market. Determine the best acceptable partner from the list of possible outsourcing partners who can meet your business requirements. However, be wary of the price tag while choosing one, as neither the lowest nor the highest price tag guarantees great tech delivery - choosing IT staff augmentation vs IT outsourcing services depends on more than the price.
Interview and bargain with the selected partner
Interview each candidate based on your project's needs and the shortlisted outsourced partners to determine the candidate's knowledge and potential to handle distance projects. Negotiate the budget and debate the contract with each partner after filtering a few numbers of the right talent before making the final pick of tech partners.
After you've addressed all legal and financial concerns, you may now remotely onboard your new team member. The first step is to introduce these new team members and clarify their roles and duties in detail. Try to answer all of the onboarding expert's questions, this will allow him to easily integrate into the team and understand the project's requirements.
Communication between staff augmentation personnel and HR managers and team leads is key to ensuring a productive and effective relationship.
Is staff augmentation a good idea?
Once you understand how IT staff augmentation services function, it's time to weigh your options. Contact other business owners or colleagues in similar industries to see if they have any recommendations for creditable service providers in your area.
It's also a good idea to look for options on job boards and in industry-specific social media groups. To verify you're working with a respectable organization, conduct background checks on their staff, and speak with other clients about their experiences working with that supplier.
When working with an offshore service, you must construct your agreement and set mutual expectations. Many service providers give contract templates, which you can use to begin crafting your agreement.
If a basic contract does not meet your requirements, consult with an attorney or service provider to form something more thorough that handles any particular difficulties unique to your business and sector. You should also include any unusual price or payment terms in the contract to avoid misunderstandings later on.
How do you pick the best staff augmentation model?
A successful outsourcing project depends heavily on choosing the right resources and staffing solutions. Here are a few things to think about while selecting an augmentation model.
Project duration - The best option is staff augmentation if the project can be completed within six months. If not, you can choose another model.
Cost calculation - Analyze the costs associated with training your in-house development team. Compare the expenses to the costs of outsourcing the full project or hiring a specialized crew. If communication and management processes are not effective, staff augmentation may not deliver the cost savings promised.
Data sensitivity - Take into account the sensitivity of any data you disclose. Signing an augmentation contract with NDA terms and conditions with the relevant vendor and developers is always a good idea for this.
To summarize, always strive to obtain a staff augmentation agreement with an NDA clause, examine the overall term of your project, and carefully calculate expenses to select the optimum augmentation model for your needs.
Why should you consider staff augmentation?
There are a few instances where staff augmentation is the ideal choice for your company's future. It might be a cost-effective and hassle-free solution that allows you to focus on the task at hand.
If your company is working on a project with a tight deadline, staff augmentation can supply more resources rapidly. Assume you already have a team of experienced professionals but need to expand to meet deadlines. Outsourcers can locate the suitable employees and draft customized contracts that will last till the job is completed.
Staff augmentation also aids in team diversification. Engineers that specialize in a specific field or programmers with past knowledge of the type of product they are working on can be sought by organizations. It is a quick way to add the necessary skills and ensure that your team is prepared for anything.
Teams that require direct connection and frequent interaction would benefit from basic staff augmentation strategies. Often, the organization does not have direct communication with the third-party hire when outsourcing. On the other hand, staff augmentation involves the hired resource becoming a member of your team and being managed by a third party.
Read Also - IT Staff Augmentation: 10 Frequently Asked Questions and Answers

Conclusion
In summary, staff augmentation offers firms the greatest opportunity to cut costs while enhancing business efficiency. In light of this, you might find hiring staff augmentation a cost-effective solution for your organization when done correctly. Knowing how staff augmentation works and why it can help you hire remote developers might be enough to convince you to begin nearshoring now.
W2S Solutions can assist you if your organization needs IT staff augmentation services. We will collaborate to discover a staffing solution that meets your company's demands and helps you achieve your objectives.
Hiring fresh talent is time-consuming, and the results of recruiting staff can be highly unpredictable. Staff augmentation can be a beneficial answer to such difficulties because it allows you to onboard efficient personnel without requiring a long-term commitment. By hiring remote talent, you can remain ahead of the competition while also achieving superior results without having to deal with paperwork.
IT staffing is quickly becoming the new standard for companies worldwide. Top programming talent from anywhere in the world can now be added to your IT team. Using staff augmentation services, you can increase your personnel while avoiding the expenditures of hiring and onboarding. Obtain a dependable outsourcing partner with an experienced IT staff augmentation company like W2S Solutions.

Frequently Asked Questions