The growth of the E-Commerce Industry is drastic among businesses. When compared to traditional days, these days people are looking to purchase everything over the Internet. As they find it convenient means of shopping, customers prefer Online shopping over Offline. 
With this, the number of E-Commerce tools is also doubling. There are multiple software right from adding the product into the cart to marketing them effectively. In this blog, we have discussed the top tools which can enhance the E-Commerce industry.  
Best Tools to Enhance E-commerce Growth: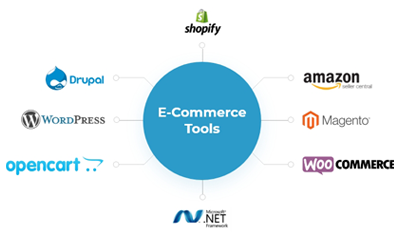 Since there are multiple tools available, we have divided them based on the category. Every tool of the category has its own role for businesses. However, it is not mandatory to invest in every tool. Hence, before investing a huge amount of money and time in these tools, figure out the ones which are definitely needed.
With these tools, you can also boost your E-Commerce business. With E-Commerce website tools, you can identify various factors such as visibility, downtime, etc. You can also get to know the experience of your users along with the loading speed of the website. While with E-Commerce Marketing tools, you can make your product visible to your target audience.
While choosing the tools, you should consider various factors such as SEO-friendliness, budget, scalability, user experience, etc. So, here are a few of those tools which you should be aware of:
Big Commerce


BigCommerce can be a perfect option if you need off-site hosting and flexible options of drag-drop editor. Moreover, they are faster in resolving technical issues which could even result in crashing. You don't need technical knowledge to set up, and it is loaded with features. While monthly fees can be a concern.
Wix


If budget is a problem, you should definitely consider Wix. This can help you in creating an exceptional website with your own customizations. It comes with a good number of features where it remains competitive with Shopify and WooCommerce. The exciting news is that you can make use of Wix for free. However, with the growth of your business, you should modify it again and again.
Shopify


If you lack technical skills, you can go with Shopify! You won't have a problem in hiring a developer separately since it comes with ready-made and intuitive templates that are purely customizable depending on the niches. While the downside is that you may face issues with ranking, URL structure modification, WordPress Plugins, etc. Leverage Shopify chatbots to enhance the e-commerce business growth and improve customer experience as well.
WooCommerce


If you are a fan of WordPress, WooCommerce can be the best choice for your business. Initially, you will get a free option that offers a better customer experience. But it can be difficult to scale. You need to upgrade regularly if you look for all the features. Undeniably, a website built on WooCommerce can compete with those built on expensive paid carts.
SEMRush


This is one of the popular research tools which most businesses are making use of. One can figure out current and future insights of their page performance, top keywords ranked, competitors, and their performance, etc. This tool can track more than 106 million keywords and tracking 87 million domains. One can audit their own website, lively track their performance, know their strength and weaknesses, enhance SEO, etc. 
Ahrefs

Ahrefs is yet another research tool to keep track of the performance. One can easily find out the backlinks of the competitors and play accordingly. This also comes in the form of affordable investment. However, features such as link auditing, content analysis are unavailable.
Linkio


Linkio can help your business to improve the rankings with the Link Building feature. This tool offers a combination of APIs and crawlers where you can create a blueprint which answers all questions related to quantity, types of links to be built, etc. 
Asana


Asana tool is available for both businesses and individuals, which is designed to perform multiple tasks. This is a SaaS platform tool that comes with features such as task management, scheduling, tracking, etc. All types of files can be imported or linked within the platform and others as well. Team members will receive alerts on current, past, and upcoming deadlines. It also offers hassle-free team communication and comes with a discussion board. It is available as both free and premium service based on its features. In order to track the productivity of the employees, Mobile App Development Companies use Asana.
Tickspot


Tickspot is a business tool that is developed in specific for time management. Users can log in to the platform, which keeps track of the time spent on each task, takes notes, can move between multiple timers based on the task. You as a business owner can make use of Tickspot to know the project budgets, productivity, assigning tasks, etc. Tickspot includes both free and premium packages.
ShipStation


Shipstation is used to streamline, automate, and scale the shipping of your business. This tool can import, export, and manage the shipping orders end-to-end. It also integrates with a number of E-Commerce shopping carts, platforms, tools, etc. 
Antavo


Antavo is to make the best shipping experience and drive sales. Most of the top and small retailers make use of Antavo which can completely manage the loyalty for your E-Commerce store online as well as via mobile with more than 40 loyalty schemes. Most IT Consulting Companies leverage Antavo to gain clients and double their sales.
Omnisend


Email Marketing is the present way of converting new leads. Omnisend is a platform developed with Email Marketing workflow. It comes with loaded email templates that allow one to purchase from the online store directly. It also responds to the customer or business-specific needs online. One can also make the required customizations as per their business requirements.
Buffer


Not to forget, Content is the king everywhere! Buffer is here to track social media audience topics, their interests, etc. You can thus plan your social media activity in accordance with them. This comes as an extension and also an analytics dashboard where you can view the entire performance. It consists of individual plans depending on the features. 
Shop Instagram & UGC


This is a Shopify app that allows one to embed shoppable Instagram galleries around the store. This can help the business owner to gain the immediate attention of customers. There are increased chances that they could purchase instantly here which increases the chances of conversions. You as a business owner can create a separate dedicated Insta Page by showcasing your products. 
HypeAuditor


In addition to Email Marketing, Influencer Marketing is gaining popularity nowadays. HypeAuditor is one of the E-Commerce tools which analyzes and offers you the right influencers to work with! You can also know how your audience are engaged!
Outfy


Outfy platform is to connect products from your online store to all the social networks. This can in turn allows you to drive your sales on social media by scheduling the posts with product images, collages, GIFs, videos, etc. 
Conclusion:
Being counted as one of the top digital transformation companies, we consider the above tools can disrupt the E-Commerce market to a greater level! So, which tool do you consider can help your business? Let us know your views in the comments section! 

Top tools which can enhance E-Commerce Growth