Overview:

Data has become everything today for businesses. Integrating data into your business processes has real, practical advantages, which is why big data is currently all the rage. Several businesses have used collaborative data sets in the past to handle problems on the whole and increase their influence. When you have the right data platform in place, a whole new universe of opportunities to gain insights for your business and advance your industry standards. Continue reading this blog to learn how big data solutions can add more value to your business growth!
Sharing data within your organization can be a wonderful way to spark discussions about what's working and what isn't, promoting innovation and teamwork.. The size of the global Big data market is predicted to double by 2027, reaching 103 billion US dollars, according to a study. It is best to have people from each department look at the data you collect because each will discover different insights or flaws. Moreover, to acquire new perspectives, you can blend more general market data with your specific data sets.
Big data significantly influences businesses because it enables them to effectively manage massive amounts of data. Analyzing data is one of the finest ways to find industry-wide problems and formulate solutions. Knowing how your products interact with partners can help you strengthen or further develop and support relationships you want to see flourish. It allows you to collaborate with your distributors and retailers so you can all work toward your common goals of greater sales and profit. This aids in developing data tools that are more useful and approachable for your business partners.
What is the impact of big data on business?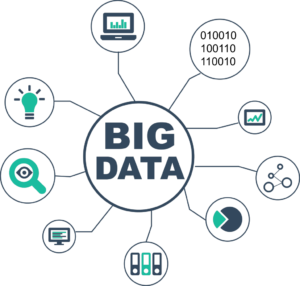 Businesses hope to provide better client services with the aid of big data, which can contribute to higher profits. For the majority of businesses, improved customer experience is the main goal. Other objectives include better target marketing, cost-cutting, and increased operational efficiency. Big data technology with decision intelligence helps businesses store massive volumes of data while significantly reducing costs. For example, one of these technologies is cloud-based analytics obtained from top cloud solution providers. They support businesses in improving decision-making and information analysis.
Enhanced security is required due to data breaches, which technology applications can address. Big data can assist enterprises in both the social and economic spheres. As a result, many government agencies have created regulations to encourage the expansion of big data. Big data analytics has evolved with the usage of agile technology and the increasing emphasis on advanced analytics. Big data analytics are a broad category of technologies. Businesses can get the most out of the information by combining technologies, including big data analytics types.
Other than big data, other technologies include Predictive analytics, Hadoop, digital twin, quantum computing, in-memory analytics, and artificial intelligence (AI). These technological advancements are anticipated to raise the need for big data analytics throughout the forecast period. Before, organizations that could afford the tools and channels utilized to gather and analyze data were the ones who employed big data the most. Today, big data is becoming an important source of insightful business insights for large and small commercial businesses.
Businesses across all sectors think about how to use big data for their operations. Its applications might boost productivity, identify client needs, give businesses a competitive edge, and create opportunities for long-term economic growth.
Industries leveraging Big data:
A few top industries utilizing big data solutions from the IT consulting company are telecommunication, financial services, retail, and e-commerce. Businesses are investing increasingly in big data solutions to automate their processes and manage data flow. For better supply chain management, vendors are implementing big data solutions.
Banking, Financial Services, and Insurance (BFSI):
Big data and analytics are widely used in the BFSI business to improve efficiency, focus on the customer, and ultimately increase profitability. Financial organizations utilize big data analytics to eliminate duplicate, overlapping systems and provide solutions for faster data access.
Banks and retail traders use big data for various purposes, including sentiment analysis and high-frequency trading.
Big Data engineering services with data-driven strategies can be useful in this area to analyze risks and track activities in the financial markets.
Big data's significance for e-commerce businesses is obvious: the more you understand your customers, the more profit you will make from your online store. Businesses can watch in-demand products and predict trends thanks to data on customer behavior in real-time, past purchases, and products liked. This enables them to be the first to market with successful products.
Technology can complete a few additional tasks for businesses: pricing analysis, inventory control, and customer retention forecasting. Delivering excellent customer experiences that motivate customers to spend more is the key to success; this is where technology becomes your business partner.
Logistics, Media and Entertainment:
Big data in the logistics industry assists online retailers in managing inventory under issues unique to one or more locations. Businesses in this industry utilize big data solutions from enterprise software development services to evaluate behavioral and personal information about customers and build comprehensive customer profiles.
This sector produces a huge volume of untapped data. The industry has many difficulties, including workforce shortages, complex supply networks, and equipment failure. Businesses can find new methods to save expenses and enhance product quality using big data solutions from business data analytics services.
Read Also – Embracing the New Era in Manufacturing With AI and Big Data

Big data assists decision-making in the oil and gas industry. Businesses can improve their decisions by gaining proper assistance from data science companies they make about where to locate wells by doing a thorough geometry study. Agencies also use big data to ensure that their safety precautions are enough.
The retail industry collects a lot of data via RFID, POS scanners, customer loyalty programs, and other technologies. Big data usage helps to decrease fraud and makes it possible to analyze inventory in real-time.
Read Also – Navigating Through The Retail Space: How Can Tech Make A Difference Here?

Wrapping Up:
Big data is expected to witness exceptional growth in the upcoming years. One important factor is the exponential rise of both structured and unstructured data. The expanding use of technology in many facets of life and the prevalence of smartphones are other factors. Larger amounts of data were generated as a result of that. Over the projection period, there will be an increase in demand for big data due to the growing need for data analysis. Enterprises willing to kick-start their dream business can connect with the world's leading digital transformation consulting company to avail of cost-effective big data solutions to stay ahead of the competition.

How Does Data Widen The Scope Of Your Business?