The novel coronavirus from its origination in China has spread and affected more than 800,000 people all over the world in the span of 3 months from January 2020. Moreover, the disease has taken the lives of almost 40,000 people as of 31st March.
Maintaining so much data, which is ever-increasing is not possible without the help of technology. AI or artificial intelligence is adept at analyzing patterns from big data. China's success with artificial intelligence as the crisis management tool shows its utility and justifies all the financial investment this technology has used to evolve over the years.
Advancement in the AI application like speech recognition, data analytics, natural language processing (NLP), deep learning, machine learning, and others like facial recognition and chatbots have been used for diagnosis as well as for vaccine development and contract tracing.
Spurred by the gains of China in this area, other countries are also sharing their expertise to expand the current capability of AI and make sure AI can emulate its role in aiding China in dealing with the coronavirus pandemic. The list mentioned below will be throwing light on how AI has been applied to solve the pandemic.
Chatbots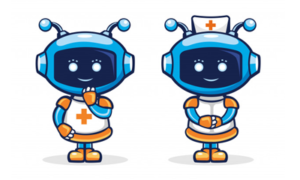 Several healthcare app development companies have developed chatbots using artificial intelligence and NLP so that people can get the right information through these apps. People can also chat with medical professionals using the apps and can clear their doubts. This is feasible for people as well as doctors and health practitioners because people are provided with the necessary information by simply tapping on their phones.
Chatbots are programmed to answer the questions based on the information their developers add and through artificial intelligence, the information is updated automatically. Chatbots are highly useful in providing clear guidelines and reliable information, check and monitor symptoms, recommend protection measures, and advise users whether they need to practice self-isolation at home or require hospital screening.
Read Also –  How Digital Health Technology Can Help in Managing The Coronavirus Outbreak?
Disease Surveillance
Surveillance is crucial for a disease like coronavirus. Human activity, specifically migration, has been responsible for spreading the virus all over the planet. Apps have been developed in several countries that leverage NLP and machine learning to track, recognize, report the spread of coronavirus faster than the WHO.
In the coming future, technology like this might be employed to know about zoonotic infection risks to humans considering the variables like human activity and climate change. The combined analysis of clinical, personal, social, and travel data including lifestyle habits and family history gathered from sources like social media may enable more precise and accurate predictions of individual healthcare results and risk profiles.
Facial Recognition, Fever Detector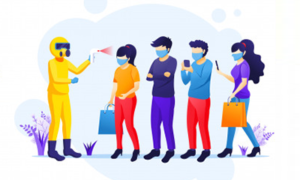 To detect fever in people, thermal cameras are used for some time now. The only drawback is that for using this technology, human operator is required. However, with AI, this issue has been resolved and this technology has proved to be very useful in detecting people with fever at airports, hospitals, sea ports, railway stations, etc.
This technology detects people with fever automatically and tracks their movements, detects whether they people are wearing face masks, and recognize their faces.
Read Also – How Apps And Artificial Intelligence Are Being Used To Tackle Coronavirus Scare?
Diagnosis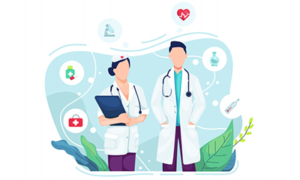 Immediate diagnosis implies response measures like quarantine can be employed in time to curb further spreading of the infection. A hindrance to rapid diagnosis is shortage of clinical expertise needed to interpret diagnostic results because of volume of cases. Major of the countries are struggling to diagnose the disease in time because the symptoms may take several days to show. Furthermore, because coronavirus spreads so easily, the hospitals have to diagnose thousands of patients in a day.
AI has sped up diagnosis process for coronavirus by detecting the infection within a minute with extremely high accuracy. This was made possible due to open source artificial intelligence model that analyzed CT scans and identified lesions as well as quantified in terms of volume, number and proportion.
Usage of Drones and Robots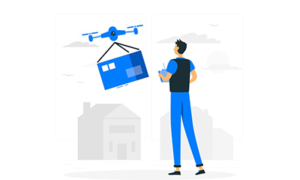 Because coronavirus spreads through physical contact, drones are being used in some places to deliver medical supplies. Drones are also being used for tracking people who are not using the facemasks in public, broadcasting information to large audiences, disinfecting public spaces, and checking if people are breaking quarantine.
Robots are also being used for cleaning and sanitizing the rooms of the patients, serving them food, and giving the medicines. Healthcare workers face the highest risk because they deal with infected patients directly. This is why using robots in hospital rooms and isolation wards is a great move. Many companies are donating free robots to hospitals for the same purpose.
Development of Drugs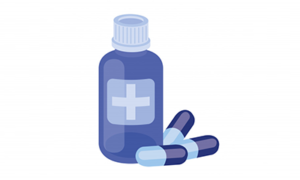 Various companies are employing robots and artificial intelligence to develop drugs, decode the virus, and know more about the disease. A British startup known as Exscienta became the first firm to present AI designed drug molecule which has proceeded for human trials. It took only a year for the algorithm to make the molecular structure while with traditional research methods, it takes five years or more for the same.
AI can also lead the charge for development of vaccines and antibodies for the Covid-19 either designed through drug repurposing or completely designed from scratch. The AI company of Google is developing structure models of proteins which have been linked with coronavirus in a bid to help the science in understanding the virus.
Verification of Information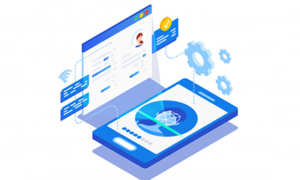 The uncertainty and incomplete knowledge about the coronavirus disease have resulted in propagation of myths and misconceptions on social media platforms. There has been no qualitative assessment done so far to evaluate the amount of misinformation present already but it is certainly a huge figure.
Facebook and Google are battling to control the waves of the conspiracy theories, misinformation, malware, and phishing. A search for the disease yields the alert signs along with links to the verified sources of information. On the other hand, YouTube directly links its users to credible organizations and WHO for information. Videos which misinform are hunted for and taken down as soon as AI detects them.
Conclusion
Coronavirus is causing panic amongst people because until now vaccine or medication for this disease has not been developed yet. Moreover, coronavirus spreads very easily and its carriers may not even realize they have the disease until they are diagnosed and by then, they may infect other people.
Human brains along with AI has helped control the spread of disease in China and can prevent its outbreak in other countries as well. Early detection, proper monitoring of the infected, and using drones and robots for minimal human contact can help prevent the disease from spreading. Monitoring the infected and people who have come in their contact is the only measure being used by several nations to control the spread of the disease. However, without AI, managing such elephantine data would be impossible.