Chinese health authorities reported an outbreak of pneumonia-like illness that has killed five and sickened 305 people. Well, this is not an excerpt from COVID-19 based news. It is actually from a news piece from 2003 and it describes the outbreak of SARS, which affected 8000 people. While coronavirus and SARS had the same origination and the way they spread, how they are being controlled all over the world is not at all same.
The seventeen-year gap between the two outbreaks has resulted in the development of new technologies that are more efficient and more easily available as compared to 2003 when SARS was creating panic amongst people. The technologies back then were poorly developed and nonexistent but now they are widespread and more affordable and have helped control the spread of the disease to a great extent. Digital health technology has also helped in the following ways.
#1 Tracking Coronavirus Pandemic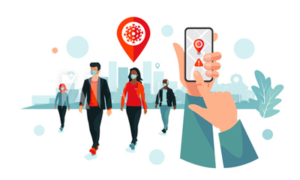 The digital health technology has helped manage the coronavirus pandemic by offering an early signal to possible infection. Many public health authorities, as widely reported, are limiting the test eligibility to healthcare workers and symptomatic patients. Furthermore, generally, the symptoms show up in several days and if a person does not get tested in time, they may transfer the virus to other people around them.
However, using technology, one can know which area they should avoid going to that have large gatherings. Just by looking at a person, you cannot know if they have coronavirus or not. But digital health technology that uses big data analytics can easily track and anticipate the spread of the disease. By filtering relevant news reports, artificial intelligence can know how the disease can be spread further, which can easily be avoided.
Moreover, AI can sift through available data and be able to make informed predictions that are later confirmed by experts, and enable relevant bodies to contain similar diseases before they are even able to leave their origin source.
Read Also –  How app development can empower the healthcare industry in the coming years?
#2 Faster Diagnosis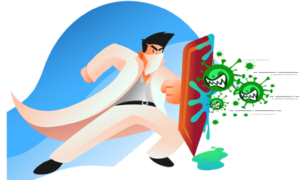 When the coronavirus disease was spreading outside China, several countries screened all international passengers from that region for fever using fever detecting devices. Many who had fever were not allowed to enter the countries. This had delayed the arrival of the disease in those countries, which gave them more time to prepare for outbreak coronavirus brought.
Additionally, initially, the diagnosis of the disease took several hours and even days. But due to advanced digital health technology, coronavirus can be diagnosed in only a few minutes. When a person is diagnosed with the disease, everyone who had come in their contact is also diagnosed and quarantined for a specific period. This entire process is extremely fast and those who are affected can be treated in time. Moreover, faster diagnosis also controls the spread of the virus.
Also, in the case of the SARS virus, the diagnosis for the disease took a long time to develop. However, the diagnosis of coronavirus was developed soon after the disease was identified. With the advancement of technology, the diagnosis time is decreasing significantly and now, one can know about the presence of the virus in their bodies within a few minutes.
#3 Monitoring Patients and Hospital Visitors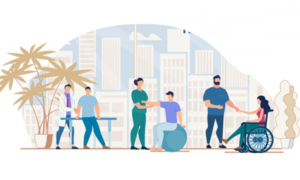 AI has been implemented in various hospitals all over the globe to help doctors screen visitors as well as treat those who are infected. Hospitals that have access to digital health technology are able to manage and monitor the coronavirus patients more effectively. There are camera-embedded facial scanners which conduct thermal scans and analyze facial attributes to determine if a visitor is feverish.
Artificial technology is also being used to analyze cough sounds to determine the possible spread of the coronavirus disease. Remote monitoring is also being carried out in several hospitals where sensor technology is being used. The sensor is put under the mattress of the patient and then their heart rate, body movement, and respiratory rate are analyzed. This lets the health professional know what is the patient's condition without even visiting them frequently. Through this technology, hospital staff's exposure to the affected patients and the disease is reduced significantly.
Read Also –  What the Future of Digital Health Looks Like in 2020?
#4 Robots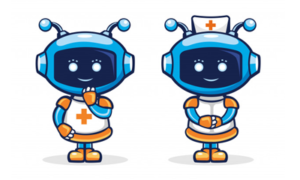 Coronavirus can easily spread from human to human, which puts medical staff at high risk of contracting the disease. Even after wearing full boy suits, gloves, and facemasks, doctors are not completely protected. However, robots cannot be affected by the disease. This is why several hospitals are using robots for treating patients. The robot brings in food and medical supplies, lets the doctor talk to the patient via a screen, and sterilizes and cleans the room.
A number of startups and companies are donating robots for the same purpose to various hospitals. This will prevent medical staff from contracting the virus in a scenario where their presence matters the most. Hospitals are loaded with patients and there is already a lack of doctors. If the present doctors fall ill, there would be an increased shortage of staff. Also, an infected doctor can transfer the disease to several others.
#5 Mobile Apps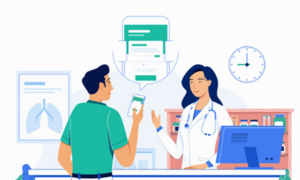 Healthcare app development companies are building apps to prevent the spread of the disease, monitor the movement of affected, offer correct information about the disease, and let people talk to doctors through text messages, video calls, and voice calls.
Because the disease can be spread very easily, the only way to protect oneself from the disease is avoiding meeting people who could be affected. Whether you go to a hospital, a supermarket, or even on the street, there may be people roaming around who are carriers of the disease. Generally, people do not realize they have the disease because the symptoms may appear late or they may believe that they are suffering from common cold or flu.
So, even visiting the hospital or your doctor's clinic is risky. Using apps that let you communicate with experienced medical professionals can help you avoid visiting the doctor. You can get treated for general diseases while sitting at home.
Moreover, there are apps that let you access the latest updates of coronavirus from credible sources. You can even diagnose your symptoms for coronavirus by using the apps. The app will also tell you if you are at a higher risk of getting infected and whether you should visit a hospital for screening or not.
Read Also – Why this is the Best Time to Launch a Secure Healthcare Chat App?
Conclusion
Coronavirus is a disease that spreads very easily among humans. Even after using sanitizer, washing hands frequently, and wearing masks, one cannot completely protect themselves from the disease. However, digital health technology has played a huge role in controlling the disease to a great extent.
People are now more aware of the disease. Also, medical health professionals can diagnose the disease faster, monitor patients, and develop an effective vaccine at a much faster pace. Thus, digital health technology has been helping immensely in managing the coronavirus outbreak.