In Healthcare Industry the AI-powered conversation Chatbot is offering patients a convenient way for remediating from personalized care and improved medication experiences. The present-day AI Chatbots are built to be user-friendly and can easily track the personal health data of a user participant based on the conversation itself. With the prompt level of answers and information accrued from AI Chatbots, it should be only a matter of time when most people would become health-conscious and dependent upon chatbot interactions. This should achieve the healthcare digital transformation trends with certainty accompanied by 'n' number of AI-based voice assistants and chatbots.
Moreover, a lot of savvy healthcare organizations are making plans strategically to deploy conversational AI chatbots for providing customer support and also towards extending their patient engagement services. Early adopters get one real advantage by using conversational Artificial Intelligence in healthcare they can access clinical engagement and better know their patient's well-being in advance.
Essentially the benefits of digital transformation services in the healthcare industry are a prolonged journey where the level of trustworthiness has to be raised by removing the wide presence of legacy systems and starting to move towards a modern healthcare infrastructure.
Some of the mentioned below AI Chatbot Assistants and Utilities are the upcoming new frontiers of digital transformation in the healthcare industry:
1. AI Chatbot Administration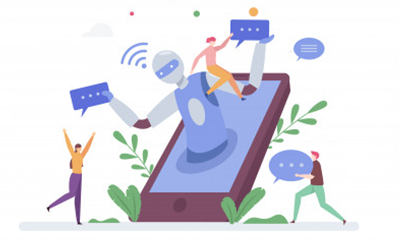 The use of AI chatbots is aplenty and utilizing them for guiding visitors on healthcare websites is simply tremendous. It should enable users to easily access all healthcare services quite efficiently. Things would get more convenient for patients when it comes to scheduling appointments, reminders, and reordering medical prescriptions.
Typically chatbots are imposed with only a fewer level of privacy along with HIPAA restrictions which will leave every user to confidently ask for all kinds of health-related issues without any hesitation. This kind of chatbot application will soon provide patients with a strict level of administration and customer support facility that can be expected anytime in the near horizon.
Read Also – How Digital Health Technology Can Help in Managing The Coronavirus Outbreak?
2. Patient Engagement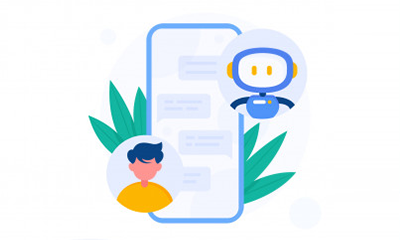 Normally chatbots were used actively in capturing customers and now with the integration of AI in healthcare this tool might be well utilized for captivating patient's interest all through sending precise answers and extending the tech support for the wellbeing of homecare patients. The virtual connection between the chatbot and patient is strengthened literally with the presence of artificial intelligence technology along with symptom-based treatments. On the contrary when visiting a doctor for diagnosing a patient more often than not the end result is likely to be a follow-up journal without any imparted knowledge on the infectious disease thus making things even worse.
Therefore conversational AI for healthcare is forecasted to be a reliable solution for the infected patient earning them the immediate sigh of relief instantaneously. In this highly demanding world, the healthcare industries are in a helpless state and enforced to progress with digital transformation trends and meet up to consumer's healthcare expectations through deploying Conversational AI bots.
3. Mental Health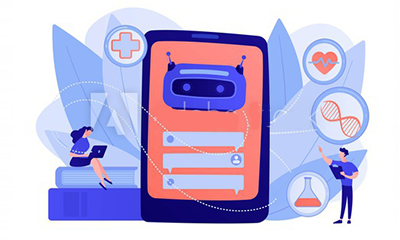 The good purpose of developing an AI chatbot for healthcare is to essentially bring the humanized experience for patients. These levels of mutual interactions result in solving the anxiety of a patient and then build better mental health. The patient also gets the freedom to share their personnel experiences with the chatbot and then progress ahead to lead a healthy way of existence.
In addition, the patient can also request for a more medical experience that relates to the prior discussion with AI chatbot and then join in a call conversation with a healthcare professional and resolve painstaking issues at great clarity.
Read Also – What the Future of Digital Health Looks Like in 2020?
4. Research Treatments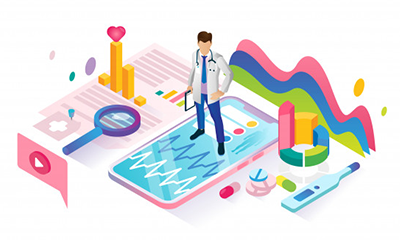 Conversational AI is built-in with an ability to machine learn and then utilize the power of data remarkably well to produce the IT Solutions for Healthcare Industry. While a patient is seeking help it will be literally difficult for doctors to furnish the bearer with all the experimental solutions at once without the use of AI & ML technologies. It is also true for the healthcare researcher who engages in finding the right solution.
Beyond these technical complexities all the data presentations will become readily available in automated forms that having incredible AI outreach and support. No wonder this automation process will have compatibility freely across AI voice assistance and deliver information regarding treatment solutions in a more personalized way.
5. Claims and Billing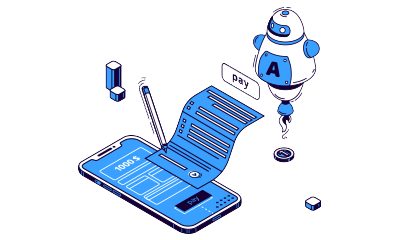 Basically doing with the claim procedures of medical bills or even an insurance policy is rather a cumbersome task. With the presence of Conversational AI, these tasks can be easily done. The significance of using an AI chatbot is that you can effortlessly know the detailed coverage of insurance fund that is on offer and help patients to make easier claims with a status tracking facility. It will speed up the treatment procedures for a patient with Conversational AI promptly updating their medical claims to doctors prior in hand for making excellent service.
Read Also – Why Should Every Hospital Need Hospital Management System Software?
Conclusion
The integration of conversational AI into healthcare will definitely see a phenomenal change in the way every patient is getting treated along with the efficacy of doctors and nurses attending patients. However the AI chatbots are much more powerful with HIPAA compliance and can get the intuitiveness for offering to be a potential diagnostic tool in the healthcare industry.
Despite these medical advancements the present-day AI chatbots are still offering a reduced staff load with a low overhead cost for hospitals and thus serving patient's diseases clinically with greater transparency to other fellow staff members and visitors. It should urge hospitals to go for a Healthcare App development company and build the most demanding IT Solutions for their patients and consumers all the while endlessly.