Overview: Cloud computing has become very popular among enterprises in the modern world to reshape the way daily operations take place in their businesses. The shift from traditional to cloud technology has advanced the changes to reflect it in the current processes. Cloud computing trends of 2022 focus on embracing the use of the cloud to expand IT capabilities and modernize workflows. Are you excited to explore the cloud computing trends in detail? Continue reading!
The explosion of cloud technology has changed how enterprises run their business today. Adopting cloud computing solutions is rapidly growing and offers several advantages over traditional ones. Migrating to the cloud is the best option to cut additional costs and reduce the need for an on-premises setup. Additionally, cloud services will help scale your enterprise even during market fluctuations.
Many enterprises prefer cloud services for their agility and flexibility in the tech-driven world to know where their cloud infrastructure is headed. It is high time for tech companies and professionals to predict the major cloud computing trends for the year ahead and start thinking about how to use them to accelerate their business growth. The global report states that cloud computing revenue worldwide is estimated to be $206 billion by the end of 2022.
What are the top cloud computing trends of 2022?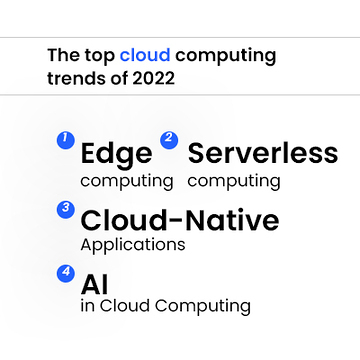 A large volume of data is being generated daily from various industries, and it has become more important to store, manage and process data efficiently. It is noticed that during a time-sensitive business, data needs to be processed quickly, have faster business operations, and minimize risks. Edge computing is the right technology to make all this possible since it is a distributed computing architecture that brings computation and storage closer to the data source.
Edge computing has become the most preferred technology among businesses for its role in network switching and routing, security and load balancing. Edge computing is not a replacement for cloud computing but an integration that will aid enterprise growth and development. Edge computing benefits enterprises from energy efficiency initiatives, smart manufacturing, intelligent operations and predictive maintenance efforts.
Serverless computing is a cloud model where the consumer is not dealt with infrastructure management and server provisioning. Still, the cloud operator allocates resources based on the requirements and manages the infrastructure. Enterprises prefer serverless architecture to benefit from flexibility, scalability, and quicker time to launch, all at low cost. Developers need not worry about managing backend servers, purchasing and provisioning.
The major contribution of serverless computing for business environment benefits is that both the back end and front end are hosted by fully managed services to control security, compliance requirements and scaling. Enterprises can integrate various services to manage tasks better and improve interactions without coding. The serverless architecture best suits developers and enterprises looking to build lightweight, flexible apps and decrease their go-to-market time.
Cloud-Native Applications:
Many enterprises leverage cloud-native apps to suit their business requirements and run scalable apps in private, public and hybrid clouds. Cloud-native apps are designed and built to benefit from the cloud for resiliency, flexibility, scale and elasticity. The shift to cloud-native technologies has improved business models to improve customer experiences across various enterprise platforms.
The cloud-native application is independent of each other for easy management and deployment. These applications are delivered through a DevOps pipeline that includes CI/CD toolchains. It can also automate your enterprise operations from building, testing and deploying cloud-native apps. It is advantageous for enterprises to shift apps, DevOps and workload by implementing the cloud-native architecture.
AI is empowering cloud computing in many ways and the demand is rising gradually in the market. AI in cloud computing has impacted the lives of millions daily. For example, Amazon Alexa, Google Home, and Siri. It is helping various enterprises to be more insight-driven, strategic and efficient. Cloud is an excellent add-on for AI where it provides businesses with agility, flexibility and cost-reduction.
AI on the other hand optimizes workflows, improves customer experiences, data management and analytics & insights. The AI and cloud combination streamlines the workloads since they are computing and memory intensive to train new models, improve video, speech and large text data with cloud scaling resources in an automated way.
Cloud, data, and customer-centricity
It is no surprise that data culture is the decision culture, but companies often overlook the cloud's role in keeping them data-positive. With an average person producing 1.7 MB of data per second, the cloud provides the infrastructure to store, accumulate, and work on this data.
For instance, we worked with a huge player in the pet food industry to help them leverage data. While they receive huge amounts of data on pets from their IoT sensors, we understood that they needed a flexible platform to let the data flow. And the cloud was the best option for our clients to work with these huge volumes of data as they convert them into actionable insights.
With the oncoming 5G wave, technologies like edge computing will be more common. Brands can leverage such amazing technologies to digest data at a rate they never did before. Moreover, as technologies like edge computing become more and more common, small and medium enterprises or businesses will be able to incorporate them in their digital journey, making them more effective than ever. Ultimately, the cloud will further reinforce consumer centricity in the market.
While there are many leading cloud solutions providers in the market, businesses must understand that the cloud is an evolving process that amplifies their digital vision as it grows. Cloud-native applications, for instance, are more scalable and effective than the former, and businesses should allow space for the cloud within their infrastructure to leverage it to its fullest.
With drastically increasing IoT devices, our digital capabilities will grow exponentially. Innovations in cloud computing can make it more end-user friendly, meaning it will overcome the boundaries of "B2B" technology and be available for everyone in the market. While many forms of cloud applications are available for end-users in the market, they are still a long way from tapping into the real potential of the platform. Ultimately, the cloud will be the connecting part of our digital ecosystem, critical data, us, and businesses together.
Citations:
The best-related articles:
Flexible Yet Robust- It's Time For Enterprises To Put Cloud First!
How Cloud Computing Is Transforming Enterprises To Be More Flexible And Agile?
Start From Cloud: Why Should Enterprises Take This Approach To Digital Transformation?