As the market witnesses a new breed of consumers – consumers who would sacrifice ownership for better services, brands are under the pressure to rethink their operations so that they can still stay in the loop. This is particularly true for the fitness industry. Since the wake of the pandemic, the idea of fitness, and what it means to consumers, has taken a more solid shape. While there is a huge segment of people who directly relate fitness with aesthetics, the majority of the audience segments are aware of the benefits it brings to their health & wellness regime. Mental health is a top priority among the younger generation, and people are more conscious than ever in their purchase decisions. So, fitness is now a part of the multi-trillion-dollar health and wellness industry.
But are the fitness brands ready to capture value from this shift in consumer behavior, and ultimately the market? Call it a lack of motivation, but a majority of fitness brands are non-responsive to the disruptions in their industry, and it won't be long before they start feeling the turbulence from the market, as the increased competition shrinks the business value they provide.
So, if you are a fitness brand focused on cutting through the competition, or building resilience for the oncoming recession, or capturing value at scale from all these market volatility, then your strategy and goal should be aligned to evolve from a mere fitness brand to an impactful lifestyle brand!
To know how to make this transition effectively without putting a strain on your operations, feel free to read the complete article.
Know the driving force behind the consumer shift
All successful lifestyle brands have one thing in common- they establish an emotional connection with their audience segment.
Consumers no longer see fitness as something they pay monthly or annually and spend 5-7 hours per week. They rather see fitness as something that's so personal to them- something that helps them embrace who they are and who they want to be. For many upcoming generations, it is even an identity. If you look at the growing trend of veganism in our society, you would notice that Gen-Z is actively experimenting and finding their own voice as opposed to other generations. For such dynamic consumer segments, their fitness and health & wellness regimes are more than a regime. For such segments, it is who they are.
So, the core idea behind this consumer shift is- "To belong to a community- a place where they can inspire and be inspired"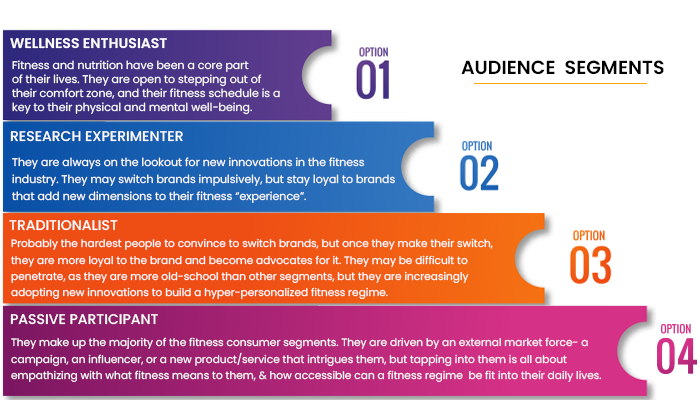 Purely digital consumer experience vs Hybrid consumer experience
If you say that a purely digital experience is possible by fitness brands during the golden age of fitness (somewhere between the 70s and 90s), they would still agree! Many fitness brands think crafting a purely digital experience that delivers actual value to consumers is impossible. But if you go a little back before the age of the internet, you would find many fitness icons and enthusiasts embracing virtual workouts. Aerobics and group classes were popular in many parts of the world even before digital became mainstream. Given the current scenario, fitness brands can tap into their unlocked potential by going completely digital.
For instance, brands like Peloton have been a huge hit among the audience. As of June 2022, Peloton had a whopping 6.9 million active users across the globe, clocking in multiple billions in revenue by the end of the year. Peloton utilized the digital infrastructure to its fullest, to make up for the lack of physical infrastructure. It created a massive virtual community that revolutionized the fitness industry forever.
But on the other hand, if you have an existing physical infrastructure, then you can craft a personalized brand experience through hybrid digital adoption. Equinox is one of the best examples of this. Though the brand has existed since the 90s, it leveraged the digital medium to craft a hyper-personalized experience for its consumers, helping transform it into one of the leading premium fitness brands in the world. It also fueled its brand's presence, helping it to expand into new locations.
Adopting the digital medium can give you a huge head start when compared with your competitors, immediately positioning you as the differentiator in your industry. However, only through sustained and consistent digital deliveries can you capitalize on this influence and emerge as an industry leader. Many leading fitness brands, and health & wellness brands are rethinking their fundamental approach toward business. They are leveraging data engineering solutions to dissect complex consumer behavior, and track market movements, emerging trends, potential opportunities, etc.
The first inventor vs the fast innovator
It is a widely misunderstood area where many brands feel that the first inventor is the one that usually lands on top of a trend. While it's not untrue, it's not the complete truth either! Sure, the first inventors have an upper hand over others, but the window to adapt to this transition is shorter than ever for brands. With a robust digital infrastructure, brands can now change their course in the market relatively easily. For instance, Yahoo was the first popular search engine during the dawn of the internet, but Google quickly became a giant, surpassing Yahoo by becoming a fast innovator and focusing on delivering the evolving needs of the market.
Building a reliable community has always been the backbone of a strong fitness brand, but with emerging platforms like digital, fitness brands can redefine what it means to be a part of a community. For a fitness brand to craft virtual experiences is how they move up the value chain. Though the scope for fitness and health & wellness brands is huge, most of them hardly move up the value chain. The fear of failing to the first inventors is something that our market experts identify as the common obstacle behind all these brands. With a solid digital transformation strategy, brands can leap over such obstacles and stand out in the sea of sameness.
The logic behind fitness apps- why does it work?
Mobile applications are getting more and more integral to the digital ecosystem that brands are investing so much in the last few years. For starters, consumers can more easily access a mobile application than any other platform. But the point is, just another mobile application will not work in the market. The increased competitiveness in the market has squeezed the business value so much that consumers of all segments are flooded with thousands of options!
However, if your fitness mobile application is a part of the bigger experience picture, then it actually adds value to your consumers. Your mobile application should be embedded with your business' core idea and clearly communicate your brand's USP and vision to your consumers. The mobile application development market is more competitive than ever, and it is important for a brand to collaborate with a mobile app development partner that truly understands its goals- short-term and long-term.
With 20+ years of being a top mobile app development company in the market, W2S Solutions has collaborated with clients and brands across industries and geographies. We've built more than 230+ globally successful applications for our clients to help them craft and deliver high-impact experiences for their customers. Check out this link to know more about our work and mobile application development process.
Get inspired!
Subscribe to our newsletter and get updates on how to navigate through disruption and make digital work for your business!