Who doesn't like to put on their cozy pants on a rainy day, sipping a hot cup of coffee/tea with some blues playing on the back? Well, monsoon is a favourite for a lot of people but not everyone gets to "enjoy" the monsoon season, particularly during the last few years.
The infamous monsoon season has brought in a lot of havoc and fear in recent times than anything! Though this can be pinned on to global climate change drastic urbanization, inadequate urban planning, and poor management of water bodies are some of the most immediate reasons why the monsoon in Chennai is terrorizing people!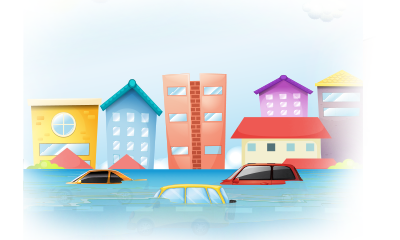 As the saying goes, "prevention is always better than a cure!". It is better to be equipped and self-aware during the monsoon season to avoid the last-minute panic! Feel free to use this list below.
Stay away from the damp! Make sure you dry any damp piece of clothing or shoes as it may become home to the growth of mold or bacteria.
Make sure you stock up on the essentials like groceries, medicine, clean clothes, water, etc.
If at all you come across any news or information regarding the rain or floods or resources, be sure to check the sources before sharing it with others.

Only trust reliable sources when it comes to Chennai weather forecasts

.
Make sure you have some ready cash in your hand. It is also better to deposit gold and other assets in banks or someplace safer- if the worst happens.
You should also consider safeguarding your automobiles during floods. You can simply use a plastic cover to fill the exhaust. This will prevent the flooding of the engines.

Consider working from home during heavy rain.

This will give you enough breathing space for you and also your family & friends during these tough times.
Go easy on food delivery executives. They put in a lot of work during these rainy days. Even if you are not able to tip them, a small act of empathy could go a long way!
If at all you are commuting to an office, try carpooling to avoid getting caught in the cross-hairs.

It is better to act as "one" in these times

. Also, be considerate of others on the roads while driving your car during these rainy days.
If you are managing a team of employees, make sure you go easy on them. Give them some space to take care of their personal needs.
Communicate with others.

If you are in a position to help others, do it! Even a small gesture could help a lot!

Spend some time with your pets if you have any. This could be a confusing time for them, and it's better to go easy on them.
Watch out for the flu and water-borne diseases. Make sure you take the necessary steps and immediately get them to a doctor!
Chennai heavy rain fills up the lakes at an astonishing rate.

If you are staying near water bodies like lakes or dams, it is best to act on the situation before it's too late

.
If at all you or your family face any unfortunate events, get professional help! Do not wait to contact the necessary officials.
Participate in rescue operations ONLY IF YOU ARE WELL EQUIPPED, AND THERE ARE NO OFFICIALS TO HELP! To help yourself should be your primary goal.
A rainy day is an equalizer. You don't know what's going to happen. You just take what you can get. – Charlie Harvey
We at W2S Solutions understand this gradual shift in the climate patterns and have aligned our goal towards sustainable development.
We include a greener future as one of our organizational goals. For instance, we collaborated with the National Institute of Ocean Technology or NIOT to create a data intelligence system that can identify the radical change in these patterns. Our system helps the government to issue a red alert in the Chennai area long before any damage takes place.
And, we strongly believe that leveraging technology can create more opportunities to bring forward the change we wish to see in this world.