The rise of the e-commerce industry has paved the way for retailers to adopt drastic transformations and advancements to manage their business smoothly. The retailers were driven toward emerging technologies like planogram analysis and edge computing to transform the shopping experience so customers to easily purchase the products. According to a study, the global retail business generated sales of over $26 trillion in 2021, with over $30 trillion expected by 2024. Planogram software for visual merchandising helps the retailers come up with the best strategies to direct customers in-store by displaying the products to attract them. Planograms and edge computing make it easy for retailers to plan their space smartly using the gathered data for walk-in customers in the store.
The advent of online shopping has pushed the retail industry into uncertainty. Many customers are taking advantage of the newly discovered convenience of online shopping. As a result, retail businesses must update their organizational structures in order to keep up with changing times. The global Smart Shelves market is expected to grow at a CAGR of 25.1% between the years 2020 and 2026, from USD 1.8 billion in 2020 to USD 7.1 billion in 2026, according to a study. Retailers can now use machine learning dashboard, planogram analysis and edge computing to improve their offerings and improve customer service. This can then lead to customers returning to stores to shop.
Planogram Analysis: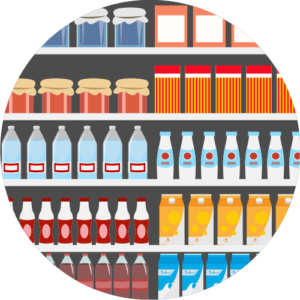 A planogram is a flow chart that shows how a group of products will be arranged and dispersed in a specific retail space, such as on a trolley, shelf, or display. Customers will be able to view not just the store's physical form but also how the merchandise will be organized in each of the several areas. Depending on how the products are displayed, different types of planograms exist:
It's the easiest planogram to create, but it's also the most visible, making it more difficult and time-consuming to work with. It consists of a piece of paper with boxes labelled with the name of the product that will be placed in each box.
This planogram is harder to understand because it represents not just where but also how things will be displayed.
This is the most detailed planogram, including not only the product placement and arrangement but also the volume and related signs. These planograms can encompass the entire layout of a department because they are created in 3D, allowing for the construction of an image that is incredibly close to the final layout of that area of the shop.
Read Also – The Right Mix Of Technology And Business Strategy: Secret Formula!

Let's have a look at why planograms are beneficial for retail: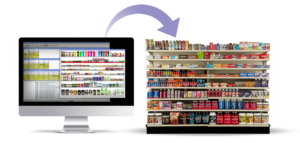 Planograms are a great instrument for trade marketing because they have so many perks. They enable you to swiftly build many variations of how items will be displayed in retail environments. Retail data analytics solutions enable for improved visual planning of the shelves and chairlifts, as well as better stock and technical material demands forecasting.
Maximize available space:
Planograms help you better design space by improving division efficiency. Diverse portfolio enables businesses to better organize product layouts and have greater control over how each one is presented in the store before committing resources to physically making these adjustments. The planogram can be used to trade with different brands and suppliers. It also allows them to provide a specific location, a sense of ownership, and increased exposure, all of which are attractive to manufacturers.
More control and organization contribute to improved sales, in addition to the cost savings that excellent stock management brings. Businesses can conduct audits to determine whether product positioning and presentation management, as well as business intelligence, can help increase product sales in retail shops. This information is not only valuable for increasing product sales; it also allows enterprise software development companies to develop cross-selling techniques that increase profitability.
Edge computing refers to computing that occurs near or at the same physical spot as the source data. One of the most favourable features of edge computing over cloud computing is the reduced latency. Edge computing technology can instantly collect data from IoT devices. Retailers saw this technology as a way to improve and add value to their customers and business. Hire data engineers to quickly construct an inventory management system that incorporates labelling, pricing, and procurement using edge computing.
Read Also – Outshine Your Competitors By Using Pre-sales Big Data

Let's have a look at why retailers also rely on edge computing: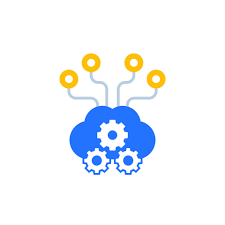 Improves production efficiency:
It can be challenging to operate a retail firm since there are so many moving parts. Traditional retailers use dedicated enterprise web applications for stock management, pricing, and scanning. These are rigid systems that can't keep up with the fast pace of the retail industry. The retail industry can be transformed by edge computing. It allows retailers to make the most of IoT devices and the massive amounts of data they can communicate in real-time. What is a check-out-less store, exactly? This is a popular trend that is made possible with the use of edge technology in the retail business. Customers download the app, use it to enter the store, make their purchases, and then exit. There will be no long lines, no waiting, and no need for a cashier as a result of this.
Provides customers with a unique experience:
When customers visit a physical store, retailers can use edge computing to provide them with a unique experience. Consider yourself in a conventional clothing store, where you can still dress, browse, select an item, and pay before leaving. Customers can try shopping for clothing using the phone to select the dress, choose the perfect size, purchase it, and wait for it to arrive. Isn't looking into e-commerce easier and more convenient? What if you could simply improve the functionality of your retail store? Edge computers can interface with your phone to determine what you're looking for, and the retailer can then sell the items at a cheap rate. Real-time data exchange is essential for offering relevant services to customers. Customers will be drawn to stores that provide a pleasurable and peaceful shopping experience, and they may even provide positive feedback.
Assists in identifying customer trends:
Cloud computing service companies offer development solutions that can assist in detecting customer patterns in addition to providing a unique customer experience. It is very useful for the tracking of customers' shopping habits and could aid internal logistical operations in the future. In this sense, edge computing technologies will no longer be flexible. Edge technology can now be used to assess how the organization can easily transform, despite its roots as a problem-solving tool. For future use, data acquired from online and in-store usage can show the customer's purchasing intentions and behaviours. Not only with marketing but also with sourcing, businesses can consider seasonal trends. It's vital to pay close attention to each customer interaction.
Enhances compliance and security:
Retailers leverage edge computing to provide the best quality products and services. On the other hand, interconnectivity poses some security issues. Customers must connect their devices to the network in order to enjoy the greatest shopping experience possible in your commercial store. Alternatively, the retail store can have its own devices and give them to customers when they come in. Both approaches, though, are risky. This means that data from your IT infrastructure could be made available to customers. As a result, while adopting edge computing, data security is crucial. The good news is that because edge computing requires infrastructure close to the source, security solutions to limit interconnectivity threats are simple to implement, maintain, and monitor.
Read Also – Emerging Edge Cloud Architecture Continues to Shake Out

Challenges and solutions managed by retailers: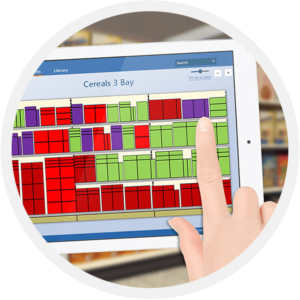 An empty shelf can be a customer's worst nightmare, prompting them to change businesses. Stock depletion creates the illusion of disorganized establishments that are uninterested in their customers. Late stock repurchases are the most common cause of out of stock occurrences. However, by employing a planogram and edge computing, such problems can be fully avoided. It assists in the analysis of historical data in order to predict when a product will be exhausted, allowing for timely stock refilling.
Increasing the value of data:
Customers' data is required by merchants in order to provide shoppers with customized shopping experiences. Raw data in large quantities, on the other hand, is useless. The gathered data should be processed using correct procedures to arrive at logical conclusions. Planograms and edge computing can assist merchants in overcoming issues related to value growth. It estimates changes in sales and profit for a certain product, brand, or even a category using data from a range of sources. Business process automation can also give retailers insight into areas where they can improve.
Customers may have an unpleasant shopping experience if stores are disorganized. In an unstructured store, a merchant has no control over where and how their products are displayed, resulting in poor product visibility for shoppers. Planograms and edge computing are effective options for addressing these issues. It helps in product classification by category, subclass, or sector, colour scheme product placement, and the display of best-selling items at eye level, all of which add to visually appealing stores.
Dead stock, or surplus inventory, refers to products that have not been sold or that have exceeded predicted demand. As a result of such shares, capital is held in reserve, resulting in a significant revenue loss. Decentralized purchasing is one of the key causes of excessive stock. Planograms and edge computing can help retailers consolidate production schedules and purchasing. This gives them a single point of control over all of their purchase decisions.
Read Also – The Rapid Growth of the Cloud in the Retail Industry

Wrapping Up:
The use of planograms and edge computing to plan shop locations has a number of benefits that retailers should consider. It will not only help retail stores maximize their space and increase sales, but it will also be a valuable resource for trade marketing and visual merchandising experts. Retailers may make the most of these technologies to give their customers the greatest experience possible. This is one of the most effective techniques to grow their business and attract customers to return to retail stores. Enterprises willing to improve their retail store's strategies can get in touch with the world's leading digital transformation consulting company to avail of cost-effective planogram and edge computing solutions to make their business popular in the competitive market. Also, it's important to choose a tech consulting company with a diverse portfolio! This will help a great deal in problem-solving, as the primary business challenge in the present market is all about staying contextual across different dimensions.

How Retailers benefit from Planogram Analysis & Edge Computing?