Agriculture and farming are considered the future of all industries. This giant industry is the leader of all sectors since food is the mandatory thing for every single person in the world. As the population is increasing every day, the need for crops and food is drastically increasing.
The agricultural sector has already into a massive transformation since the 19th century, which also includes mechanized agriculture as well as the green revolution. We people at W2S are well aware of Agricultural necessity for now and have crafted solutions for this.
In this blog, we have discussed the importance of adopting Digital Transformation in Agriculture and how W2S has helped in achieving it.
Modern Technologies to disrupt Traditional Industry: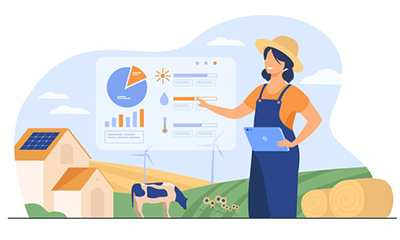 Today, leveraging the advancements in Information and Communication Technologies (ICT), farms across the world are transforming digitally from traditional precision farming to smart and digital farming everywhere. Moreover, farming nowadays requires GPS while Smart Farming needs the usage of automation, artificial intelligence (AI), and robotics.  
Smart Farming involves the conversion of farm data into better and future insights by eliminating the risk factors. Hence, it provides an efficient route for tracking, monitoring, analyzing, and optimizing various agricultural assets and production processes.
Digitization ensures that the agricultural input resources are managed in a highly optimized, personalized, and intelligent manner. With the drastic growing awareness among customers to know how their food is produced actually. The digitization of farms will enable traceability along with the complete agricultural chain.
Read Also –  Smart Agriculture Platform – BI Tools
How Digitization is happening here?
Integration of automation technology, drones, spectral imagery, and sensors to increase the crop yield, reduce crop stress, and also monitor various parameters for enhanced farm management to maximize productivity.

Utilizing Agricultural Robots and unmanned aerial vehicles for increased efficiency, reduced labor, and elimination of complex processes.

Increased use of livestock biometric ensures maintenance of livestock health and also corresponds directly to an increased yield of dairy products.
In recent years, technology in Agriculture also known as AgTech has rapidly changed the industry. It was the year 2030, the industry output will increase by 60%. The IoT is disrupting the agricultural industry in a very good way.
It is extremely beneficial to make use of IoT in the food sector. A report from Cisco states, there is an estimated $14.4 trillion in value with the emergence of IoT alone. The IoT sector is simplifying and streamlining activities such as the collection, inspection, and overall distribution of agricultural resources using sensors on equipment and materials.
Sensors placed seamlessly around fields that are combined with image recognition technologies are allowing farmers to view their crops from anywhere in the world. These sensors provide farmers up to date information in real-time so changes can be made accordingly to their crops. 
Similar to technology, sensors are placed on agricultural equipment to keep track of the health of the machine and more. Hence, industries focusing on agricultural sectors have been benefited from the adoption of digital technologies.
Read Also – The Reality of Modern Farming Will Surprise You
Drones and Crop Monitoring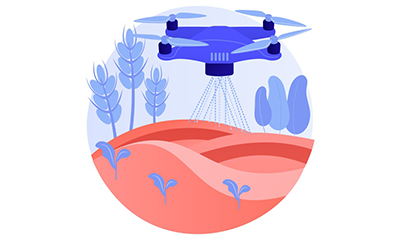 If in case you are working in your garden, you can have the capability to view all of your plants at once. Since farmers work in fields that span hundreds of acres which means that the only way they've been able to come up is with a bird's eye view is from a plane. 
Consider the return on investment if farmers could easily visualize their crops using an aerial source that can provide them with dozens of benefits. Drones are widely being used for crop monitoring activities across the U.S. This can also detect drought and other harmful environmental factors in the future. 
Drones that produce 3D imaging can be used to figure out soil quality through analysis and planning seed planting patterns. Other than that, they are also being used to spray chemicals on crops while being careful not to penetrate groundwater. Recent studies have shown that drones can enhance the speed of spraying by five times compared to traditional types of machinery.
Read Also- How the Sustainable Development Goals will be addressed with an Agricultural Data Tool?
Farming and Robotics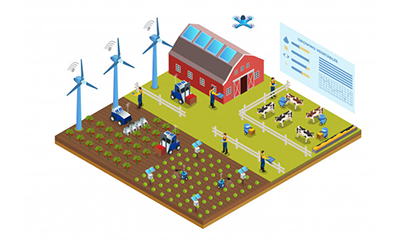 Similar to using robots and artificial intelligence in other industries, robotics within the agriculture sector would increase productivity and thereby resulting in higher and faster yields. Thus, the spraying and weeding robots can reduce agrochemical use by an incredible 90%.
Other popular startup robotics companies are checking with laser and camera guidance for determining and eliminating weeds without human needs. These robots can use the guidance to navigate between rows of crops on their own, reducing the manpower behind it. 
Other companies are building plant-transplanting robots that can add a new level of efficiency to traditional methods. Finally, automation is being checked for activities such as fruit-picking and nut harvesting, etc which is a much-needed process.
Read Also –  Agri Data Collection Tool – Use Case
RFID Sensors and Tracking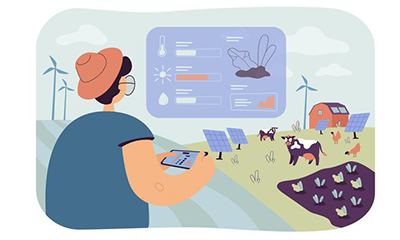 Once crops are harvested, RFID sensors can be used to track food from the field to the shop. The end-user, or the customer, will be able to follow a detailed flow about the food they consume from the farm and how it reaches their location, and from where it was purchased. This technology could improve trustworthiness for manufacturers and their responsibility to provide fresh produce and goods. Added, customers can also feel reliable on this.
These tracking systems could eliminate apprehension regarding allergens and health requirements for consumers. When it comes to the farmer, the idea that their goods are being tracked will bring about a good sense of relief. After all, they can ensure their products are making them safe to their consumer's table.
Read Also – The Role of RPA in the Education sector
Role of W2S in disrupting Agriculture: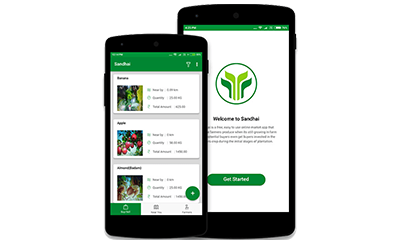 As we are well aware of the needs and trends in the Agricultural industry, we have released an application named "Sandhai". Being a Agriculture App Development Company, our application is here to keep track and monitor the crops from anywhere and also build trusted relationships between farmers, manufacturers, and consumers.
We understand the needs of the Agricultural market and have framed the solutions accordingly. If you consider the Indian market, pricing strategy is still a challenging task. Hence, a digital solution can make the process hassle-free.
The app comes with an Online Portal which facilitates the connection between farmers and buyers. Hence, it becomes easy to use by them which can be downloaded easily from smartphones of any category.
It also works in a remote area where the Internet is still a challenge. The collected data is also segregated based on the geographic location for representation. Location tracking and geofencing are also possible with Sandhai. 
With the collected data farmers can make actionable insights such as detecting the monsoon, figuring out the growth of the crop, checking which crop could be the future, framing a clear pricing strategy, etc in a simple manner. 
This has helped numerous farmers and manufacturers to take their agricultural scenario to the next stages. 
Looking for a solution similar to Sandhai?
If this is your question, we're open to building you an application similar to Sandhai which can benefit your business. Our reliable team can work on any type of requirement irrespective of the complexities in it.
Get in touch with us now to know more about this!

Digital Transformation in Agriculture