Overview: EdTech apps have revolutionized education by focusing on the learner and enhancing interaction. Students can now not only take ownership of their education but also develop their critical thinking and problem-solving abilities thanks to the advent of learning applications, video classes, virtual laboratories, and peer-to-peer discussion portals. EdTech enhances students' academic performance and overall growth by encouraging the development of lifelong skills. Sounds interesting? – Keep reading!
Enterprises can benefit from education technology's ability to facilitate collaboration, establish communication channels, and streamline workflow. However, when EdTech directs a student's learning journey, teacher and parent participation is maximized. IT solutions for the education industry are now helping Students to prefer digitally enhanced learning methods to learn more outside of the classroom because of the many benefits.
EdTech applications have proven the value of using online learning resources to help students get the most out of their education and minimize disruptions to their studies in the future. With the use of technology, parents and teachers can better communicate and modify a student's learning path to better suit their requirements and difficulties. The use of audio, visual, and even virtual reality platforms for education is made possible by EdTech, specifically for instructors.
Jitsi, an online meeting platform on demand across the globe, is integrated with EdTech apps to boost its features and benefit students and teachers for better 1:1 interaction. EdTech apps integrated with Jitsi offer HD audio video, unlimited free meeting access, end-to-end encryption, and hassle-free communication without interruption. Over time, this increases interest in even the most difficult subjects and improves learning outcomes.
How do educational institutions across the globe leverage EdTech?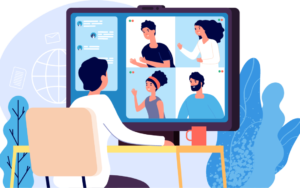 EdTech has proven that the phrase "student-centricity is the key to student achievement" is 100% accurate. The educational system might develop curricula and teaching methods that promote curiosity rather than forcing students to rote learning by prioritizing the students' needs, challenges, and interests. One size does not fit all when it comes to learning, and EdTech apps from the custom software development company have made this seamless learning path possible.
EdTech has implemented tests, interactive lessons, and a customizable curriculum, all supported by constant internet connectivity and a qualified instructor to assist the students better. At the end of the class session, students can choose their own learning pace, go back to a subject if necessary, or even quickly contact their teachers to get clarification on concepts. Mainly, this makes sure that no student is left behind.

Why does Jitsi add more value to EdTech apps?
EdTech makes education more accessible and viable by integrating the Jitsi platform. Students can learn conveniently and using a method that they find enjoyable, thanks to the combination of EdTech and Jitsi. EdTech integrated with Jitsi makes students feel balanced between learning their interested course anytime from anywhere and concentrating on other extra-curricular activities to relax and perform better in life.
EdTech integrated with Jitsi from mobile app development companies allows teachers to record their own live tutorial videos for students who can have access later to learn that subject. Even if students have doubts or questions regarding the concept, they can reach out to respected teachers through 1:1 video calls or even drop texts to connect later. With EdTech apps, students and teachers can use the digital learning infrastructure for online teaching, submit their assignments, and attend virtual labs.
Read Also – How chatbots have become the biggest game-changer for educational mobile apps?

What does EdTech hold for the future of the education system?
The pandemic served as a sobering reminder that every country needs to set up a hybrid educational environment where students can study both offline and online. Remote teaching techniques were forced onto educational institutions, and that's where EdTech apps powered by cloud computing solutions became more popular globally. Anyone with a smartphone and an internet connection can now learn, re-skill, and up-skill whenever and wherever they want, thanks to digital learning.
We can anticipate quicker technological adoption in the educational setting as the globe advances beyond the standard curriculum and strives more for skill development than just a degree. Gamification, which is the use of game mechanics and concepts in non-game contexts, is another popular technique for making digital learning enjoyable for students. It makes learning complex courses fun for students.
You can know more about our Jitsi-integrated elearning platform here!
Wrapping Up:
One of society's main pillars is education. A well-educated society is more likely to be active, dynamic, and kind to one another. EdTech apps now make education available for everyone across the globe regardless of their social or economic background. EdTech integrated with Jitsi has turned into a reliable, always-available personal assistant for learning. Enterprises willing to bring remarkable change to the education system and stay ahead of the competitive trend can connect with the world's leading enterprise app development company to avail of cost-effective EdTech app development solutions.