Overview: In 2020, the coronavirus epidemic led to many technological advancements. The health sector especially welcomed remote care. It was a crucial modification that would prevent individuals from contracting the virus. The delivery of patients' remote medical services is made easier through telemedicine applications. This innovative app reduces the distance between the doctor and the patient by utilizing virtual interactions. Sounds interesting? – Keep reading!
Travel costs make frequent hospital visits expensive, especially in rural areas. People choose telemedicine applications in the Covid-19 Pandemic age, where physical contact becomes unsafe. The good news is that telemedicine app services can be used in collaboration with other technologies, including online video conferencing, to reduce the number of medical visits. Telemedicine app reduces treatment costs and saves patients and health care professionals time.
It can speed up processes in hospitals and clinics because of its benefits. Monitoring discharged patients and managing their recovery would be simpler with the help of this revolutionary technology. According to a study, the global telemedicine market was estimated to be worth $50 billion in 2019. It is anticipated to grow rapidly and reach around $460 billion by 2030. It is enough to say that a telemedicine app can result in a win-win scenario.
What is a telemedicine app, and how does it work?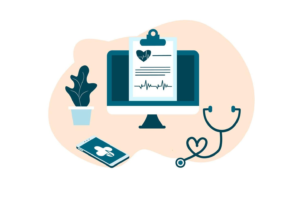 A telemedicine app uses digital technologies to link patients and medical experts so they can receive examinations, diagnoses, consultations, and treatments at a distance. While mobile apps have long been a pillar of telemedicine, technology like augmented and virtual reality are currently in demand. Additionally, many operations that medical experts formerly undertook are being improved upon or replaced by machine learning and artificial intelligence.
For example, if you believe a cut you have may be infected, you can schedule a virtual visit via a telemedicine app with your healthcare provider to discuss your symptoms. You can contact your primary care physician if you believe you may develop strep throat while on vacation. Telemedicine apps also cover non-clinical tasks, including scheduling appointments, getting ongoing medical education, and teaching medical professionals.
How do Telemedicine apps benefit patients and medical staff?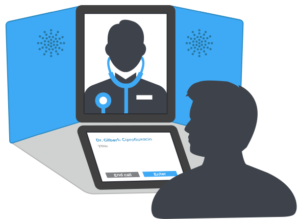 Patients who receive care from hospitals and other enterprises that adopt this strategy stand to gain in numerous ways. The following are some benefits:
No chance for infections:
The idea that hospitals are places where people become sick and get infected is one that many people have when they think of them. Telemedicine apps and remote treatment are helpful alternatives now that the Covid epidemic has further damaged people's faith in going to hospitals. They can receive the same support with less worry because they are not exposed to illness risk.
Reduced expenses for medical professionals and patients:
Everyone benefits from saving the time that would have been spent getting ready for and traveling to an appointment, but expenditures are also reduced. For instance, telemedicine app users often pay less than they would if they visited a hospital, and medical professionals can assist more patients faster.
Remote care is available:
Modern consumers place a high value on flexibility. Thus many patients would rather receive their medical care remotely for the same reason they might choose to send a text message rather than make a phone call. It's just easier. Additionally, care at home with enterprise app solutions saves patients' suffering and inconvenience because many have mobility issues.
Read Also – Top Technologies Leveraged By World-Leading Healthcare Providers To Offer The Best Care For The Patient

Simplified data management:
Telemedicine apps with advanced data integration can gather and give a wide variety of user data when properly developed. Using this mobile app, nurses, doctors, receptionists, and other specialists can rapidly access user files, track progress, and examine helpful analytics. At the same time, those receiving treatment can obtain full information about their health history and see how their treatment is going.
Streamlined communication:
Most user scenarios don't require traveling to a hospital, even if nothing in digital form can fully replace the value of a genuine doctor's appointment. For example, users can utilize a telemedicine app to get a prompt response to their query or join a video chat for a more in-depth conversation. Similarly, medical staff finds it simpler because they can quickly handle straightforward cases and focus more time on urgent patients.
How will Telemedicine apps evolve in the future?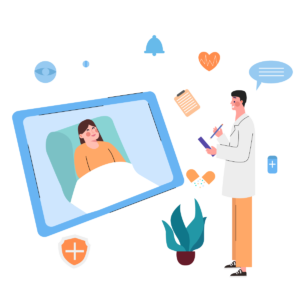 Technology-driven AI can provide automated interactions with patients during vital times. These AI-based healthcare chatbots integrated with telemedicine apps can save time by including ailments, symptoms, treatments, prescriptions, medical data, doctors, etc. Additionally, AI can increase the diagnostic process's efficiency and precision.
For example, healthcare recently approved the first AI-based diagnostic tool, a system that examines retinal images to diagnose eye conditions. After submitting high-quality photographs, the algorithm looks for potential signs of diabetic retinopathy. The software accurately detected the disorder in 87% of the examples provided, and in 90% of cases, it correctly identified people without the ailment.
Read Also – Capitalizing AI To Expand The Scope Of The Healthcare Industry

AR/VR apps and virtual visits:
The virtual feature on the telemedicine app is on the rise. VR technology benefits both patients and medical professionals. AR/VR appears to hold potential for planning medical operations and educating and training healthcare workers.
Access to healthcare is made easier through virtual visits. Patients can see and communicate with a medical expert through their computer or smartphone. They can consult with a doctor from the convenience of their home, eliminating the need for actual routine checkups.
Many technologies are impacting the progress of telemedicine trends in healthcare. 5G is a powerful technology. The telemedicine environment may entirely change due to the greater network speed that will be made available.
This robust network will require medical image delivery, remote patient monitoring, virtual meetings, etc. The world of telemedicine apps is evolving thanks to new technologies like blockchain, the internet of medical things and cloud computing solutions.
The adoption of the Telemedicine app:
The future of healthcare through mobile technologies is telemedicine apps. The surge in funding or investments for IoT-connected mobile apps and the tendency toward preventive healthcare measures contribute to market expansion.
The "digital first" strategy:
The healthcare sector has always been somewhat unreliable in adopting the digital way of life. The pressure on the healthcare ecosystem has increased due to the coronavirus crisis. Investments in healthcare app development have increased as a result of this. It is reasonable to declare that the digital age has arrived.
You can also view more of our works and case studies here!
Wrapping Up:
Nowadays, telemedicine apps are essential due to the current global conditions. The healthcare sector is increasingly catching up with this trend as technology changes rapidly. The world should embrace remote medical services more widely, as the coronavirus crisis taught. It is not only a secure means to deliver healthcare services, but it is also comparatively less expensive. Enterprises willing to create a big impact in the healthcare sector can connect with the leading custom software development company to avail of healthcare app development solutions at a low cost to stay ahead in the competitive market.