Overview: In the transportation and logistics world, machine learning (ML) and artificial intelligence (AI) have grown in popularity. These technologies are currently receiving significant investment from several business leaders to streamline operations, enhance human decision-making, and predict potential futures. Check out this blog to learn how machine learning is revolutionizing the growth of the transportation industry!
The science behind machine learning has reduced the need for human endeavor in the technology-driven world. Machine learning has a wide range of applications, including in the transportation industry, and we have been utilizing it for a long period in many different ways. According to a study, at a projected CAGR of 38.8% from 2022 to 2029, the market is anticipated to grow from $21.17 billion in 2022 to $209.91 billion in 2029.
Machine learning has been here for quite a while now. We all use technology one way or the other and are aware of the amazing things AI has done for us. But knowledge about the industrial applications of machine learning is not very common. Only a few can comprehend the various opportunities it presents for many industries. Technological advancement like ML in logistics and transportation has prepared the way for these expansions.
Be that as it may, what is Machine Learning and what precisely does it do?
Machine learning can be characterized as an innovation that enables machines to work like humans. Machines, having AI capabilities can
Imitate people
Automate manual assignments
Learn quickly much the same as people
Machine Learning in the Transportation Industry: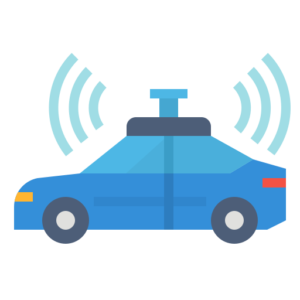 Today, the transportation industry has come to a level where vehicles can navigate and move with no human help. AI/ML solutions for the transportation industry develop in its technological innovation and advancement journey. Using Machine learning in transportation has helped the transportation and logistics companies to
Ensure the safety of the passengers and the driver
Reduce the number of accidents
Avoid traffic congestions
What is the role of AI in the transportation industry?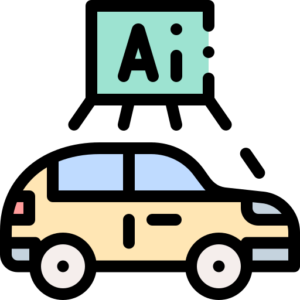 The transportation industry has advanced to the point where cars can now travel and navigate without any help from people. Using AI solutions from enterprise digital transformation services, the transportation industry can improve passenger safety, decrease accidents and traffic jams, cut carbon emissions, and lower overall costs. AI-powered systems demonstrate human intelligence and learn over time, suggesting that these robots will finally be able to make decisions and use critical thinking independently.
Recognizing AI's extraordinary potential, transportation industry companies invest heavily to increase revenue production and stay ahead of the competition. For example, the idea of autonomous automobiles, formerly just a sci-fi dream, has now been made a reality in the real world. Self-driving vehicles will receive widespread acceptance and become conventional in the consumer market as this technology continues to advance.
Customized Buying Suggestions to Online Shoppers
If you shop online, you must have experienced that after you buy something, purchase suggestions start appearing on your screen. Using Machine Learning, some transportation organizations that sell tickets and passes on the web have implemented this technique to drive online sales.
Read Also – How Do Smart Vehicles Enable Green Public Transportation?

How Do They Do That?
By gathering and assessing information from past purchases, AI can adequately find purchase habits for every online shopper. For instance, a traveler who purchases a specific month to month pass could be offered discounts, deals, or promotions.
Moreover, if the purchasing habits of the buyer change or evolve, equipped with constant learning ability, machine learning also changes and improves. Adapting AI technology from top digital transformation companies for the transportation industry can improve customer relations and help earn profits by driving sales. The offers you present can include
Discounts
Gift vouchers
Ticket upgrades, etc.
Maintenance
The traditional maintenance approach involving minor examinations or full inspections is effective yet can be highly inefficient in some cases as it's very presumptive.
The technology in modern trains and buses creates information streams without any interruption. With these information streams, machine learning enables us to build
Failure predictive models
Condition-based services
The goal of such models is to identify failures before they happen. This condition-based services approach in contrast to the scheduled-based approach does analysis based on data rather than assumptions. This leads to
Lesser manufacturing inactive times
Better and longer equipment life
Analyzing Railway Tracks
For rail organizations, AI is an important method to read and analyze tracks for flaws dependent on different conditions including
Metal wear out
Thermal expansion problems
Corrosion because of the number of runs.
To do this, AI measures use identification and calculations and investigates pictures caught by drone cameras to distinguish designs. Thus, the calculation constantly learns and improves to make a comprehension of where the faults in the track are and make the track more efficient.
Use of Mobile Application
Mobile applications have become an integral part of any travel business. They help their customers to
Buy tickets
Check plans and statuses
Find close by stations
Look for good places to visit and much more.
AI checks and verifies the front-end features of the application, for example, area tracking, notification frameworks, etc. Machine learning ensures that these features are supported by big data indexes that continuously change and improve over the long run.
Quick and Efficient Deliveries:
AI offers ground-breaking features that are highly useful for quick and efficient deliveries that can help any logistics company get a competitive advantage. Whether it's air freight, or products being transported by sea, Machine learning offers amazing features to benefit from for example,
Cautions for hardware breakdown or maintenance
Updates about the delivery status both for the company and customers
Parking help drivers
Send customized messages and notices
Send notification to the customer and driver about the arrival at the destination
Show close by transportation, lodgings, cafés, and so on to the drivers.
Advertising Campaigns
Another advantage of having rich informational indexes is that they can help to categorize and label travelers based on past purchases and interactions with the travel organization. Accordingly, these orders can be utilized to create focused advertising campaigns.
For instance, an individual who ventures regularly from Point 1 to Point 2 can be focused on offers based on the course. Furthermore, any exceptional public occasion like a music show or a baseball match can be utilized to recommend offers to help participants arrive at the occasion.
Oversee Customers' Response
Machine learning offers great assistance in handling customer complaints in the travel business. The complaints can be investigated and categorized by keyword or priority. Moreover, positive customer criticism can be considered. The advantages of recognizing and reacting to responses are self-evident: cheerful clients and a good reputation.
Automated Vehicles
One of the most noteworthy applications of Machine Learning technology is automated vehicles. The idea of self-driving vehicles was once simply a science fiction dream, has now become a viable reality. Even though individuals were doubtful of this innovation during its formative stages, driverless vehicles have just made their entrance into the transportation area.
We are all aware of Tesla's self-driving vehicles. And now independent taxis have just begun working in Tokyo. For safety reasons, as of now, the driver needs to sit in the vehicle to take control whenever needed.
Self-driving trucks
Many logistics companies are including this technology in their fleets to benefit from it. Furthermore, with self-driving trucks becoming a popular idea, the maintenance costs will decrease by as much as 45 percent.
Traffic Management
Another transportation issue that individuals face consistently is congestion. Machine learning is currently set to settle this issue as well.
Sensors and cameras installed wherever on streets gather the details to analyze traffic conditions. This information is then uploaded to the cloud by gaining professional support from cloud consulting services, where traffic patterns are analyzed after information assessment. Important bits of information like traffic expectations can be gathered from information handling.
Drivers of different logistics companies as well as the common public can be notified about with thighs like
Traffic forecasts
Mishaps
Street blockages.
Moreover, individuals can be told about the shortest route to their destination, encouraging them to travel with no problems of traffic. Along these lines, Machine learning can be utilized to decrease undesirable traffic as well as improve street security.
Read Also – How Will Mainstream Electric Vehicles Transform The Future Of Transportation?

Predictions About Delays
Another consuming issue especially for air transport today is flight delays that not only create problems for passengers but also delay the air freight deliveries. Unexpected delays can sabotage a transport organization's worth and reputation. With the help of machine learning can analyze all the information related to the
Real-time plane information
Historical records
Weather conditions, etc.
And then predict different potential outcomes that can cause flight delays and cancellations. This information can be sent to travelers to help them plan their timetable as needs to be. And also update customers about the expected time for their deliveries.
Accountancy and shipping documentation:
Logistics accounting professionals are typically busy with routine tasks like analyzing and processing each transaction. At the same time, you can automate accounting, freight documents, and massive amounts of data using AI-based systems and natural language processing (NLP) technology obtained from tech solutions and services for the transportation industry.
Such data extraction software will assist your staff in obtaining important details about addresses, dates, and received invoices but is also capable of tracking irregularities in bills, categorizing documents, confirming adherence to legal requirements, and so on.
The system will carry out ordinary transactions without operator input with the help of built-in AI algorithms. Your vital systems will no longer require manual data entry, and your accounts payable procedures will be streamlined while billing accuracy is enhanced.
Training The Staff
To promote the efficiency and security of drivers, driver conduct checking applications can be helpful. By using information gathered by the IoT sensors from the mobile app development agency, you can deal with your fleet through information-controlled dashboards for trucks, ships, and prepared networks.
Remote-controlled Freight Ships
Along with the public transportation frameworks, soon freight ships will likewise be controlled distantly using man-made analytical abilities. Hence, AI will drive the total delivery of automated freight ships in a few years.
We recently connected with our client, a key player in the automotive market and well known for their top performance and producing affordable cars. Our client's ultimate aim was to streamline their worldwide production processes to save warranty costs and claims and improve the caliber of their products. They started to face challenges from streamlining resources, overcoming cultural barriers, serious hits over innovation and costs, and lack of data about spare parts.
Our team of experts understood the challenges faced by our client. We came up with the best machine learning solutions to understand the lifecycle of spare parts, analyzing and mapping out the costs and warranty claims, identifying vulnerability and staying innovative, and creating a framework to introspect its products.
We helped our clients by offering the best predictive analytics solutions for the automotive industry to meet their business needs. They reached the top of the table in the competitive market in less time. Our team of professionals is ready to provide the best support towards offering customized machine learning solutions based on your business requirements to stay ahead in future trends.
You can also view more of our works and case studies here!
Conclusion
Machine Learning has extraordinary relevance in the transport industry. ML investigates the unpredictable connections of roads, freeways, traffic, natural elements or obstructions, crashes, etc. ML procedures have become an integral part of smart transportation. ML has extraordinary potential likewise in everyday traffic management and gathering traffic information. Being one of the Digital Transformation Service Providers, we're here to help businesses implement technologies.