Team lunch at Absolute  Barbeque
We always produce top notch quality deliverables with effective team collaborativeness. Our Team skills are second to none and we focus building, designing and deploying perfect apps. However whenever there is an occasion to celebrate team outing, we never miss it.
Last Month, we had a good team outing on Nov 6th 2015 to Absolute BarBeque in T-nagar, Chennai. Boys were in perfect outfit to enjoy team bonding and enjoyed every moment. At W2S, we never believe in Hiearrachial team structure as it interrupts team communication and its very normal for Juniors to just walk in and talk with Seniors.  That's the learning curve and knowledge they usually get while wokring at W2S. These occassions will break the ice for new comers and let them to talk, interact and feel them part of W2S. It did happen exactly as explained.
Once we are done with Lunch, Our CEO Madhu Kesavan, gave a small talk about our productivity, happy customers testimonials, upcoming projects and honored awards for Star Players.  There is no better situation to accloade your team members and that's our second core thing to do on that day! Ofcourse firt one was team building!
Oh yeah, Did we say that boys got a pretty T-shirts which is printed with our logo ?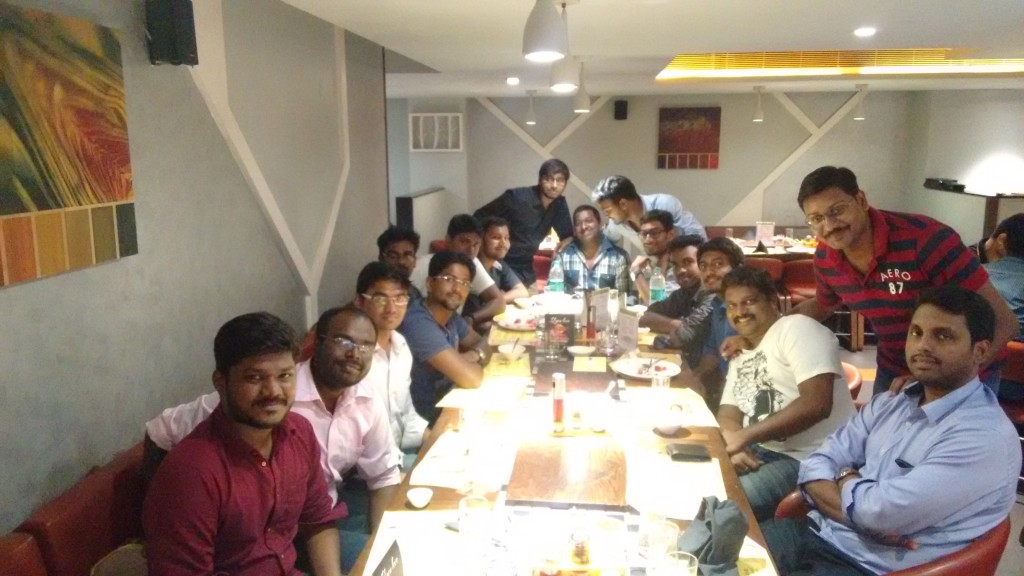 About W2S Solutions :  We are a custom mobile application and web development company that thinks outside the box to build award-winning apps for small and medium sized enterprises (SMEs) around the globe. Our team understands what it takes to be successful in business. We pair this knowledge with our advanced planning, design and deployment execution skills to deliver industry-leading concepts across all mobile platforms.