Innovative Children's Entertainment platform
Storyfruit.com – Innovative Children's Entertainment platform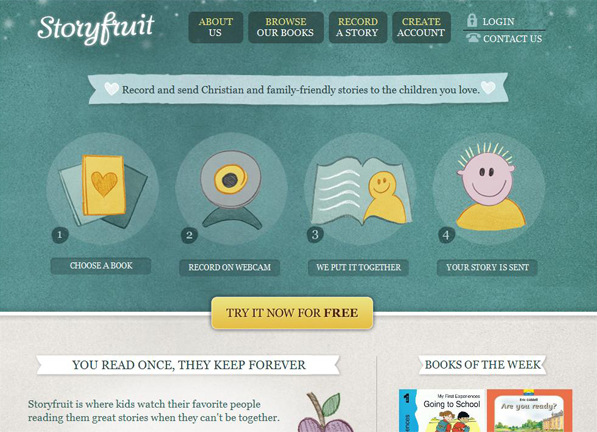 Way2Smile Solutions created an Innovative online platform for parents and grandparents and allows them to use their webcam to record bedtime stories for their kids. It solves a major problem in connecting people with kids when they are in different time zone and technology is used effectively to fulfill the needs.
Challenge:
When Elvin Turner had the vision for the Storyfruit, he realized that he needs a best business
and technology solution provider to build such an intuitive application. After analyzing various
companies, Way2Smile Solutions were chosen to build the complex system for two major reasons.
Way2Smile solutions capability to understand the business requirements and also Way2Smile Solutions brought new innovative ideas that helped the client to achieve his vision. Way2Smile solution's technology expertise and previous case studies showed it's in depth knowledge in Web ecommerce application development and provided the confidence to client in building the app.
Solution:
Way2Smile Solutions decided to build Storyfruit in Open source technologies including
MySQL, PHP, HTML and CSS. Way2Smile solutions offshore PHP development team took this project as a challenge and handled the complex architecture easily. However, Way2Smile Solutions did not focus on delivering a complete solution; rather way2smile solutions concentrated on building a pilot project that handles Flash Media Server interaction with LAMP architecture. Throughout the pilot project, Way2Smile solutions had a constant interaction with client to deliver the expected results on time and on budget.
Way2smile solutions offshore development center worked with international UX design team to get the layout and tied with PHP frontend. The team made sure that the database design and development is structured properly to withstand the load and performance of the ecommerce application. Way2Smile solutions Linux server administration team took care of setting up the LAMP server box and integrated with Adobe FMS Server. With a proper planning and execution, Way2Smile solutions were able to launch the application successfully and customers are using it intuitively with no hassle.
Testimonial:
Elvin Turner's video testimonial can be found here.
Don't hesitate to send us a note at spark@way2smile.com